Just like everyone else, Boidu Sayeh has been watching the "depressing" and all-too-familiar images of the United States' latest eruption of racial division.
The Minneapolis police killing of unarmed black man George Floyd, and subsequent protests and street violence, has reignited the conversation about prejudice globally, including in the world of sport.
As one of the few inter-county Gaelic games players of colour, the Westmeath corner-back is in a unique position to comment on the prevalence of racism in Irish sport and wider society.
While the 24-year-old believes we are far removed from the situation in the US, it is certainly something he  has had to deal with.
"It hasn't happened in a long time but I have definitely had sly comments on the pitch," he tells RTÉ Sport.
"In the last few years, I've been lucky enough that I haven't really experienced anything at all. I don't know whether it's because my profile has gone up but people show a lot more respect than when I was younger.
"When I was younger, it was a lot harder. I was the only one playing or there was only one or two of us and we used to stand out like sore thumbs.
"It wouldn't be full-out racist abuse but sly comments like 'You're not supposed to be here'.
"I'm the kind of person that wouldn't really pay too much attention to it. Comments and stuff wouldn't bother me too much."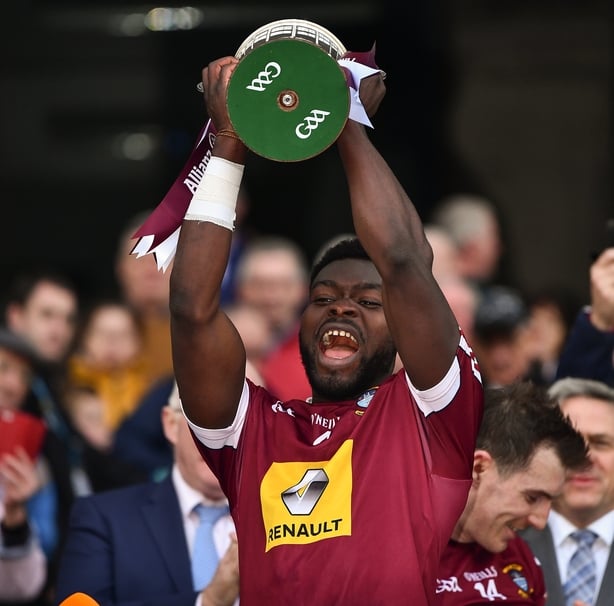 Boidu moved from war-riven Liberia to Ireland at age eight, when he was adopted by his uncle Ben and aunt Therese, a Westmeath woman.
He grew up in Rosemount, a village outside of Moate, and quickly took to Gaelic football after attending his first match - the drawn Leinster football final between the Lake County and Laois in 2004.
Perhaps surprisingly, he finds racist attitudes to be more common at inter-county level than in club football, and on the streets of cosmopolitan Dublin rather than rural Westmeath.
"In Westmeath, I wouldn't experience it all playing club football," he says. "I grew up playing the sport so at club level I'm playing with lads I went to school with or have played with the whole way through.
"It's when you go to other counties where they are not used to seeing a black guy playing.
"If you're in the big city, people might give you looks and say something under their breath. Even though there would be more black people in the big city.
"But when you're in such a rural place, they already know who I am. There aren't many black people here and everyone knows each other."
We need your consent to load this Instagram contentWe use Instagram to manage extra content that can set cookies on your device and collect data about your activity. Please review their details and accept them to load the content.Manage Preferences
Sayeh was on the Westmeath minor team that reached the 2013 Leinster final with now Rosemount clubmate Izzy Ilunga (pictured above) and Athlone's Sam Omukoro.
Ilunga almost missed the decider when he was sent off in the semi-final for reacting to a Meath opponent who made monkey sounds and gestures towards him.
"Something of the extent that Izzy experienced, I never had anything like that," says Boidu.
"The one incident that I remember is in primary school when two lads came up to me and said 'Why don't you go back to your own country? What are you doing here?'.
"I was only about eight or nine and I got really upset. I told the teacher and my mam. The parents of those kids went out of their way to apologise to my parents and to me, and to try to teach their kids that this wasn't right, this wasn't what you should say to a new kid coming into the school.
"They were only young kids. They learned from that and we are all friends now. I had another six years in school with them.
"Educating younger kids, and sometimes older people, is very important. What's going on now, some people are asking 'What's the big deal?'
"To the black community it is a big deal, so they can educate themselves over why we are upset about it."
Nothing in the world is more dangerous than sincere ignorance and conscientious stupidity We are all one humans shouldn't be a matter of white or black anymore. It's things like this that I count my blessing i live in our little island 🇮🇪 #JusticeForGeorgeFloyd #GeorgeFloyds pic.twitter.com/To3cYogAw9

— Israel ilunga (@isrealdowling) May 29, 2020
Ilunga recently tweeted that he was relieved to live in Ireland rather than the US, a sentiment echoed by Sayeh. 
"That's how I feel as well," he said. "I was planning to go to the States this summer and I'm kind of glad I couldn't.
"I have cousins in America and they go through a lot more struggle than I do here. It's a lot harder where they are.
"There are definitely a few racist Irish people but I don't think many are."
Sayeh was, however, confronted with the more unsavoury side of the web last year when he took part in a documentary series for Eir Sport with Tommy Bowe that was posted to YouTube.
"Some of the comments that are underneath that, I'd never seen (anything like it) before," he admits.
"People giving out that I'm playing the sport, and that I'm not an Irish guy.
"It upset my mam and my sister Mairéad but I just ignored it.
"Stuff like that does happen but then there is the positive part. I would get a lot more positivity than negativity so I look more towards the positive stuff."
"Learning a bit more about what's sensitive to different people is key."
Many Irish people have posted social media messages supporting the Black Lives Matter movement.
While some dismiss such actions as insincere 'virtue signalling', Saleh appreciates Irish engagement with the issue of racism.
"I think it's encouraging as it means they want to learn about it and find out what's going on," he says.
"The people who are ignoring it are the people who don't really want to know.
"Learning a bit more about what's sensitive to different people is key."
Sayeh started every game for Westmeath earlier this year in what had been a solid return to Division 2 before Coronavirus pressed the pause button.
While he admits that "It's weird having the summer without football" he is keeping fit - lots of solo road-running - in the hope that there might yet be some action on the pitch this year.
"We're all training still and we don't know what's going to happen. If we can, I'd love to play. If we can't, I won't read too much into it."
Listen to the RTÉ GAA Podcast at Apple Podcasts, Soundcloud, Spotify, or wherever you get your podcasts.