Eoin Murchan played every sport going when he was growing up.
He was on the rugby team (a scrum-half/wing); he hurled; he swam; he played tennis; he took part in athletics - though surprisingly at middle-distance rather than sprints given his incredible speed - and of course there was always football.
But perhaps most tellingly was the Glasnevin man's excellence at basketball.
Good enough to win an All-Ireland Schools title with Belvedere College, Murchan - at 5'7" - is not obviously blessed with the talents to shine in a sport were height is king, but he's defined himself as a competitor who rails against such assumptions.
This is a man who was thrown into an All-Ireland final replay last September and responded with one of the finest Championship goals Croke Park has seen, melting away the Kerry resistance as he torpedoed towards the Davin Stand from the second-half throw-in.
He'd told Jonny Cooper in the tunnel that at some point "he was going to have a go". What followed was a goal to savour, and yet Murchan has barely watched it back, save for a few times in the aftermath of the victory that sealed the five-in-a-row.
From the kick-out Eoin Murchan nets for his first ever Championship score. Watch highlights tonight on @rte2 from 10pm#dubvker #rtegaa https://t.co/V80t8MYz5R pic.twitter.com/bmULDherRk

— The Sunday Game (@TheSundayGame) September 14, 2019
"That was one moment amongst a collection of moments," is how he modestly describes the effort now.
"I got the easy end of the job, which was putting the ball in the back of the net. The finish is fine, it went in, I'm happy with that but what's more impressive with that play is the movement and the smarts, the selflessness of all the other guys on the pitch.
"I haven't watched it since we started back with the group (last January). I'd have seen it a couple of times in the days after the All-Ireland but it hasn't been something that I go back to regularly. I find it strange that the goal gets so much focus. There's so much else that happens and so much else that's just as important in the game.
"It's a new team, new management this year. We start from scratch. Each year we meet up we start with a completely clean slate. Whatever you've done previously is thrown out the window and you start fresh.
"I have three siblings and they make sure that (the goal) doesn't see me get too big a head."
Murchan often references the Dubs' refusal to dwell on past glories. They are of course insatiably hungry, and the 24-year-old should currently be in the process of a 'Drive For Six'.
With his former Under-21 boss Dessie Farrell taking over from Jim Gavin and the chasing pack desperately hoping for some sort of wobble in the capital, this was shaping up to be an intriguing summer.
All plans are on hold now but Murchan insists everyone in the camp was happy with how their spring had been progressing.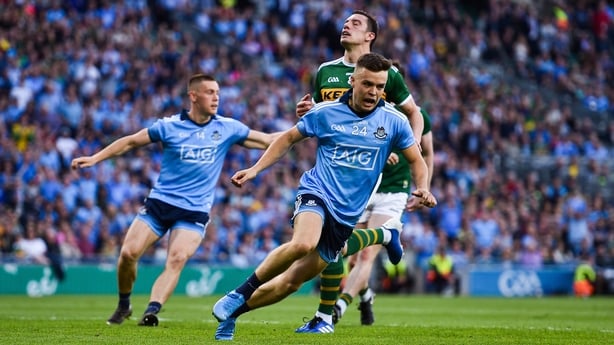 "Dessie had a couple of different viewpoints and things he does differently but it would have been the same with any manager," he says of the changeover.
"No one was going to come in and completely turn the house upside down. It's a gradual process, implementing new things and getting to know each other as we go, seeing what works and what doesn't.
"All the players were very happy, and I assume management as well, with how the integration was going.
"We were pretty disappointed when it was stopped. Hopefully we can get back on the horse soon enough and get back working together because it was going quite seamlessly we thought."
Murchan admits he's "privileged" to be able to stay sharp on the public pitches close to where he lives.
I'm in a fortunate position. I have plenty of parks and green spaces around me
Na Fianna's home on Mobhi Road, which he says currently looks like "a green at the Masters", is at the heart of the community in every sense but even with that facility off limits due to Covid-19 restrictions, the defender still has a few goalposts to take aim at.
Others aren't so lucky. Although Murchan understands the clamour to reopen GAA clubs around the country, he's keeping things in perspective.
"I'm in a fortunate position. I have plenty of parks and green spaces around me. Some of those parks have Gaelic goals and pitches set out so it hasn't been too much of a hindrance for me.
"I know for others they can be in situations where they don't have those facilities available to them so it can be more of a hindrance to them. For myself, it hasn't been an issue it at all.
"I'd love for the club pitch to be reopened. Na Fianna is right in the centre of the community here. It's a kind of a focal point for people but at the same time there's bigger things than a football pitch opening up to be honest.
"Following the guidelines and listening to the advice we're given is much more important. People's health and well-being is significantly more important than a pitch opening up.
"While I'd love the pitch to be open, as I'm sure plenty of people around here would and plenty of people around the country would... we understand why they're not. We'll continue to make do without them as long as we have to."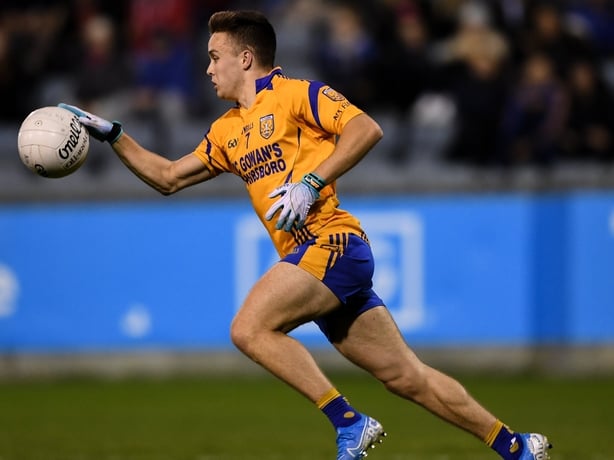 And so, in the midst of this lockdown, Murchan has been able to do things he ordinarily would not.
Dublin have laid out a framework for players to keep up to speed, with the break offering an opportunity to work on injury-prevention exercises and skill-specific drills.
He's spending more time with his family, and more time studying. Na Fianna's army of members and volunteers have used their energies to support the more vulnerable people in the community by doing their shopping, picking up prescriptions and running errands.
In April, he donated blood for the first time.
"It's something my dad has being doing for God knows how many years. He's always been saying it. With football I've never really been able to do that.
"Giving away a portion of blood is not something that's very conducive to performing at a high level in football. With the break, I just thought it'd be something that would be nice to do.
"I'm getting out and kicking a ball against a wall, working on my hand-eye stuff, but there's not a huge amount you can do. I'm just trying to keep it as simple as possible.
"I'm using the time as best I can to fine-tune things and to work on areas I don't normally have that opportunity or time to because we'd be in the heat of battle at the moment."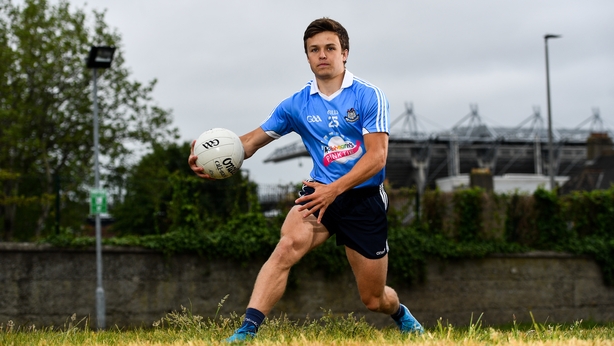 One thing Murchan doesn't have to work on is that scintillating pace.
He laughed as he backed himself "100%" to beat another flyer, Jack McCaffrey, in a race while insisting that his diminutive stature has never held him back.
"Everyone has their different strengths and weaknesses. Some people have size, some people have speed, some people have their skills.
"One of my attributes is being fast, but it's not something that I was ever specifically told I needed to work on because maybe I'm not as big as others. It's just something I've always had and I've tried to utilise it to the best of my ability.
"(My height) has never been a hindrance. We play a team sport. It requires more than one person and requires the skills of more than one person.
"I'm fortunate that I play in a team with Dublin, and also my club, where we look out for each other."
Eoin Murchan was speaking in support of Aoibheann's Pink Tie, charity partner of Dublin sponsors AIG. It provides financial and practical support to children and their families battling cancer. To help support Aoibheann's Pink Tie text 'Pink Tie' to 50300 to donate €2.