One of the province's most respected players has called for the 'Team Ulster' hurling concept to be given a chance at Liam MacCarthy Cup level.
Derry footballer and hurler Chrissy McKaigue says there is a huge amount of interest within Ulster - and the majority of counties in the province - to try something different with regard to the model.
And while Slaughtneill club man McKaigue feels a combined Ulster side could make an impression at the highest level, it would only happen if the best players came on board.
"I don't see any other way that it could work unless you have the best players in the province available to you," he told RTÉ Sport.
"Naturally, that would include the Antrim players (such as Neil McManus, below) who would form a significant proportion of the Ulster team and panel."
Antrim are the only Ulster side to have reached an All-Ireland hurling final (1943 and '89) but since entering the Leinster championship in 2009 they have struggled and were relegated in 2015.
They have competed in the Christy Ring/Joe McDonagh Cup tiers in subsequent years, but this season were perched at the top of Division 2A when the Allianz Hurling League was suspended due to the coronavirus.
Their demise has affected the game in the province with Derry and Down further behind in the pecking order and no Ulster hurling final taking place in recent years.
Talk of a representative provincial side has been about for quite some time, but never received any significant traction.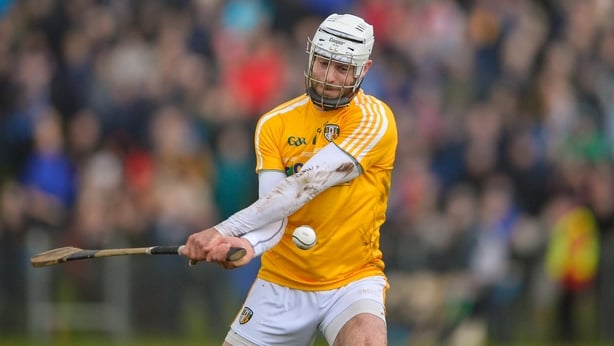 Last weekend, however, saw a virtual symposium of hurling stalwarts in the province come together to discuss the matter. Eleven stakeholders of the game, from all over Ulster, gave their passionate views on a road forward for Ulster hurling - and this included McKaigue.
His voice carries huge weight. One of the best players in either code in the province, the dual star recently won AIB club player awards in both sports, having picked up a football award in 2018 and a hurling one last season.
He also captained Derry to Allianz League Division 4 success last season and previously had a spell with AFL side Sydney Swans before returning to Ireland and committing to club and county.
With regard to the future health of hurling within the province, he says the time has now come to think outside the box.
"You have to look at it the from the angle of what has Ulster hurling done in the last 10 to 15 years? We are nowhere near the mark of being competitive with southern counterparts," he insisted.
"So how would this concept look in terms of a structure?
"In year one of a trial, maybe Ulster would not play in the national league and prepare instead for the championship. At present, no Ulster side competes in the Liam MacCarthy Cup so maybe the fixtures conundrum would not be as prevalent as if Antrim were competing at that level."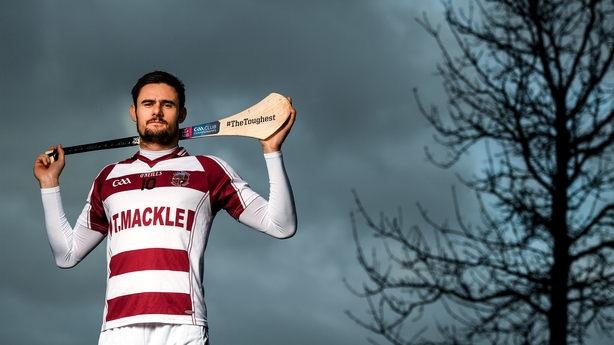 But the Slaughtneill star also maintained that this was not the time to ram the concept down people's throats.
"At this stage it's not about forcing your opinion on people," he insisted.
"It's very much about having a proper conversation.
"Even if you look at social media there are different perspectives. There are people for and against it.
"The conversation has come out before over the past decade, but I still don't feel the matter has been debated properly.
"We have received no real clarity around whether this is worth a try or not.
"At least if people say it's not worth a try, let a conversation have been had and a proper examination taken place. Let it be looked at logically, let it be discussed properly, let's look at the bits and pieces that will be needed to promote hurling in this form in Ulster.
"I have to say that a tiered championship, in my opinion, does little for hurling and it does little for football in terms of helping bridge the gap between the emerging counties and the elite.
"With regard to Team Ulster, I would just love to see a proper conversation now take place with the relevant parties."
RTÉ Sport understands that a group of hurling managers, coaches and players are now in the process of seeking out administrative advice on how they can progress talks on the proposal – within official GAA channels.
Listen to the RTÉ GAA Podcast at Apple Podcasts, Soundcloud, Spotify, or wherever you get your podcasts.
RTE Sport · RTÉ GAA Podcast: Strange bedfellows? The history of Gaelic football and basketball