ESPN's The Last Dance documentary on Michael Jordan and the Chicago Bulls has led to a resurgence in interest in basketball here and further afield.
And while the sport is played widely across Ireland, it's also had a subtle influence on leading inter-county football teams in recent years.
That impact is something DCU Mercy head coach Mark Ingle touched on as he gave us an insight into his work with Jim Gavin's Dublin on the RTÉ GAA Podcast.
We need your consent to load this YouTube contentWe use YouTube to manage extra content that can set cookies on your device and collect data about your activity. Please review their details and accept them to load the content.Manage Preferences
"I think he's a fan of all sports," said Ingle of Gavin.
"I'd say his main sport would be American football from the amount he spoke about it if we were doing a coaching session.
"He obviously had Jason [Sherlock] there. Jason's played basketball and Gaelic football at a high level [and] soccer at a high level at League of Ireland.
"Maybe most of his basketball was at junior level before he moved to the Gaelic and the soccer."
Ingle added that Sherlock consequently was a key conduit in deciding which basketball ideas would best be implemented: "So [he would say], 'That will work or that won't work' or Jim would make his own mind up."
"It's a bit like anything, you can only go in and add ideas," he continued.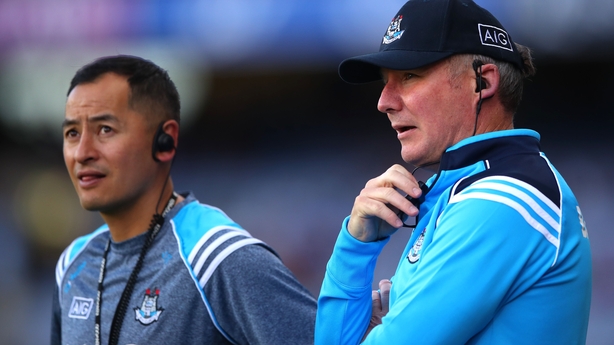 "You could ask half the Dubs. Half the Dubs might say, 'Oh, yeah, Mark Ingle had a bit of an influence there alright'. They mightn't even have known where the influence was coming from, but then again some players are going to take that on board and some are not. Maybe half of them would say there was an influence there."
One area Ingle looked to have an influence on was stretching the pitch in attack and it was a direct consequence of Donegal's success under Jim McGuinness.
"He condensed the pitch," said Ingle of the Donegal manager.
"So it would only make sense to stretch the pitch. But when you stretch the pitch, you've got to be able to have support play and move into the right areas."
And in terms of transferable skills from basketball to Gaelic football, Ingle added that decision-making in a small space is a crucial one to adopt along with playing with eyes and head up, likening the former's benefit to small-sided games in soccer.
"The short sided game is what helps the Gaelic player," he said, pointing out that Dublin did not do many full field practice sessions.
Listen to the RTÉ GAA Podcast at Apple Podcasts, Soundcloud, Spotify, or wherever you get your podcasts.
We need your consent to load this SoundCloud contentWe use SoundCloud to manage extra content that can set cookies on your device and collect data about your activity. Please review their details and accept them to load the content.Manage Preferences