Liam Hayes was part of the awesome Meath team that dominated the footballing landscape in the second half of the 1980s, but he was four years in the jersey before he tasted his first Championship victory.
Hayes, by his own admission, was on a poor Royal County side that was struggling when he came on to the senior inter-county scene.
Enter Sean Boylan. His appointment in 1982 changed everything for the county, and Hayes would, in time, find himself weighed down with medals.
He'd win two All-Irelands and five Leinster crowns before hanging up his boots, and has no doubt about who the most important figure in the dressing room was throughout that golden period.
"They were great times, but they were hard work," he told RTÉ 2fm's Game On.
"I was on a Meath team that was really poor. My first Championship match we lost to Wexford. I ended up in St James's Hospital with five teeth missing.
"In my second year we lost to Longford in the first round of the Championship.
"In my third year we lost to Dublin in the first round of the Championship.
"I was four years a Meath footballer before I won a Championship game. That experience makes you hungry. You don't play sport at the highest level just to make up the numbers and be some sort of loser. You want to improve.
"For us it clicked with Sean Boylan. Literally no one wanted the job and Sean said he'd do it. He was just a magical, inspirational man. Probably his greatest skills were as a man more than a manager. He just got in to our heads, each and every one of us, lived among us 24/7 and turned us around.
"One by one he nurtured us. It was a huge job."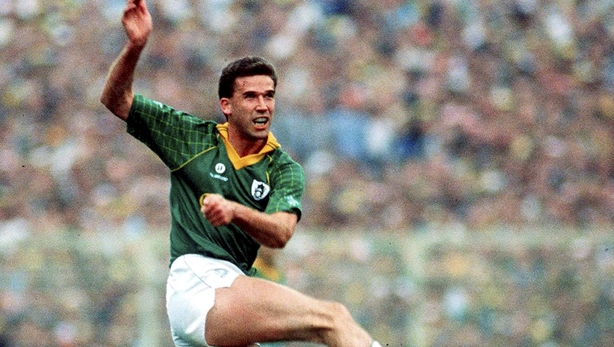 Meath were immensely talented, but they were tough too. In an era of greater physicality, they took no prisoners.

"It took us three, four, five years to become the team we became," added Hayes. "Like any team, when you work so hard to get to the top you make sure that you're not going to go anywhere.
"Sometimes you fight tooth and nail, sometimes you fight beyond that. I think we were guilty of going beyond it at times but we learned our business from the great Dublin and Kerry teams of the 70s and early 80s.
"They really were the two teams we looked to match in terms of skill but more importantly in terms of mental toughness on the field."
Expanding on Boylan's managerial prowess, Hayes said: "There were older guys on the team who looked like their careers were over, like Colm O'Rourke, Gerry McEntee, Mick Lyons, Joe Cassells, it looked like they were gone. Then there was a group of younger lads like myself, in their early 20s, and Sean moulded the whole group into one and made it happen for us.
"In all sorts of sports you get that person who is a kingmaker, a miracle worker, he's got the magic dust in his pocket as I like to put it.
"I remember before one big game in Croke Park we had a team meeting and the team meeting comprised of all the big hits that we had made in games over the previous four or five years.
"The hits were played for 15, 20 minutes and the music put to it was Another One Bites The Dust. That was the meeting. Another One Bites The Dust. About 30 or 40 guys being poleaxed by Meath players. And we left the room.
"It was simple as that. We knew what we had to do the next day, every man.

"I always profess that teams who get to the top don't get there by accident. I don't think any team will win anything unless you have generals and geniuses. I wasn't either. We'd four or five generals, and we had three or four geniuses up front and they made us win."
Meath have fallen quite a distance since their peak under Boylan. Now, it's old foes Dublin who lord it over the rest, and Hayes can't see that changing any time soon.
"We're a long way away. It comes down to self-belief and it comes down to resources. The team doesn't have the resources, it doesn't have the players at the moment.
"I talk about generals, but the Dublin team we've seen over the last five years, they have generals in every line: Philly McMahon. James McCarthy, Jack McCaffrey, Michael Darragh Macauley, Brian Fenton - just no end of generals.
"You look at most other football teams, Meath included, they don't have enough of those."