Last Monday morning, Colin O'Riordan returned to full contact training with the Sydney Swans ahead of their AFL resumption on 8 June.
The former Tipperary All-Ireland minor football winner and under-21 finalist was just in the door from his first main session back with the squad when he took time to chat to RTÉ Sport.
"The weather was miserable for a start," he says, "14 degrees but raining all day. But good to be back. There were two contact sessions with 45 players on the list.
"This week, I'll be out training on Monday and Friday – we have two-hour blocks, two days a week so there's four hours contact time for the week to get ready for our game in a fortnight.
"It's not long, it's not much, but we are all in the same position over here and it means you just have to train smarter rather than harder."
From their emergence from the lockdown until Monday morning, O'Riordan trained in small groups of eight - with a designated clutch of seven players and one coach.
The club also delivered gym equipment to players' homes.
And before he was allowed back with the main squad he was tested rigorously.
"We were tested three times in total last week," he said, "so it's all pretty intense but it's needed too."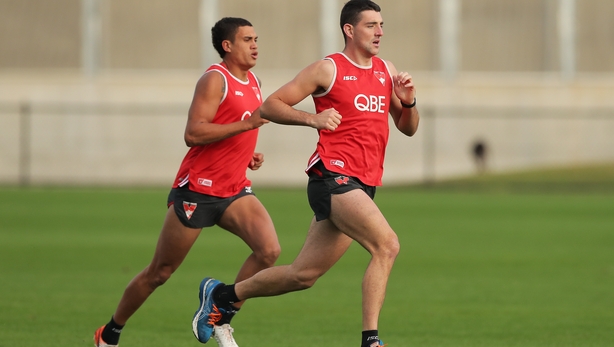 As the GAA attempts to draw its own roadmap out of lockdown back home, O'Riordan (above) is well aware of the complexities involved.
The Templemore man was in Declan Browne territory, shaping up to be perhaps the finest footballer his county had ever produced, and was a quality hurler too, before he left for the AFL.
He has kept very much in touch with affairs back in Ireland and knows the potential threat to workplaces, families and communities that are present due to the community and amateur nature of the association.
"I'm not aware of the cost of a test for Covid-19," he says, "but I know it would be an awful lot to test every county player back home, for example.
"And the lads all have jobs too, so it's a very tricky one.
"Over here, we will go back playing behind closed doors and there will be minimal contact allowed between people – if you're not playing on the day, you can't attend.
"And clubs are only allowed backroom teams of 10 people. After that it's umpires and that's that. No messing around," he says.
O'Riordan says the players fully accept the protocols laid down by the AFL and he understands that they cannot mix with anyone outside the club.
He has kept in touch with the other Irish players in the AFL - most of whom went home during the lockdown.
"The boys are all back in Australia now and some of them are nearly through the quarantine phase following their return here. We all keep in touch – Irish community in the AFL is very small, but the connection is strong.
"We have a WhatsApp group and lads are always making sure that we are all OK. We look out for each other."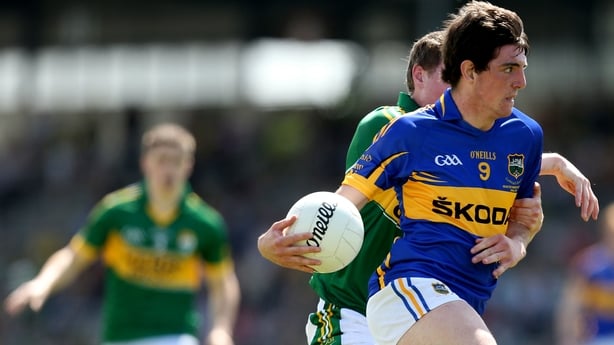 Having arrived in Sydney in 2015, O'Riordan has steadily progressed through the ranks at the club.
In 2018 he made his AFL debut, made 12 appearances in 2019, though it may well have been 16 only for injury, and is looking to continue making his mark in the 2020 season when it fully gets going.
But while the year to date has been unkind to many people around the world, Sydney folk especially will be keen to reach the 2021 block of the wall planner. At the start of the year, the city was blanketed in smoke after bushfires that raged across New South Wales.
The Covid-19 crisis soon followed.
Now the AFL – with revenues of close to €432m – has been decimated, with players taking huge salary cuts and clubs laying off up to 90% of their staff.
"It has been a tough year for people here," O'Riordan, who chose to stay in Australia during the lockdown, says.
"At times during the past few weeks, I would have woke up and said, 'What am I at?'
"I would be looking at lads back home, seeing them back with their families. It's not so much that you would be lonely – I live with an Irish lad here and we have the craic – but at the same time, I'd be looking at pictures on social media and wondering did I make the right decision to stay put when I could have gone home.
"I was worried I might pick up something on the plane and go home and give it to mam and dad, so I stayed where I was. But I questioned everything, before finally getting to thinking that, hopefully, this will only be for a short or limited time and everyone is going through the same thing no matter where you live. You always think it's just you."
O'Riordan's family and girlfriend, Louise, are all safe back home and that makes it easier.
They have been a constant support since he left home as a 19-year-old.
His parents and siblings offered constant encouragement as he made his way from the reserve to senior team over the course of three seasons.
"For the first few years after you come over, people back home would half expect you to start dominating straight away, but that's rarely the case," he says.
"I probably have high expectations myself, so I was frustrated while I waited for a breakthrough but the great thing about this club is if you come and work hard every day you will get your chance. That's a cliché, I know, but it's the truth here. I got my chance and, for now, the target is to make the squad list for the game against Essendon on 8 June at the MCG."
Only 22 from a list of 46 can tog and O'Riordan says the moment you feel comfortable about your place in the squad is the moment it all gets taken from you.
There is no danger of him growing complacent, however, as he remains one of the most motivated players you could find in any sport, displaying huge leadership qualities wherever he has gone.
When the Tipperary Under-17 squad gathered in the winter of 2012, O'Riordan was already an All-Ireland Under-18 winner by then. His position as the heartbeat of the team was already assured before the first training session and trial took place. But each Monday night, mostly in horrible conditions, for the eight-week trial period leading up to the Daryl Darcy Munster tournament, O'Riordan turned up to offer support to his team-mates and triallists.
Little wonder that Sydney offered him a new deal last year to keep him in red and white until the end of the 2021 season at least.
Australia remains home for now and O'Riordan is just taking every week as it comes.
"Over here there is nearly only one new case a day through the whole country.There have been 100 deaths here in total and while that has been very traumatic and upsetting for the families involved, compared to the rest of the world, the figures are quite low.
"We have had 7,000 cases here but the bulk of those came in the first month. The schools are all back full-time now and workplaces and cafes will open at the start of June so hopefully we can get back to normal slowly and steadily."