"Biddy Early is resting happy in the heavens with Biddy Mulligan," cried Ger Canning after the 1995 All-Ireland football final.
While Clare were finally overcoming the curse of Biddy Early - for a woman who died nine years before the Gaelic Athletic Association was founded, she spent an inordinate amount of her days on this earth placing hexes on inter-county teams (the Galway hurlers were also affected up to 1980, supposedly) - the Dubs had to banish a few demons of their own.
The curse of Kevin Foley, one could term it.
Younger readers may struggle to conceive of a time when the Dublin footballers didn't win the All-Ireland every year and there are folk eligible to vote now who can't recall a time when they didn't canter through Leinster.
But when Pat O'Neill's Dublin finally hauled themselves, coughing and wheezing, over the line in 1995, they had been without an All-Ireland for 12 years and would go without one for another sixteen.
At the end of Charlie Redmond's Laochra Gael tribute, which concluded with the post-95 celebrations, a sentimentally inclined old Dublin fan in blue and navy flat cap, said "there are young children here today who've never seen Dublin win an All-Ireland. I hope they won't be grown adults and we won't have to wait as long until we win again!"
The programme was broadcast in 2007, the use of the clip a clear nod to the fact that Dublin had now once more gone 12 years without an All-Ireland.
The Dublin team of the Jim Gavin era were renowned as dead-eyed killers but the team of the early 1990s were often derided as 'chokers' and they had to endure many trials and misfortunes on their torturous road to the summit.
There was 1991, when they were the Greg Norman to Meath's Nick Faldo, seemingly on the verge of beating them for about 320 minutes of football before constantly finding a way to dodge victory.
There was the 1992 All-Ireland final, when the capital blithely expected a coronation and the open topped bus had already been booked for the Monday (plans which, unbelievably, were followed through on), only to be stunned by Brian McEniff's Donegal team, appearing in their first ever decider.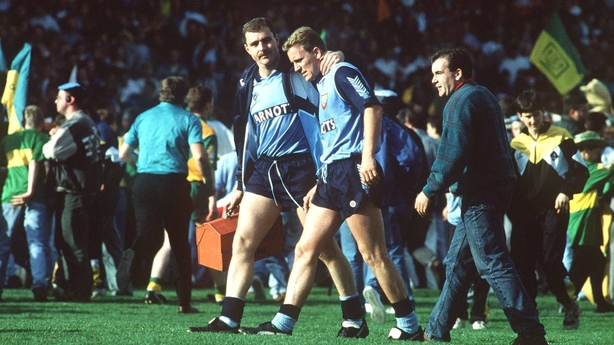 And 1993, when they won a second National League title in three years, added a second straight Leinster title, even beating Meath in the process this time, before being downed by Derry's second half surge in the All-Ireland semi-final.
By 1994, they were used to these ordeals with Ulster teams. After overcoming Leitrim in a romantic but relatively one-sided All-Ireland semi-final match-up, they found a slick Down team a bridge too far in the final, another missed penalty proving costly.
By 1995, this gnarly, experienced team were bull-thick. Steam was coming out of their ears. As Charlie Redmond later said, they were done knocking on the door, they were going to take it off its hinges.
But while they were suitably emphatic en route - demolishing Meath in the Leinster final - the All-Ireland final, a scene of previous horrors, was another messy, nerve-jangling affair.
But they got there.
Redmond's first-half goal, Dessie Farrell's early hot streak, and an unyielding and impressive half-back line display proved enough to drag them over the line despite a late fade-out.
The 1995 All-Ireland victory may not be the most swaggering of All-Ireland triumphs but it was one of the most hard-earned.
After all they'd endured, a jittery one-point win was more than satisfactory.
Goalkeeper and captain John O'Leary was the only playing survivor from their last All-Ireland victory in 1983.
"In 95, here we were again knocking on the door and the big risk was - could we fail again? We spoke a lot about it as a group of players.
"We put a lot of work into those five years and it was a long time coming. That bunch had worked really, really hard and some players, as I mentioned (in the speech), had actually dropped out of the panel by the time we actually won it.
"We had failed before that, there was no two ways about it. We had to try and fix it. Even as it was, in 95, we sort of just about fell over the line."
It was a controversial All-Ireland final, primarily thanks to Redmond's initial failure to grasp that he'd been sent off early in the second half, but also due to the disallowing of Tyrone's last minute equaliser, Paddy Russell deeming that Peter Canavan had touched the ball on the ground.
O'Leary says he knew before most that the point would be chalked off.
"I knew it was a free straight away because the referee indicated. So, when the ball was kicked over the bar I wasn't worried even though I know a lot of people were and thought it was the equaliser.
"If you look in slow-motion, it's still hard to see definitively whether he touched it on the ground or not. I thought it did but it happened so quick."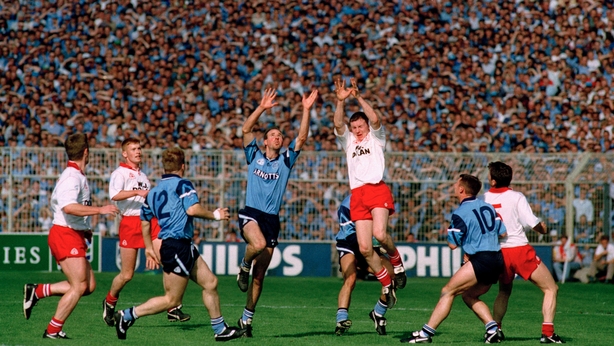 By that time, a number of stalwarts, who'd been part of the journey in the preceding years, had fallen away for a variety of reasons, missing out an All-Ireland medal.
On the steps of the old Hogan Stand, O'Leary made a point of remembering and paying tribute to those players.
"Along the way, we'd some great players who played for Dublin. Unluckily, they'll never win an All-Ireland medal but they put their heart into it. We remember them today. Players like the great Mick Kennedy, Davey Foran, Tommy Carr, Eamonn Heery, Noel McCaffrey and many more."
Speaking on Sunday Sport, he said it was a recognition of the lean years that Dublin had come through.
"People have to remember it was 12 years since we won an All-Ireland. A lot of people had put their heart and soul into it over those previous 12 years, and had come quite close in '92, '93 and even in the four games against Meath in '91.
"There was a lot of good fellas who'd worked really hard and the past managers as well. I was just remembering the bloodlines really and all the commitment and the sweat and tears that had gone into it.
"A lot of hurt had gone into the previous 12 years."
Listen below:
We need your consent to load this SoundCloud contentWe use SoundCloud to manage extra content that can set cookies on your device and collect data about your activity. Please review their details and accept them to load the content.Manage Preferences