It's not that he loved those six-hour round trips or anything but at this stage Martin Fogarty is almost starting to long for them again.
"You'd be on your way to a session, seminar, meeting or somewhere at the far end of the country and you'd be questioning yourself," he laughs.
"Outside the rain would be lashing and wind would be howling. You'd be almost dreading the drive."
But at the other end of the road hurling people would be waiting for him. There would be a big welcome. A cup of tea. Plenty of chat.
No matter how long the journey, or remote the destination, the welcoming committee would make Fogarty feel like he was part of the furniture.
"You'd arrive for a meeting or a talk or a workshop and you'd maybe put aside an hour and a half," he tells RTÉ Sport.
"In the back of your mind you'd hope to be back on the road again for 9pm. And then you'd get sucked in, the next time you'd check the watch it might be 11.
"Still, you wouldn't be finished. That's the power of people. That's what I miss most since the lockdown was enforced."
Fogarty is of Castlecomer stock. Briefly, he had a spell teaching in St Oliver Plunket's NS in Finglas before returning home to his own village and taking a job in the boys school.
A short stint there and it was out the road to take up the principal role at Firoda NS.
He was 24 at the time, it was a one-teacher school, and Fogarty jokes that he couldn't have asked for better staff. "The best I ever worked with," he laughs.
He spent the next 35 years in situ, teaching kids and learning from them too. Along with his hurling credentials, it left him in an ideal position to be appointed the National Hurling Development Manager when the job came up three years ago.
By then, his hurling portfolio was impressive too. He had worked with Brian Cody as a selector with Kilkenny from 2005-2013 when the Cats won six All-Ireland titles and he also led Kilkenny's Under-21s to successive All-Ireland titles in 2003 and 2004 (below).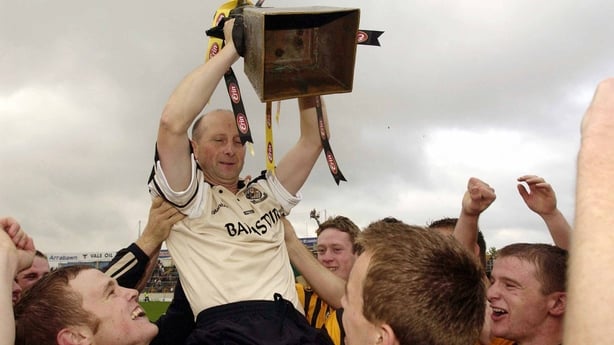 The next three years were spent on the motorways and by-roads of Ireland, meeting hurling people of all stocks and statuses, trying to breathe life into the game in wasteland areas, all the time developing coaches and players. Thinking outside the box.
The job needs an approach like that. In fertile areas, hurling is thriving. But much of the terrain is barren ground for the ancient game.
Hurling is an endangered species in much of Ireland.
Sixteen counties, half the country, have 10 or less clubs that field an adult team.
Thirteen of them have eight or less teams.
And eight of them have five or less.
Many of these clubs cannot field at any - or all - underage levels.
Some clubs are sparsely positioned too. In the case of two Donegal teams, they lie 80 miles apart. Another obstacle in the promotion of the game.
Part of Fogarty's plan is to see more games and competitions for existing clubs in the marginalised counties.
Long term, he would like to see the number of hurling clubs and teams increase in these counties so that they can have meaningful games locally without travelling far and away to get that.
He puts a huge amount into the marginalised, knowing the big boys are spoiled with rich resources and talent-lines in many cases.
And what about now? No games these past two and a half months. None for at least another four. And that's if we're lucky.
"It's a crazy time in our lives that no-one could really have foreseen," he says.
"The first thing that strikes me is maybe coaches will be more appreciated when the thing does resume.
"I mean that sincerely."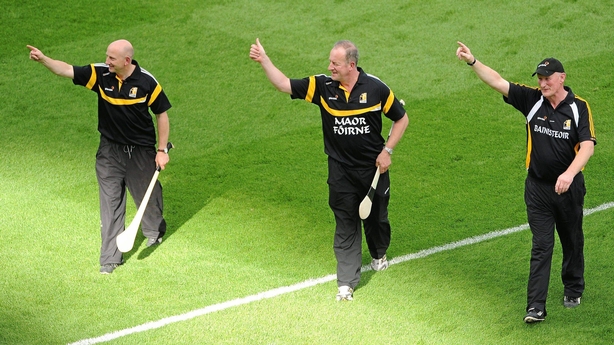 Before some presentations, Fogarty likes to show an opening slide where one lad is hit over the head with a shovel by another. The slide has a deep meaning.
He says: "What coaches do should be all about appreciation, but some people take it for granted.
"That slide stands for something. Coaches could burst their asses year in, year out, doing everything for everyone, and maybe over a few years they might get to a final.
"They might lose by a point in the last minute and the coach might be shattered.
"Then he might see a guy, a friend of his, whose children the coach has brought through the system over years and the coach might see this person as a friendly, reassuring face approaching.
"But this guy lights up on you and gives it to you because the team lost a game. That's a belt over the head with a shovel.
"And you were not ready for it.
"To become a coach, you have to be ready for that hit. It happens the best of them. I've seen it happen several times.
"This lockdown might bring about an appreciation that we take these people for granted so much. That should be the big learning through these times.
"Same with schoolteachers. I would say a lot of parents can (now) fully appreciate how difficult the job of teaching is."
Everything changes as time passes but everyone is so fit now and yes, the touch and the striking is ahead of where it ever was
With everyone grounded in terms of games and training, the GAA community have become proficient in the use of platforms like Zoom and Microsoft Teams. Fogarty has seen a whole new dynamic emerge in this regard.
"We have been going heavy at the coaching webinars and the take-up has been incredible," he says. "So much so that in the three specific hurling webinars that we had, we had to go beyond the Microsoft platform because demand was so big.
"We had clubs from Indianapolis, New Zealand, Dubai and all over the world. Incredible. The appetite to learn is huge and people like Peter Horgan from the games development department in Croke Park are providing all these people with information, education and insight."
As for the game itself, the levels of skill, touch, conditioning and tactical nous have brought it to levels previously unseen.
Perhaps it's at a peak?
"Well, it's a great question," said Fogarty.
"I look back at the team I grew up idolising – the Kilkenny boys of the '70s with Pat Henderson, Eddie Keher, all these men who would make any team today.
"But in the games of that era there was a lot of foostering with the ball. Missing a touch here and there. Move on a generation and you see players who were not fit – but they were fit for the game back then.
"Fast forward to recent times when you have a fine hurler and a physical specimen in Jackie Tyrrell and you see that side of it has come on so much too. Still I can see Pat Delaney hurling in my own mind, and he was so strong that he would have relished the chance to fire the likes of Jackie out over the ditch!
"Everything changes as time passes but everyone is so fit now and yes, the touch and the striking is ahead of where it ever was. Having said all that, I'm just talking about the top level.
"Go back to the lower divisions and it's not necessarily the case."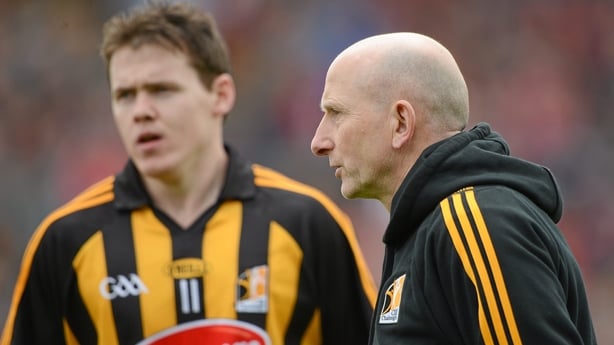 Fogarty uses the short puck and possession game as areas that weaker teams don't necessarily need to grapple with.
"Should a goalie, say with one of the emerging counties, be working continually on short pucks, for example?" he asks.
"I would say absolutely not. Grand to have it in the locker but most of the time the aim should be to get the ball to the far end of the field as quickly as possible."
Fogarty fleshes this out by giving an example of Nickie Quaid taking a short puck-out in the thrilling Allianz league semi-final of 2018.
Quaid miscued the puck, sent it straight into the hands of Jason Forde who buried it in the back of the net. Limerick lost the match by a goal, 2-31 to 1-31, after extra time.
He explains: "The point I am making is that Nickie is a Grade A goalkeeper, he can put the ball in your pocket from 90 yards away and if he can get one wrong, if he can take a short puck-out that doesn't make its intended destination, well anyone can slip up.
"So for counties down the divisions and for underage teams who are trying to build a stable foundation before progressing, my rule of thumb would be to drive that ball down the field as far as you can."
That advice is not just for the minnows. When he was a Kilkenny selector, Fogarty would often say to PJ Ryan and later Eoin Murphy, that if it was him in goal before a certain match, he wouldn't go short.
"If it goes wrong those lads could have ended on the line the next day," he stresses. "But if the ball is at the other end of field, it won't be scored at their end.
"I'm not for one second saying you don't use short play in hurling, but, at underage and at levels where players are still developing, I feel you just use it when you have to do it."
Ultimately, the modern game, beautiful as it is, still adheres to simple principles, Fogarty reckons.
Follow your man and push up on your immediate opponent. Keep your shape and be confident of going one on one, man to man.
"The basics never change, and you can have all the moves and all the tactics you want but they never will change either.
"I'm not saying that you shouldn't have a few plans in your head, but players must be allowed to figure the game out for themselves too.
"What I love most about hurling is that you will never kill flair. When I was in Dublin, I used to love rambling out to watch Tony Ward play club rugby whenever I could.
"All he had to do was drop the shoulder or watch the game unfold in front of him and he would make something happen.
"Hurling is like that. Half of the time it's magic and that's what I miss, I suppose, I miss being out with a bunch players or coaches, coming home at midnight and not being able to sleep until 5am because I was still pure wired from the session we had that evening. The head would just be spinning."
On Monday night, Martin Fogarty goes again. This time with a virtual look into the Slaughtneil success story on all fronts, an online round-table discussion driving the theme, 'Small Clubs can Dream Big'. 
He's already resigned to another restless night's sleep afterwards. He knows he'll pick up on a throwaway remark, or some insight, and he'll spend hours playing out scenarios in his head.
Simply wired to the game. No lockdown will change that.
Listen to the RTÉ GAA Podcast at Apple Podcasts, Soundcloud, Spotify, or wherever you get your podcasts. 
We need your consent to load this rte-player contentWe use rte-player to manage extra content that can set cookies on your device and collect data about your activity. Please review their details and accept them to load the content.Manage Preferences