Brendan Devenney will most certainly go down as one of the greatest players to have worn the Donegal jersey.
With that in mind, RTÉ2fm's Game On were joined by the prolific former forward for this week's legends interview.
Devenney looked back on the highs and lows from his career but also gave an insight into the challenge of staying in the zone as he became a focal point for the opposition's attention.
"It's strange now even talking about it but there were days I really felt unmarkable, at peace and really enjoyed what I was doing," he said.
"But they were often playing for club and very few and far between for Donegal and definitely not in Ulster.
"I think after the initial few years, my first Ulster final in '98 against Derry - the famous Brolly late goal - I was Man of the Match in that game.
"At the time, I hadn't played underage, so I came in with this mad confidence. Not that I didn't know what I was doing but I was just free.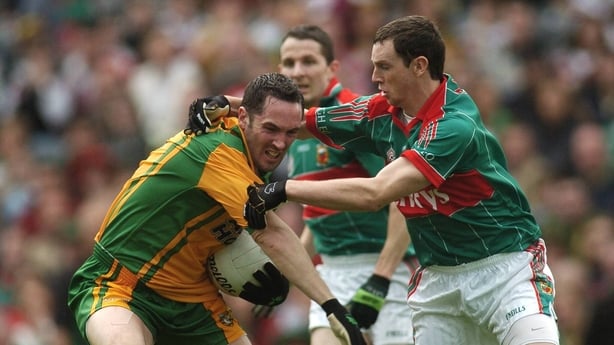 "And then next thing, I was our most targeted player and then all this weight came on me. I was kicking frees, there was a lot of pressure attached to it and I really stopped enjoying my football.
"Honestly, I remember going to Clones a few times and actually dreading the game. Dreading it! Looking back on it now, there is no mindset at all to go into a game.
"I hadn't got the skills myself and if I could coach myself now, I would know how to get that out."
He also credited former Donegal manager Jim McGuinness, who took charge shortly after Devenney's time on the panel had come to an end, for changing that mindset within the squad, alleviating individual pressure as it was instead carried by the collective.
"The only thing I was envious of, [McGuinness] had obviously told the players, 'work hard, forget about scoring, kick your frees, show for the ball, work and we win as a team. You don't have to be the 1-05'.
"That was all the pressure that was on me going into some of them games," said Devenney of being the main marksman in the pre-McGuinness era.
"And when it didn't happen, sometimes I was really lost in terms of my life because it was your whole life at that time."
While Devenney is not attached to the idea of being regarded as a legend, he does feel humbled by the fact that the player he views as Donegal's greatest ever, Michael Murphy, has placed him on his own personal pedestal.
"He said to me one night, texted me, 'Make sure you watch The Sunday Game' and so there was a legends thing on," said Devenney.
"And to be honest it's the most humbling thing I've ever seen for Michael Murphy - for me, by far the best player to ever play for Donegal - to say that I was his hero growing up. That was pretty amazing.
"Has anyone's hero turned around and then been their hero? Because Michael would be mine. So it's come full circle."