After a 2019 where provincial honours were landed and an All-Ireland final appearance was, for a long time within their grasp, Wexford hurlers certainly had much to look forward to this year.
Before the Covid-19 pandemic put pay to all GAA activity, the Slaneysiders had qualified for the knockout stages of the league. Last weekend, Davy Fitzgerald's side were to have begun their defence of the Leinster championship with a home game against Dublin.
There is a chance of that the quest for the Bob O'Keeffe and Liam MacCarthy Cups could be staged in the autumn. And that's all it is, a chance. Even then, no spectators may be allowed in to watch the fare.
Matthew O'Hanlon, who captained Wexford to Leinster glory last summer, tried to imagine the feel of a championship game behind closed doors.
"It's hard to picture what it would be like," was O'Hanlon's initial reaction when he spoke on 2fm's Game On.
"We've all played challenge games behind closed and many of those have been competitive but none of us have played a championship games without fans before.
"The atmosphere will be different but we are all competitive players in between the white lines and you want to get the better of the player that you are marking. The fact that the fans are not there will be quickly forgotten about once the ball is thrown in. I think the standards will be equally as high.
"People might enjoy what Davy and Brian Cody are saying but it may not be friendly to the airwaves"
"We train behind closed doors with nobody watching us, we played clubs game when we were young with nobody watching us. The idea isn't alien, it just would be alien to what we've been used to in recent years.
"And while it's not everybody's first preference, most players would want games as distinct from no games at all. It would be a different experience but at least it is something to look forward to. I would jump at the chance to get out there and play a game.
"After having some success last year, this was the year we were hoping to kick on"
"To have something to look forward to and a bit of hope, that's what we want. You set up your life to get the best out of yourself and the team. To not know when you're aiming for realistically is quite difficult.
"That's the challenge facing us and every inter-county team at the moment. After having some success last year, this was the year we were hoping to kick on and I think we showed signs throughout the league that we're building.
"Our training plan was focused at peaking at around this time of year. We have to adjust what we are doing to keep ourselves in the best position and try and not lose the base of work we've done in terms of fitness and strength and conditioning."
The Slaneyside defender also painted a picture of what Kilkenny against Wexford might be like with the terraces and stands empty when adding: "People might enjoy what Davy and Brian Cody are saying but it may not be friendly to the airwaves."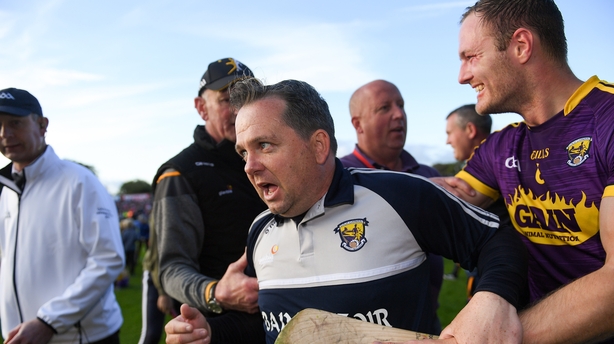 Speaking of Davy Fitzgerald, O'Hanlon remarked that while his manager has yet to participate on a Zoom call during this period of no personal interaction among the squad, he is nevertheless good at getting his positive message across in other ways.
"We are a very close group. We care about each other an awful lot and outside of sport we always try to look out for each other in whatever we are doing.
"Davy is great at sensing that individual players might have something up with them and is always there to put his arm around you and help you in whatever way. I think that's one of his strengths as a manager and that helps knit the bond between players."