At the start of February, before the Covid-19 pandemic shut the country down, over 750 people packed into the Tullamore Court Hotel.
They gathered to pay tribute to their friend, teammate, neighbour and footballing legend, Paddy Fenning, who was battling Motor Neurone Disease.
Aged 69, he died this morning, but left behind a flood of memories for family, friends, former teammates and rivals, indeed the people of Offaly, to cling onto.
The dent he left on life was considerable. You would need to compartmentalise it.
50 years ago, in May 1970, the footballers of Mayo and Offaly and the hurlers of Kilkenny and Cork took part in a GAA tournament at Wembley stadium in London.
Fenning made his Offaly debut that day in Wembley, scoring a goal in the process. You could measure his contribution to Irish life and culture in footballing terms alone – he went on to win two All-Ireland medals in 1971 and 1972, four Leinster titles. Back when it meant something, Paddy also won a Railway Cup too and landed two Offaly SFC titles with Tullamore in a stellar career.
That was the player.
The man, by the looks of it, was quite something else too. A loving husband and father. That night in the 'Court, he was flanked by his wife Kathryn, daughter Amy and son Barry and they listened intently as old friends and foes paid tribute to his life and career. It was the most emotional of nights.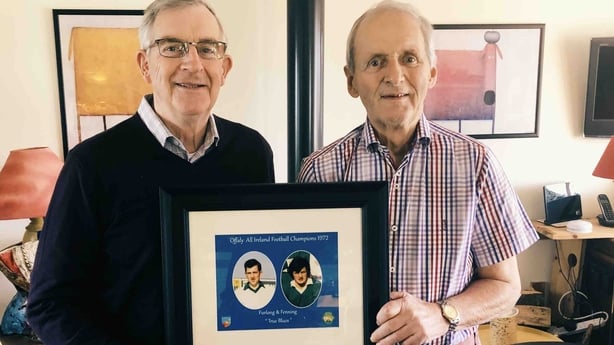 The centrepiece was a panel discussion featuring Seamus Darby and other golden GAA stars, Donegal's Pauric McShea, Dublin's Dr Pat O'Neill and Galway's genial general, Johnny Hughes.
On stage, Darby recalled one of his earliest encounters with Paddy when his Rhode side were well beaten by Tullamore in the 1966 under-16 county final.
"We all assembled, going into the dressing room," said Seamus. "Paddy, I didn't know him then but knowing him now, he probably did it deliberately, he came up the road, himself and Kathryn holding hands and the boots well-polished as always.
"So of course, we were all looking at Kathryn to tell you the truth and we took our eye off the ball and Paddy went off and kicked the s**t out of us, beat us by about 12 points! The moral of the story is - don't be looking at other lads' girlfriends when you're going to play a match!"
Looking down from the stage to his old friend, Darby was earnest. "I know Paddy and Kathryn for 55 years and if there is such a thing as childhood sweethearts, they are two."
McShea wondered aloud if he had ever seen such a crowd at any GAA event, bar a game, in his life and reckoned the mass turnout was testimony to the respect Fenning commanded throughout the country.
Pat O'Neill was Paddy's "nemesis" throughout their playing days, and he recalled their last meeting on the field - in the 1980 Leinster final - with the Dublin defender sent into the fray to curb Offaly's flying half-forward.
"Paddy ran into me or I ran into Paddy and Paddy ended up on the ground," O'Neill smiled. "I ended up standing up and thought, 'This doesn't look right, does it?'
"It was a Leinster final so there was probably 50,000/60,000 there so I decided I better hit the deck here as well. The next thing I was lying face down unconscious, but fully aware of what was going on!
"With that, the Offaly manager, Eugene McGee, came onto the field. I would have known him very well from my time in UCD and I would have been very friendly with Eugene. 'Jesus, O'Neill, and you calling yourself a footballer and a doctor,' McGee said. Actually, he put it in much stronger terms than that!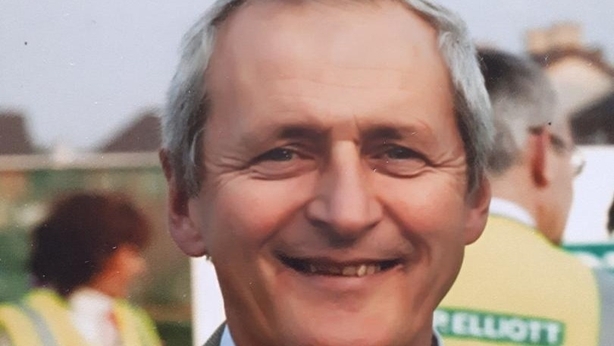 The proceeds from that event went to motor neurone disease research/support and Tullamore homeless causes. The aim remains to raise €150,000, which will culminate with a 5km walk along the banks of the Grand Canal in Tullamore, whenever this pandemic allows it.
Just last week the fundraising committee passed the €50,000 mark.
Which brings us to Paddy Fenning, the community man. Little wonder the people of Tullamore – and beyond – gathered that night. After all, he had been working for them all of his life. After his inter-county playing days ended – all too early at 30 – he threw himself into fundraising duties, raising huge amounts of money for local projects, including a swimming pool for the town, helping to raise €200,000 for a CAT scan machine for Tullamore hospital, an arts centre for the town which will open soon. In the 1980s Paddy was on the front line helping to clear the debt attached to the social centre across from O'Connor Park. In 2011, he was named Offaly Person of the Year.
Offaly GAA wish to be associated with the many tributes being paid to former Tullamore and Offaly football star Paddy Fenning, who passed away this morning, 15th May.https://t.co/o3IpoKSIPa pic.twitter.com/m7XpSDcaQG

— Official Offaly GAA (@Offaly_GAA) May 15, 2020
That's a snapshot of the man - footballer, family man, fundraiser. To the end, though, he was a fighter too.
After he was diagnosed with MND, he sat down with Vincent Hogan of the Irish Independent to chat about life and his hopes to raise funds for research of the condition. When asked how he could possibly come to terms with the diagnosis, Paddy replied, 'I have accepted it," he says simply. "Like, why not me? Why should it be somebody else?'
The condition takes everything away, but it couldn't rob Paddy of his values nor the impression he left on so many people.
He played for a county that won two All-Irelands when they had just 60,000 people living there at a time the smallest population in the land.
He started every game in that 1972 campaign and would have started every game in 1971 too only he went off to Spain for a holiday in the summer of '71 and had to be content with a role as an impact sub for the remainder of the season. Not to worry, Paddy reckoned, going to Spain at that time was like going to Mars. He had to seize the chance.
He scored the only goal in the 1972 final replay and loved to make it sound a little more glamourous than it was, joking to Seamus Darby that while it was easy to score a goal against Kerry from 14 yards out, he had managed it from 50 yards, against the wind too. 
The memories will live on. His legacy with them.