Ollie Baker sat down with his children recently to watch the re-run of the 1997 All-Ireland hurling final. It is not as if the former Clare midfielder needed much of an excuse to revisit their epic triumph over Tipperary, but as a brief reprieve from the turmoil that is working on the frontline as a member of An Garda Síochána it would more than suffice.
The footage rolled and the memories came flooding back. Ger Loughnane defying the confines of that miniscule wooden green bench. Jamesie O'Connor dancing his way through a hall of fame half-back line. A convulsive clash that incredibly resulted in a superior Clare prevailing by just one point.
Baker's considerable influence was crucial to that winning margin. With four minutes left, Tipperary took a one-point lead thanks to a Eugene O'Neill goal. Before the umpire had put down the green flag, the Banner county were level. No one watching on television knew how.
"It just didn't come up live on the day. They were still showing a replay of the goal. I have actually seen it since, I think it made an edit on a highlights programme somewhere. But sure for some people, if the live footage missed it, it is like it never happened.
"It happened in a split second. Davy didn't hang about getting the ball out. We had a bit of a wind behind us and the ball landed close to the Tipperary half-back line, on the '45. They were retreating at the time and the ball broke out. I was just standing there and I had a chance to level it, so I did.
"The funny thing about it was that 1995 was the first final where there was a big screen up the back of Hill 16. As a player, you were now conscious that you were on television.
"You would look up and see the time or what was going on. Look, you were always a fan first. You knew how it worked. The camera always focused on what the commentator was discussing. What was important? Was there an incident in the full-back line? Who was the commentator discussing?
"You would get a sense of it all."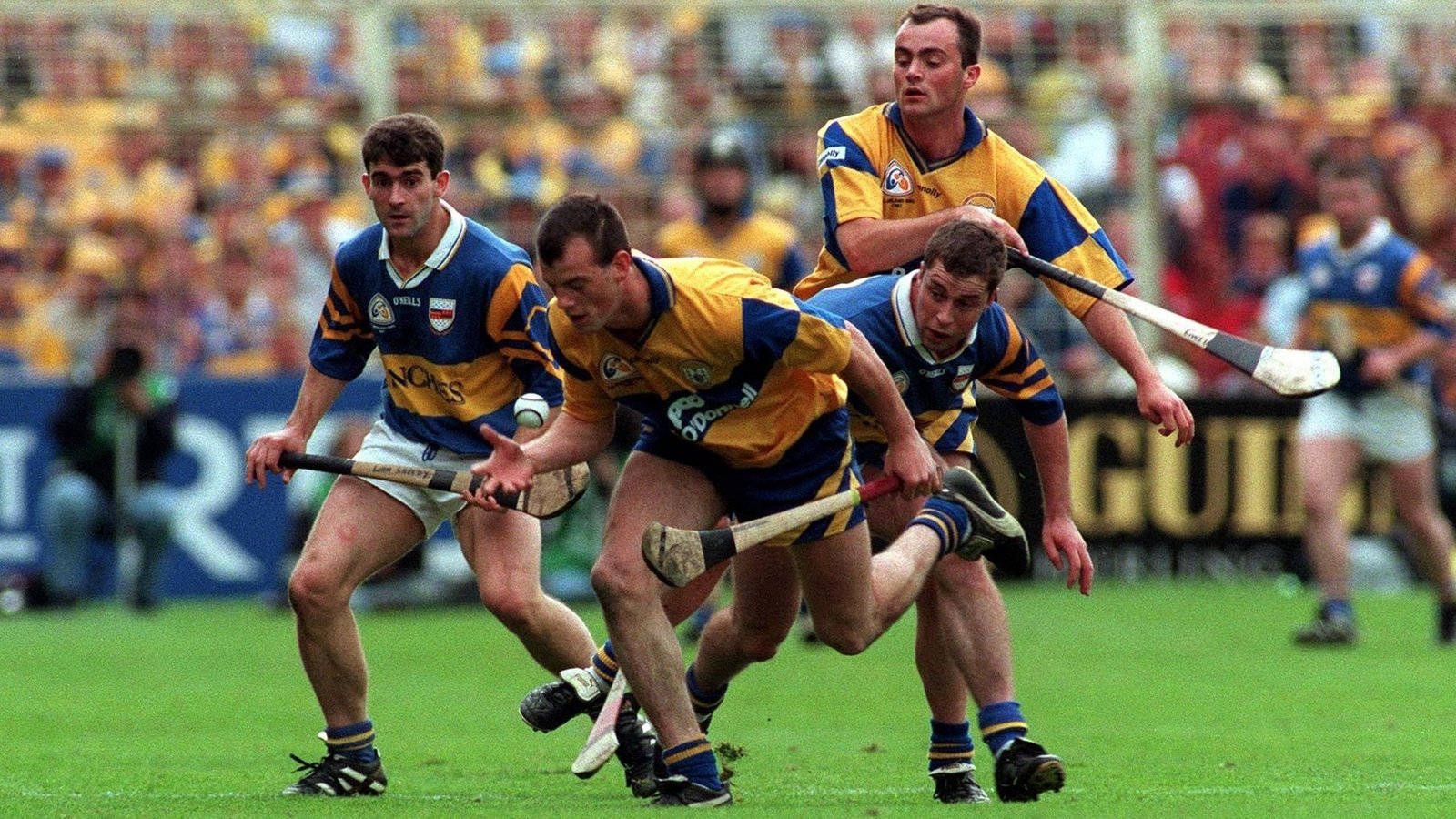 As the Clare crowd roared the picture switched back and everyone, including Baker, watched as he backpedalled out with a determined fist pump.
"I remember at the time I reversed out and threw a glance up to see the time, the score and everything. But up on the screen there was no replay of the score. Eugene's goal was up there, then myself coming out.
"I was saying to myself, 'What is the score? What is left?' But you did have a sense, television missed it!"
That swift score illustrates the demanding task that is filming hurling. 35 years earlier, the first live television coverage of GAA matches by RTE was the Railway Cup Hurling and Football Finals.
At the time, the association railed against the mere presence of television cameras. The broadcasting rights cost a 'nominal' fee of £10. That year's Congress spent a considerable amount of time discussing the potential decline in spectator attendances and the resultant effect on revenues.
Things would soon change. The game, television and the fees would all improve.
"Whatever about everyone else, we saw Baker's point go over anyway. That's all that matters."
For twelve years Len Gaynor hurled for Tipperary throughout the 1960s and early 1970s. By 1997 he was on the sideline as manager and ideally placed to watch their lead vanish.
Television's arrival was more lacklustre than blockbuster. In 1973, the number of households with colour sets stood at 27,000. This was a different time from the world of digitalisation and universality.
"It wasn't a thing. It is hard to describe when you think about it now, but TV wasn't this big yoke everyone had and talked about. We didn't really pay heed to it. You'd hardly see cameras. Back then they only had one and it did the game no favours. They might miss something, it looked limited.
"The first year they showed a Munster championship match was '71. You'd be hard pressed to find footage of it before then.
"You sensed it change that year all right."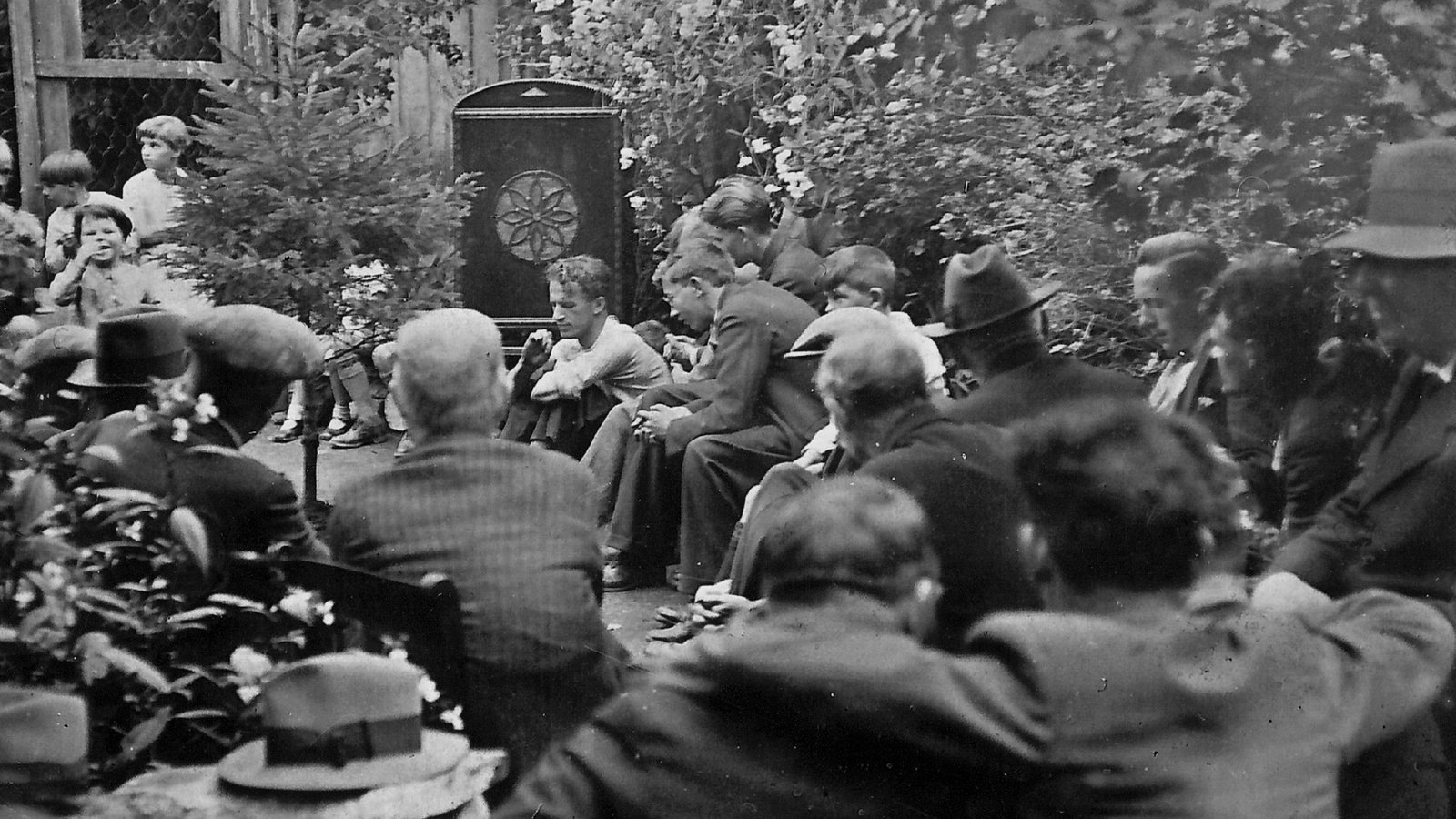 That was the year Gaynor captained Tipperary to a two-point victory over rivals Kilkenny in the All-Ireland final. It was the first match to be broadcast in colour. It is no great surprise that with the expansion of RTÉ and colour television, the GAA soon spotted opportunity. By 1976, the broadcasting fee was £15,000.
The opening testiness was replaced by a need to be seen and appropriately promoted. That was easier said than done.
The real challenge was sufficiently capturing the game. Not only did they have to contend with the speed there was also the bounce of the ball. At times, an erratic bounce.
"You need to understand what it was like back then," stresses Gaynor.
"The real thing was the ball. I remember travelling to a coaching course one day in 1969. Fr. Tommy Maher made a great point. The hurling ball does not always hop through. It is uneven. He threw the ball up against the wall, it came back to him and he caught it. He threw it again, caught it. Did it again and this time it hopped sideways.
"There could be an uneven part inside, it was hard to be hugely consistent. These were hand stitched, in training you'd never drop a sliotar on the floor in the dressing room. It could be trod on or hit and then it might unravel. You'd put your hurley to a ball and it could skew sideways. People would watch and wonder what the hell is wrong with him?"
As a former RTE camera operator and member of Waterford's backroom team under Derek McGrath, Donie Mac Murchú knows all about this task. While the majority of sports covered had established formats in the UK or further afield, there was no comparable luxury for hurling.
"It is a completely different challenge," he explains. "The movements you make as a camera operator, you have a significant bit of equipment that you need to manipulate to follow the ball at high speed and close quarters.
"The further in you zoom, the closer picture you get, the more detail of skill or touch you can show. However, it is more likely you miss something.
"It is relatively easy to follow wide but the further you zoom in on anything the harder it is to follow. Trying to track Cian Lynch flicking the ball up, trying to track Austin Gleeson in full flow, trying to track a TJ Reid shot which breaks all speed metrics, that is not easy."
Hurling demanded unique features: a game predicated on close-quarter skill needs total comprehension in order to fully appreciate it.
"The big change was around 2004. We started looking into how super slow-mo cameras would work in hurling.
"There was a bit of resistance in certain quarters. Why would you want to slow down the broadcast of the fastest field game in the world?
"When that was said to me, I had to take a second thought. Am I missing something here? But I thought back and said no. I do want to know how Ben O'Connor picked up the ball in the 2004 Munster Final. How did he do that? What movements were involved?
"As it evolved it became a big part of trying to display the skills of hurling without taking away from the fever pitch of the seventy minutes at the same time."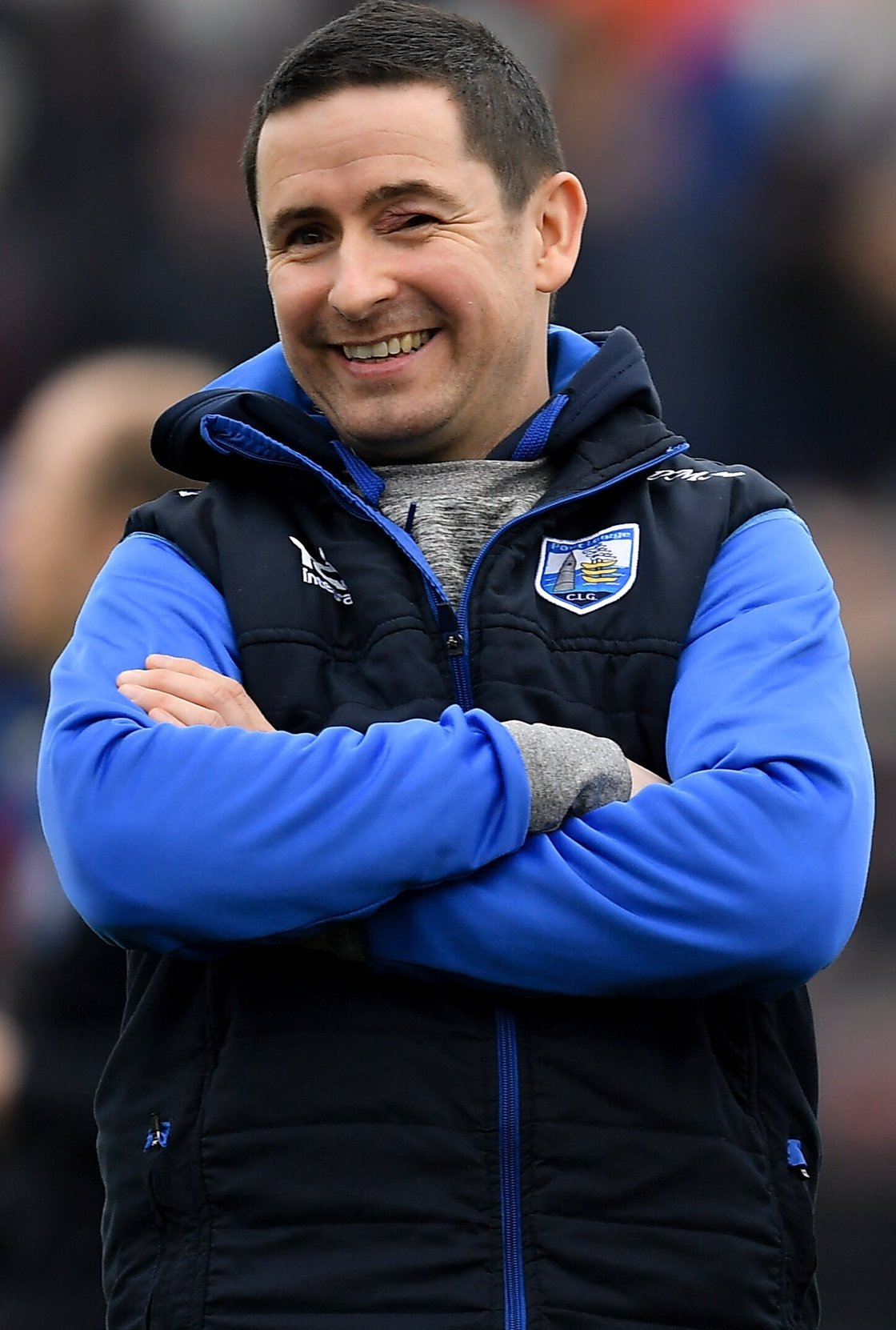 We need your consent to load this Instagram contentWe use Instagram to manage extra content that can set cookies on your device and collect data about your activity. Please review their details and accept them to load the content.Manage Preferences
Mac Murchu's upbringing ensured he was the perfect man for this job. His was a childhood spent travelling to matches with his grandmother, Dóirín Mhic Mhurchú, the first female GAA journalist. His uncle Irial Mac Murchú is the CEO and founder of TV sports production company Nemeton.
Donie graduated from camera operator with GAA BEO to a role with RTE before becoming camera supervisor for the Sunday Game. As time passed, more matchday cameras meant the broadcast could reflect the frantic and multifaceted elements that make hurling what it is.
It was no longer about showing the audience any view. The goal was to display the entire view.
"It is a challenge that never relents. How do you cover hurling to give the viewer at home the full spectrum? At times a director wants to show colour. Every time a director makes the decision to show something in the crowd you are taking a little risk that something won't happen on the field that you will miss.
"The advance of recording all cameras used and having them backed up, we can look at what happened in that instant or the managers reaction. That file is great."
He points to Maurice Shanahan's goal against Kilkenny in the 2017 qualifier as the perfect example of what they are trying to achieve. As the sliotar skips past Eoin Murphy and the Waterford stalwart wheels away in jubilation, the picture quickly progresses to show the crowd celebrations and Derek McGrath's response. He sprints 30-yards to relay a message to Tadhg de Burca.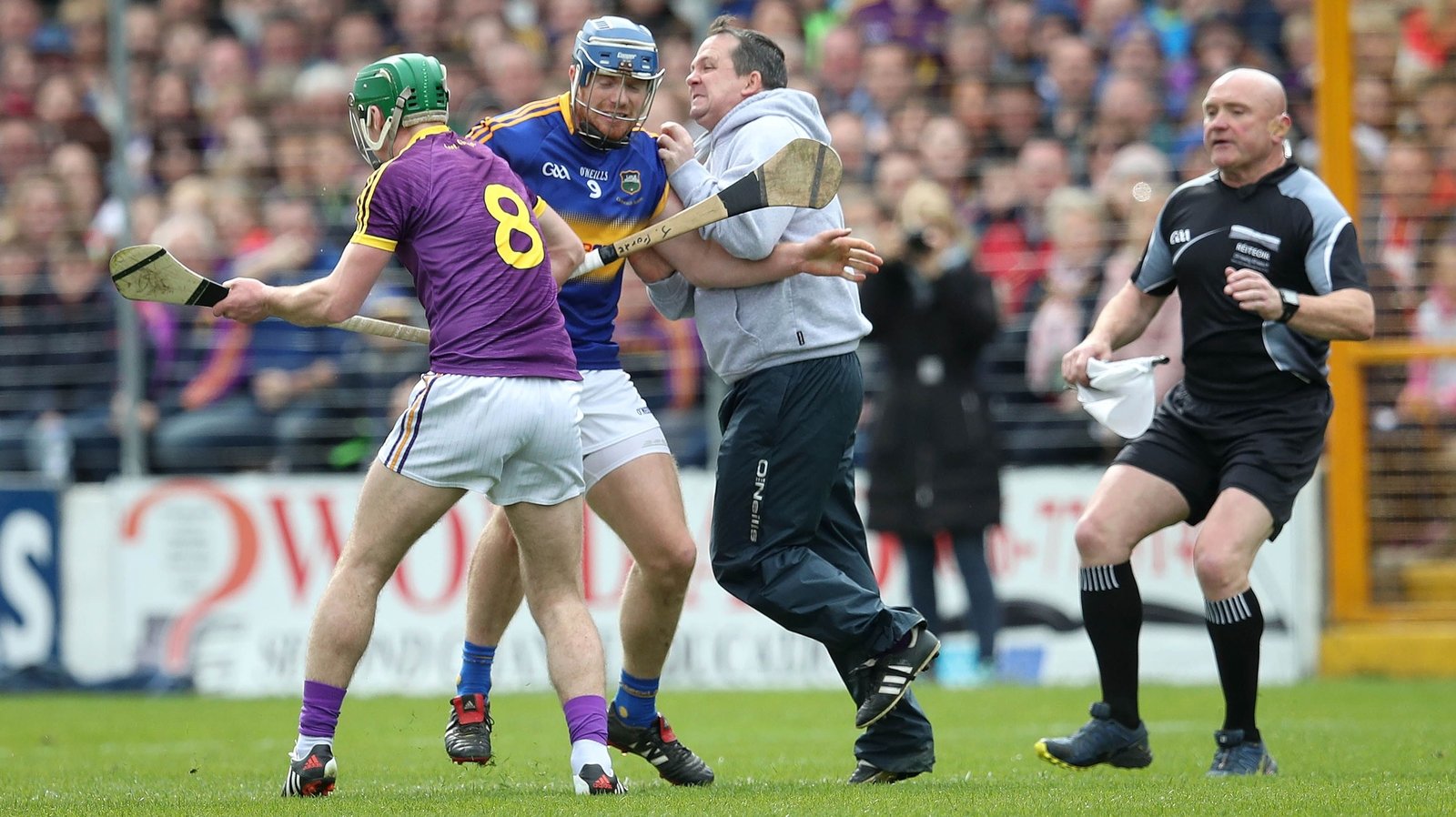 The artistry, exultance and tactical reaction all captured within six seconds.
This is now the norm. The modern-day manager knows he is being watched and can plan accordingly. In Gaynor's time, that wasn't always the case. Why did they care what happened on the sideline when the action was on the field? It felt invasive.
"They can be intrusive when you are a manager. They tracked you everywhere on the sideline and that can be overdone at times. See people are used to it now but then it felt like a foreign interruption. It felt overdone, trying to get a great shot of a manager going berserk.
"Managers now are used to it; they have grown up with it."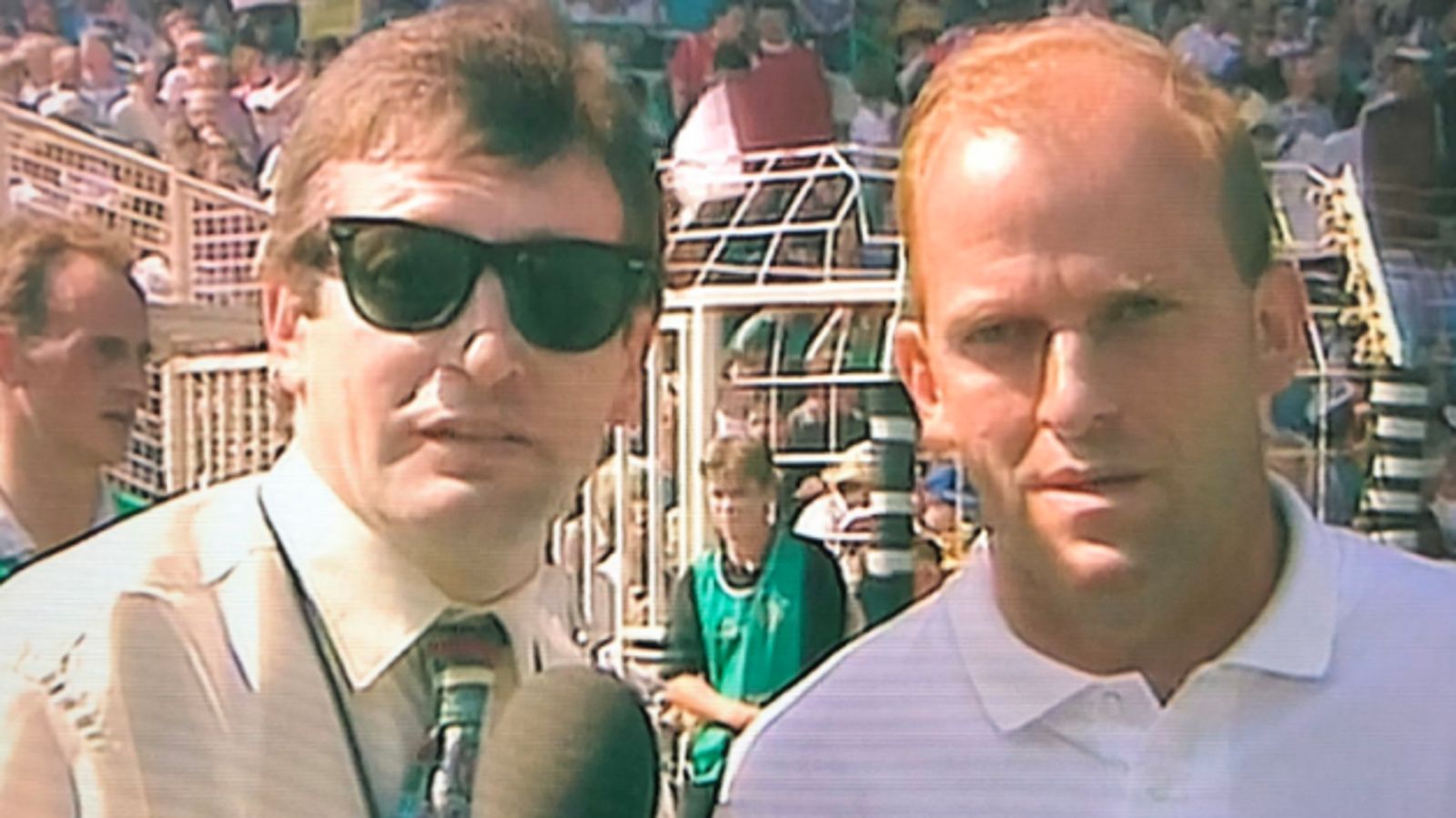 For the camera operators and director, it is about being constantly switched on. Even one missed second can have lifelong repercussions.
Joe Quaid knows all about the dangers of perception.

The former Limerick goalkeeper still hears the occasional comment about his supposed fatal error that led to Pat O'Connor's goal during Offaly's dramatic comeback in the 1994 All-Ireland final.
"I got a hurl of abuse over that so called quick, inaccurate puckout," he says.
"That puckout went into Ger Hegarty's hand between the '45 and '65 in the opponent's half but it was missed. They were replaying the score and next thing people knew it was in O'Connor's hand.
"Nobody outside of Croke Park saw it. Hegarty got a belt of a shoulder and the ball slipped, Johnny Pilkington pulled on it. No one at home knew about it."
For Quaid, it came full circle in 2019. He still recalls watching Limerick and Kilkenny play in the All-Ireland semi-final and the sense of anger as the deflected Darragh O'Donovan sideline was incorrectly waved wide. Then his phone started hopping.
"What happened there?" Fans in attendance looking for answers while everyone at home had already seen three angles of it. "The best view of the action now is at home, that wasn't always the case."
Television's shortcomings may have cost Quaid during his playing career, although its presence also proved to be a valuable aid.
"In 98, my puckout went to shit really. I blamed hurleys, sliotars, everything.
"Then someone said it to me, go back and get the VHS tapes from the old televised games and watch your strike from previously. I was barely making halfway at this stage. When I was 16, I could land it past the other '45. For some reason, I just lost it. I actually went back and just watched my old technique. I found it again."
The best view of the action now is at home, that wasn't always the case
Today, nothing is missed. The benefits are obvious but what of the drawbacks? Ollie Baker is under no illusions about the gulf in standards between the current crop and his own era. Yet not everything that can be broken down and replayed from dozens of angles needs to be.
The game is moving in a certain direction and he wonders if it is the right one.
"You have to be careful in all of it. The physical battle is massive. It is at the heart of the game. Now it is being scrutinised more and more, discussion and analysis of every belt and tackle.
"I mean that with the greatest respect to these skilful players, but tackling, defending, using your physicality, that is an art. It is becoming more and more undervalued. It could become a forgotten skill. What we focus on, what we highlight, that shapes the sport. It all comes back to scrutinising these things.
"I think that can negatively impact hurling."
For Donie Mac Murchú, there is only one priority. Do the sport justice, now and in the future.
"It will be a challenge to try and advance it, but technology will always advance. That is great. In the future 4K will be the standard. That will give another level of detail. The sliotar, the runs, the touches, the catches; they were once a blur on analogue TV in the early 90s.
"Think about Jimmy Barry Murphy's volley, John Fenton's ground strike, you need a certain imagination to really appreciate them because you don't see them in the full level of detail. Now look at something like Austin Gleeson's goal against Cork in 2017, the detail that was captured. You get to appreciate that so much. We have more cameras and angles to appreciate all the nuance.
"How much further can we go? We can also go further. The game is getting better, we need to keep up."