"At the end of the day there is a bigger picture to all of this," says Paddy Cunningham.
"We have a crisis at hand, and I've accepted where we are at. I have my own issues and, to be honest, county football pales into insignificance with what is going on."
Cunningham turns 35 next Monday and brings with him a perspective that many inter-county players don't have. "Well, in fairness there are not many my age still hanging around," he counters.
He's right, of course.
Save the likes of Ross Munnelly and Stephen Cluxton, there are few others of his era still on the highway, trucking away.
But Cunningham's journey - and his calling - has been different.
In 2009, he captained Antrim to their first Ulster final in 39 years, scoring 0-11 that afternoon as they fell to Tyrone. That game catapulted the former Sigerson Cup winner, who helped UUJ to the 2008 title, back into the limelight.
In all he had spent 12 seasons hurling and playing football for Antrim, often in the shadows of other Ulster counties who were pushing hard for titles, before he decided to step off the carousel.
There were good days, but bad ones too, as Antrim's footballers flip-flopped between divisions and the hurlers completely lost their way.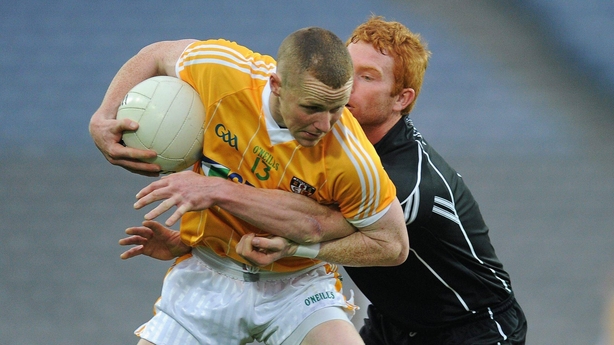 At 28, Cunningam broke away to re-assess things and decided there was more to life than meeting the increasingly heavy demands of being a county footballer and hurler.
He and his wife, Claire, started a family. The intention was to get back into football after a year or two, but whenever the deadlines or landmarks came around, the itch simply wasn't there.
Before he knew it, he was gone six years.
In the meantime, three kids arrived, Padraig, Amy and Aoife. And despite being asked back to the Antrim panel on numerous occasions, Cunningham politely declined. Life was busy enough at home.
That was until Lenny Harbinson looked him up last winter.
Harbinson had assembled a nice clutch of young cubs but always kept a gate open for the wise old fox from Lámh Dearg, one of the county's finest ever footballers.
After a few chats, Cunningham was on board again, curious to see if he could still help his county.
Why he felt the need to return with three kids to look after, and following a hiatus of six years, remains something of a mystery to those outside the county.
He simply describes it as a nagging itch that he wanted to scratch. And the only way to soothe that hankering was to go back.
"I never officially retired," he said.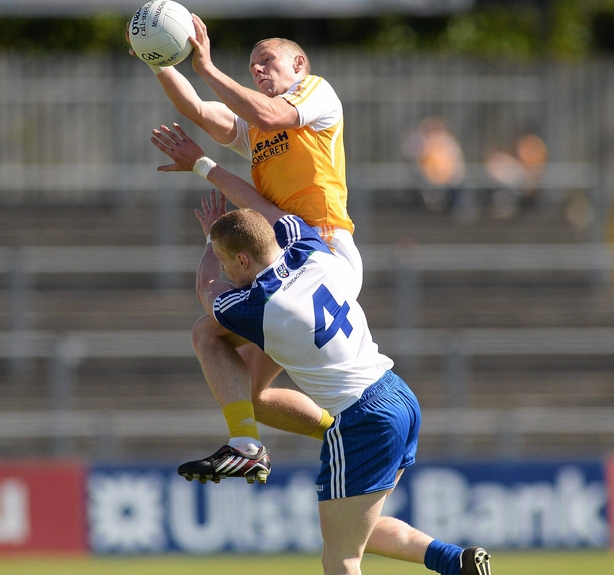 "And you always feel there is unfinished business. The club form was good, and I felt we had a good bunch of lads, so I went back.
"We were looking for promotion when the lockdown came and had a good chance of getting it, Lenny is very good to me and knew how to look out for me, he could nearly see when I was lacking energy before I saw it myself."
He went back in with his eyes wide open. Initially, he got the feeling he might be used as a 10 or 15-minute man but he didn't countenance playing that type of role. That's just not in his DNA.
Instead he backed himself fully.
"Although he'd been away for six years, there was still credit in the bank. Cunningham's displays at club level had remained of the highest standard, and only two years previously Lámh Dearg had won an elusive Antrim senior title.
Sure, the relentless regime of life as an elite player - intense training, careful preparation and challenge of finding space amid mass defences - had ground him down years earlier, but he couldn't shake this sense of there being unfinished business.
What was the worst that could happen? If the spark wasn't there, he could always step away again.
Both player and manager agreed there was little to lose, though it didn't stop Cunningham from shedding a stone and half in three months to get back to the level needed for inter-county football again.
After that it was back to the old routine. He hit 0-08 against Sligo and 0-06 against Wexford in this year's Allianz League to help lift the team towards the top of the table.
Cunningham, never one for cameos, was back in a leading role.
"This was a one-season gig, that was the deal, and it looks like I might not be able to wear the saffron again."
After five months, all was rosy. Antrim lay second in Division 4 and looked a hot bet for promotion.
With just two games to complete they looked good to rise to the third tier. The hurlers were motoring well also.
Cunningham sensed a clear mood of momentum under the direction of county board chairman, Ciaran McCavana.
Then the country closed down, first down south and then up in Cunningham's neck of the woods. Ever the opportunistic forward, he had made his move long before anyone else read the play. He had no choice.
Life beyond football has long since been at the heart of the family's priorities. For almost a decade there has been Paddy's health to consider. In 2011, he was diagnosed with Crohn's disease; a condition he works hard to stay on top of.
"About a week before the lockdown was announced in the south - and they were ahead of the Government in the north - I went into self-isolation myself," Cuningham reveals.
"I'm about 10 weeks into it now and extremely careful because I am high risk with my condition. I see my mother and father, Claire and the kids, and that's about it.
"Claire's a key worker, a social worker on the front line, and she's under big pressure, I'm very proud of her but we all have to be ultra-careful on that side of things. But that's no different to anyone else."
We need your consent to load this YouTube contentWe use YouTube to manage extra content that can set cookies on your device and collect data about your activity. Please review their details and accept them to load the content.Manage Preferences
He watched The Sunday Game at the weekend and felt that John Horan's interview was the best he had seen since the pandemic reached these shores.
"John just spelled it out," he says. "He was straight to the point, but it gave the whole country an idea of where we really are. While we are social distancing no games can be played."
That could well mean the end of Cunningham's short-lived inter-county rejuvenation.
"If it does so be it," he says.
"There are bigger things going on than me not being able to play football. This was a one-season gig, that was the deal, and it looks like I might not be able to wear the saffron again.
"That would be disappointing but, equally, that might not prove to be the case either, so you have to stay positive. And like I said, me not being able to play football again pales into insignificance with what is going on around us."
The condition, an inflammatory bowel disease, has been tough to deal with, but Cunningham speaks only with grit and determination in his handling of the illness.
He takes medication daily, lost his hair as a side-effect of that, and every eight weeks he receives a transfusion.
"The best description would be to use the battery analogy," he says by way of explanation.
"For four or five weeks the energy levels are great, but then you feel yourself lacking a little bit leading up to the next transfusion.
"But Lenny has been great in that regard. Always looks out for me. And I was enjoying it too."
Cunningham is a role model for resilience, accepting a new reality, even if it's more difficult than the one he had before.
"You have to continue to take stock of things as they happen," he says.
"This break will ensure that everyone can stand back and look at their lives and not just in the GAA world but society too.
"It's been hard, but it's been a blessing too because we can all reflect and see what we want from sport, life, work, family and that's been my biggest lesson.
"I would love to see out the season and get football in some shape or form, but whatever happens it won't be the end of the world.
"When it all does lift, Padraig's training and football will nearly take pride of place. The wheel turns and soon it will be his turn.
"My only concern is to keep the family safe until then."
Listen to the RTÉ GAA Podcast at Apple Podcasts, Soundcloud, Spotify, or wherever you get your podcasts.