In the latest in this series on the greatest matches he ever witnessed, RTÉ GAA commentator Darragh Maloney looks back at that 2000 All-Ireland SHC semi-final between Offaly and Cork.
Do not go gentle into that good night,
Old age should burn and rave at close of the day;
Rage, rage against the dying of the light.
- Dylan Thomas
Over the last few weeks, I have written here about a couple of Offaly teams losing big games but I wanted to redress the balance by writing about one of their greatest victories.
It is a win that says so much about the character of Offaly; their love of the GAA, their ability to upset the odds and their will to never give up and fight until the end.
The 2000 All-Ireland semi-final victory over the reigning champions Cork was the end of the cycle of unprecedented success for Offaly hurling. It was their last big win over a superpower and unfortunately, they have not managed to scale those heights since.
In the view of Michael Duignan, the game summed up the team he played on: "We were outsiders, written off by almost everybody, with fellas, including myself, held together by the skills of physio, 'The Great AK' (Alan Kelly)."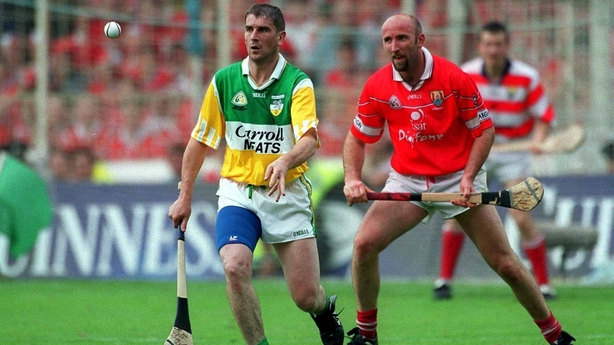 The victory came at the start of a decade which promised much after a sensational 20-year period when they won four senior All-Irelands and three minor titles. But there could have been more senior silverware. With the exception of 1997 when they didn't play Clare, from 1992 to 2000, Offaly either won the All-Ireland or were beaten by the eventual champions (they played in four finals).
Offaly and Cork met at the semi-final stage the previous year when Cork dethroned the champions, winning by 19 points to 16. Cork came from behind to score the last five points and then defeated Kilkenny in the final.
Cork were the Munster champions in 2000 while Offaly had lost their third Leinster Final on the trot and were major underdogs after an uninspiring provincial campaign.
Offaly had added some young talent in the previous years with Gary Hanniffy, Simon Whelehan, Ger Oakley and Brendan Murphy impressing but the age profile of the rest of the team was a concern.
Martin Hanamy and Billy Dooley had retired, Joe Dooley was 36 and Michael Duignan and "Team of the Millennium" inductee Brian Whelehan, carried significant injuries into the game. John Troy and Hubert Rigney missed most of the year. The rest had hurled for the county for years and in terms of miles on the clock, the view was, they were past their best.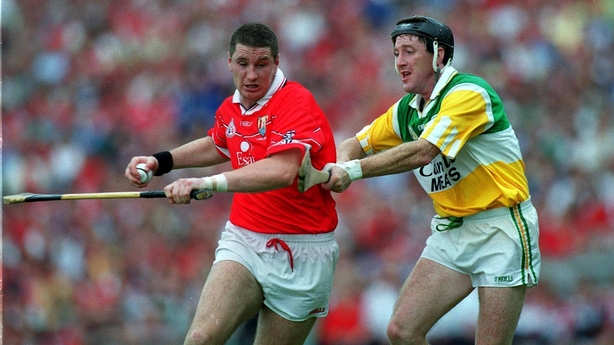 But this was Offaly and the normal rules did not apply.
They were facing a brilliant Cork group which included Donal Óg Cusack, Diarmuid O'Sullivan, Seán Óg Ó hAilpÍn, Brian Corcoran, Joe Deane and Seanie McGrath; they were managed by the great Jimmy Barry Murphy. Some felt Cork did not get enough credit for their win in 1999 so this was the year to put that right.
The Offaly team was managed by 1985 All-Ireland winning captain Pat Fleury who had built up a special bond with his players. "It's hard to describe the respect I have for that man," says Michael Duignan. "He epitomises Offaly hurling, he understands our character, the people. Pat and the '81 captain, Padraig Horan, are two of the most important hurling people there have ever been in Offaly", adds the Offaly Chairman.
On a wet day, Cork raced into a 0-05 to 0-02 lead with the superb Joe Deane running riot on three-time All-Star, Kevin Kinahan. Gary Hanniffy, Johnny Dooley and Johnny Pilkington helped Offaly back to within a point before Deane started to torment Kinahan again.
By the 14th minute, Deane had five points from five shots and the full-back was in trouble. On the TV commentary, Ger Canning said that the Offaly man was "having a torrid afternoon" and co-commentator Liam Griffin agreed but added that "maybe he can play his way back into it".
But the signs were ominous for the underdogs.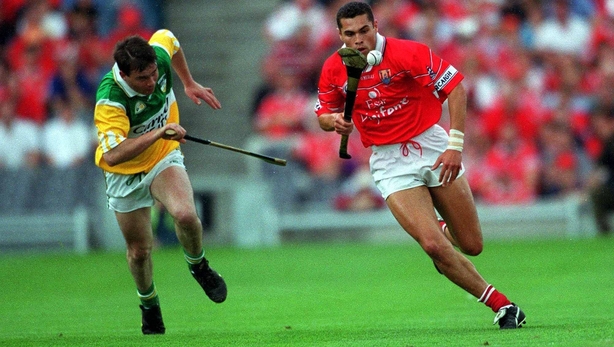 Ó hAilpín was dominating the half-back line even though his marker Johnny Pilkington ended the half with 0-03. When you look at the match again, you will see images of Offaly players breathing hard but in true fashion, they were staying with Cork, who were racking up wides.
Offaly managed to go a point up close to half-time before a Cork flurry gave them a 0-12 to 0-10 cushion at the break. From frees and open play, Joe Deane had scored 0-10 and Cork had 10 wides to Offaly's two.
The big issue for Offaly was what to do about Kevin Kinahan?
Joe Deane's pace was being used perfectly by Cork, who opened up space in front of him and played the ball in low and he was out in front nearly every time.
It would not have been a surprise if Kinahan hadn't come back out but Michael Duignan says it wasn't even considered: "We never doubted Kevin at all. He was a great full-back and we just told him to keep the head up."
In one of the most amazing turnarounds, Kinahan won the first six balls played in towards Deane at the start of the second half.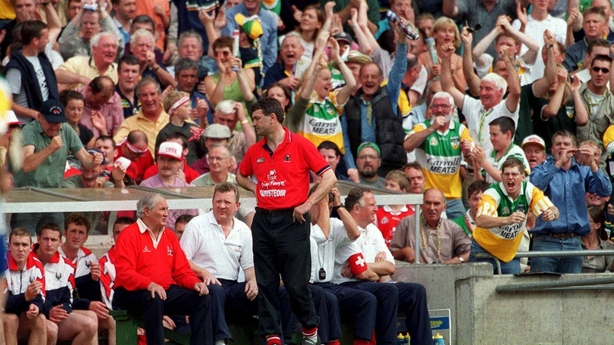 Cork hit three early wides which allowed Offaly to reel them in. Brendan Murphy, from the Leinster Under-21 winning team, was moved to midfield, Joe Errity was immense at centre-back while Gary Hanniffy was ruling the air up front. John Ryan started to win ball against Diarmuid O'Sullivan as the pair continued a huge physical battle.
Offaly out-scored Cork by 0-6 to 0-2 in the 26 minutes after half-time and were two points up when Cork goalkeeper Donal Og Cusack was penalised for stepping outside the square on his puck out. Johnny Dooley converted the free to put a goal between them.
Offaly defended brilliantly with the type of gutsy display that was one of their trademarks. Deane was moved off Kinahan, who was incredible in the second half along with Simon and Brian Whelehan. Joe Dooley regularly popped up in midfield and further back, prompting Liam Griffin to say that "Offaly never cease to amaze you". They had beaten Cork for the first time ever by 0-19 to 0-15.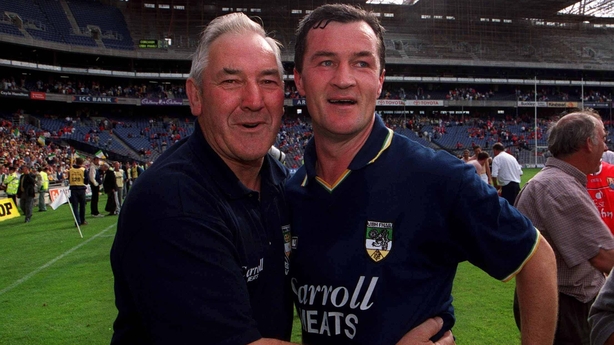 Afterwards, manager Pat Fleury said the '99 game had really hurt them, adding that the win had taken "everything they had to get there."
And that is a point picked up by Michael Duignan: "The game left us mentally and physically drained for the final against Kilkenny. We just wanted to stay with them early on but DJ started so well and I narrowly missed a goal near half-time. Kilkenny went straight down the field and scored one of their own. That sucked the life out of us."
The Cork game stands out for so many reasons.
Kinahan's heroic turnaround, the Dooleys running around like teenagers and the performances of the younger players who came of age against a seemingly superior force.
What happened to Offaly after that is history but that semi-final was a famous day when their hurlers refused to go quietly and raged against the dying of the light.
Listen to the RTÉ GAA Podcast at Apple Podcasts, Soundcloud, Spotify, or wherever you get your podcasts.