The GAA has estimated that almost 20,000 of its volunteers have been involved in a community response to the Covid-19 pandemic.
And in a survey undertaken by Croke Park, findings from 1,600 clubs nationwide reveal that nearly 35,000 people have benefitted from that support.
The response programme features meal delivery, collection and delivery of essential goods, and the sharing public health information. There has also been a huge emphasis placed on the support of GAA members via online channels.
Of the 1,600 clubs surveyed by the GAA, 87% had been involved with community responses to the pandemic.
Meanwhile, around the country, players and officials are coming to terms with the lack of action in a championship that was due to burst into life this weekend with key games in the Ulster SFC and Munster SHC especially.
This Sunday, Walsh Park was due to host Tipperary and Waterford in the opening round of the Munster hurling round-robin series.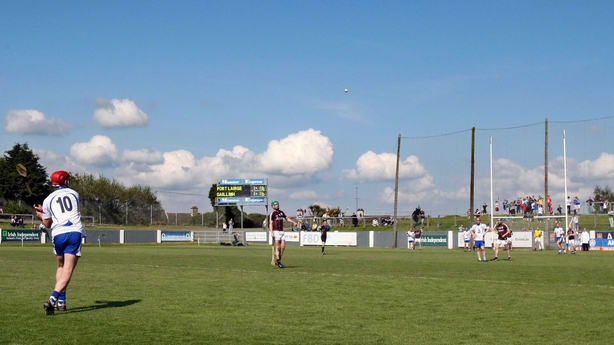 That game was a chance for the county to make an impact in the championship after a couple of disappointing years, but it was also a chance for the local economy to prosper with a sell-out crowd anticipated at the 11,000 capacity city stadium.
Gerald Hurley, chief executive of Waterford Chamber of Commerce, estimates that not hosting the local derby will cost the local economy approximately €5m in total revenue.
About 20% of this would be taxable income, with 10% spent on wages. The Waterford Chamber has 600 members and helps 16,000 employees across all sectors in the area.
Hurley told RTÉ Sport that while the pandemic is one of the major challenges of this generation, he is, like the GAA community, taking heart from the response at ground level.
"We fear for members who may never open up again, but we must also take heart in initiatives coming to the fore in terms of ideas, solutions and people forcing themselves out of a comfort zone to find new ways to earn a living," he says.
"Yes, the loss of revenue from the visit of All-Ireland champions Tipperary to Walsh Park is huge and the hospitality sector will certainly feel it most, but we are working hard on contingency plans for when this lifts.
"We will bring hundreds of businesses together to reconnect and continue to work closely with them through webinars and new marketing platforms."