Club Players Association chairman Micheál Briody accepts that counties will have to greatly alter the structure of club competitions if a window for playing does become available later this year.
And he has called for the GAA to further investigate the protocols of how the practice of social distancing can be incorporated whilst playing a contact sport.
"First of all, it's my own personal opinion that there will be no matches this year, at either club or county level," he said.
"But looking at the statement released by the GAA yesterday, it is my understanding that one pocket could become available for club activity from July to September.
"That's if the medical advice allows it. If that was the case we would then have 10 to 12 weeks to run off club games before we are into a county season.
"Obviously, there's still massive uncertainty around that, but at least now county board chairmen can make contingency plans if all we have is eight weeks to get games played."
Briody points out that if the HSE give the green light, many efforts can be made to ensure games are played.
But he says further information on the issue of social distancing is needed.
"We are all hoping that there will be games, and in many ways, it can be done," he says.
"Take the issue of players togging out in dressing rooms. In the workplace, it's almost four in at a time in a canteen, so it could be the same in a dressing room. Players show up an hour early - place four of them in the corners of the room and, when they are togged, then bring the next four in. We are already queuing in supermarkets, so it's possible to work a system in a dressing room, in my view.
"But right now, it's just not possible to ensure social distancing if the whistle blows and a match begins. Players will be marking each other closely. And it's not just players - officials will be involved, there will be officials and some may be in a vulnerable age category. We all need more clarity on that."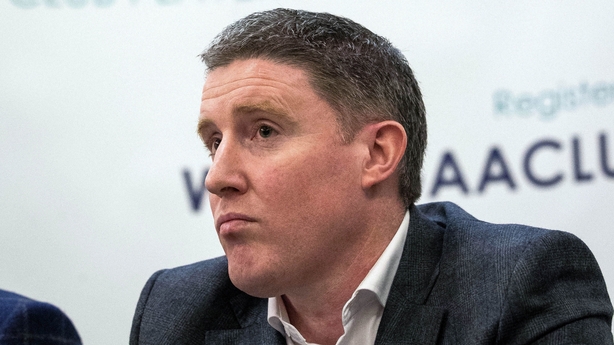 Briody's association, established in January 2017, has always sought to bring about a resolution to fixture issues in the GAA, seeking a regular playing season for clubs amid a reduction in the influence of the inter-county game.
In giving a club perspective on yesterday's statement from the GAA, the CPA chairman once more called for greater balance between club and inter-county fixtures if and when the pandemic passes.
But for now, however, he accepts that county boards will have to work within whatever small window presents itself.
Further clarity on the club scenario is expected in coming weeks.
It's most likely that all league and league championship formats will be scrapped if there are games in 2020, with instead either straight knockout or back-door formats (allowing one defeat) to be implemented.
But if inter-county is straight knockout, then it could subsequently allow counties to complete championships once they're gone.
Clarification on club and county minor and under-21 games is also expected.
The All-Ireland Under-20 football championship is already down to the semi-final stage and officials would be keen to complete that if at all possible.
The hurling equivalent hasn't yet started, and that competition could be under pressure even though it's a knockout system and for the earlier games crowds wouldn't be too far over the 5,000 mark.
Whether there is action at club minor or under-20 level remains to be seen. The possibility of games at these grades going ahead hasn't yet been ruled out. If there is to be a green light, minor competitions will revert to a knockout format and could potentially be played midweek.
It will be very difficult for dual counties to run off two full championships in this small window when alternating every weekend, however. Could they stage club action late in the year if they are out of the inter-county campaigns?
"All we know for now is that if there is a season in 2020 it will be significantly abbreviated," Briody says.
"Competitions will have to be altered for the window that's there. In fairness to the GAA, they are playing it right by waiting to see and forming a Covid-19 advisory group.
"Unfortunately, there is no club representation, but we are not surprised that we haven't been asked back into tent and there are a few medical practitioners there which is great to see.
"I think the GAA should use the next four to six weeks now to finally decide if games can go ahead this year. Stay talking to the HSE, the medical experts and continue looking to those people for guidance."
If there are no games, Briody maintains that 2020 can still be used by the GAA in a positive fashion.
"GAA clubs are the centre for lots of parishes," he says.
"I would urge that, if there are no games this year, pitches would at least be opened up and it would be up to the clubs to regulate it.
"I'm only talking about small training sessions, a kickaround between two or three lads at a time. That's going to happen when public parks open back up in July anyhow, and for the sanity of young players, I feel the fields should open up in time.
"By now people are very clued into social distancing and it has become almost normal behaviour. People are very tuned into it and I would feel there would be a diligent self-policing of that policy. If people didn't practice it other lads would say, 'Hang on, that's not cool. Push back a little.'
Briody also feels that clubs should set up skills competitions to keep spirits up and locals invested.
"There should be a mix of something like that," he says.
"Not necessarily matches, but skills events and contests just to ensure we do not have a complete write-off of a summer.
"For now, though, we all have to wait to see what happens."