This weekend the Championship was due to begin in earnest with 11 provincial matches scheduled to take place.
RTÉ Sport is examining some of these matches and their would-be participants in greater detail.
Here Conor Neville looks at the rare match-up of Mayo and Leitrim, which we are being denied this week due to coronavirus, and examined how the B Championship played a key role Leitrim's famous 1994 victory and Connacht title.
***
In a happier alternate universe, Leitrim would be playing Mayo in the Connacht championship this weekend.
Leaving aside the virus for the time being, this feels like our cue to lament that these games are no longer competitive or that a team like Mayo are long past the point of worrying about what a team like Leitrim might do.
This may well be true. Except that these two never actually play one another.
We need your consent to load this SoundCloud contentWe use SoundCloud to manage extra content that can set cookies on your device and collect data about your activity. Please review their details and accept them to load the content.Manage Preferences
For two teams situated in the one small province, the pair have faced each other with remarkable infrequency in the championship.
Leitrim, who seem to get drawn to play Roscommon practically every year, have met Mayo in the championship only twice this century, and only three times since the oft-revisited Connacht final victory of 1994.
By contrast, they've tangled with the Rossies on a whopping 18 occasions since '94. Clearly, there are some strange forces yoking these two together whenever the championship draw is made. It may be the site of their greatest triumph but you could forgive Leitrim supporters for being sick of the sight of Hyde Park.
Of those three Leitrim-Mayo games, only one, unfortunately the most recent one, was a proper blowout.
In 2006, a Leitrim surge left the eventual All-Ireland finalists with only a point to spare in the finish. And the last championship meeting before that in 1997 was a desperately dreary seven-pointer, enlivened only by defender Gerry Flanagan knocking over John Maughan in the second half.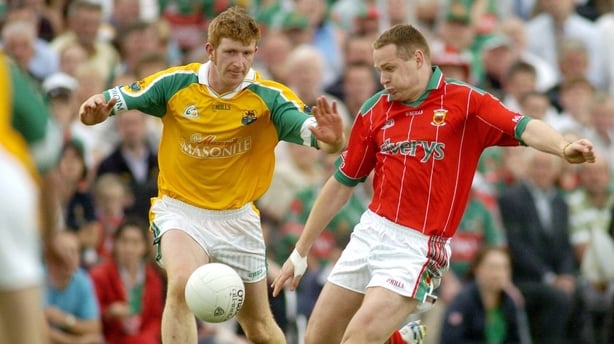 There won't be too many ballads written or musical montage videos made about their most recent game in 2012. A businesslike Mayo viciously tossed Leitrim aside, 4-20 to 0-10 was the sorry scoreline by the end.
It's slim pickings in the nostalgia department since '94. Everyone remembers the sights and sounds of '94. It barely needs to be gone into again.
Leitrim recovering from the calamitous first minute goal, the jubilant fans invading the pitch as Aidan Rooney's irrelevant last second free slid wide.
The very elderly 1927 captain Tom Gannon - quivering with old age but still looking the picture of happiness - holding up the base of the Nestor Cup alongside Declan Darcy after the game.
Micheal Muircheartaigh on the radio crying that "there'll be many a Leitrim man looking down from the veranda of heaven right now!"
And so on.
But how did Leitrim get there? How did a county with such a small population, whose players trained in Kells because so many lived in the capital, get to the point where they were able to win a provincial title and break into an All-Ireland semi-final?
And dragging in a dimension that has relevance to the current day, to what extent did the second tier championship in existence at the time help matters?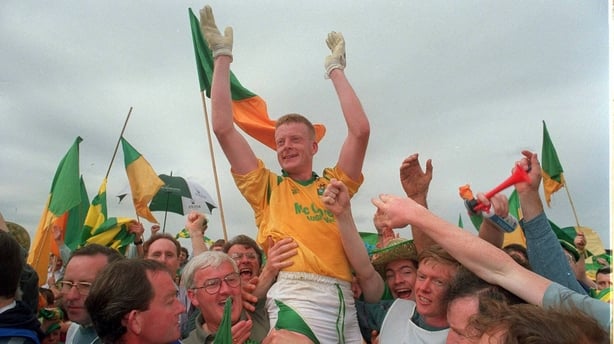 Former Leitrim goalkeeper Thomas Quinn traces its origins back to 1989, when PJ Carroll was appointed manager.
The 80s had been a sleepy enough decade for Leitrim, which was in keeping with what they were used to. A couple of wins apiece over Sligo and London was their lot in championship terms. In '89, they were beaten by five points by a Sligo team who were themselves hammered out the gate by Roscommon in the next round.
The 1989-90 Division 3 (North) – the third and bottom tier of the league was split along geographical lines back then – campaign began badly. After two games, neither of them won, the management team slunk away.
Into this unpromising environment walked Carroll, a former Cavan Gaels luminary, in the dying days of the 1980s.
"The whole thing began with PJ Carroll who was a very charismatic figure. He arrived into Leitrim in late '89," Quinn tells RTE Sport.
"We were in the doldrums and I would have been there in the '80s. We were competing but we weren't competing well enough. We weren't being trained the way other teams were being trained, put it that way.
"Tony McGowan was a brilliant chairman at the time and he convinced PJ to come in from Cavan. When PJ arrived, he just put a completely different slant on things.
"We met once a week in Kells to train and then at home on Friday evening. There was an organisation brought to it. And he introduced to some lads in Leitrim things they'd never seen before.
"We were on the bottom rung of the ladder and he made us step up. He was absolutely brilliant at the time."
His impact was immediate and a little startling. After a sluggish start, Leitrim won four of their next five games to finish second behind Longford in the Division 3 North standings. They subsequently beat Wicklow, the runners-up in Division 3 South, in a playoff to claim the only available promotion spot.
1990 was a landmark year. By December, the county would cradle their first ever national title and would boast their first ever All-Star.
Last year, Leitrim were notable among the counties hovering around Division 3 and 4 in supporting the second-tier championship.
In the debate surrounding the proposed secondary competition, it was stressed at all times that it would have to be marketed properly.
It could not, under any circumstances, turn into the Tommy Murphy Cup. And it could not be the All-Ireland 'B' championship either.
The All-Ireland 'B' football championship - we're not sure which band of blue sky thinkers came up with the title - ran from 1990 to 2000.
It hasn't lived long in the historical memory. Some echoes from the past certainly don't bode well for the upcoming second tier.
The All-Ireland 'B' football championship doesn't even have a Wikipedia page, which is quite an indictment given the amount of long-dead trinkets that do have Wikipedia pages.
In 1992, when Wicklow's Kevin O'Brien lifted the trophy following their win over Antrim, one of the handles broke off it. Things like that didn't exactly scream 'prestige'
Despite this, the 'B' competition did generate serious interest in its early years and did enjoy, unlike the Tommy Murphy, maybe not a golden age but at the very least a bronze age.
The crowds tapered off by the end but earlier in the decade, 8,000 packed into Tullamore to watch Carlow beat Westmeath in 1994.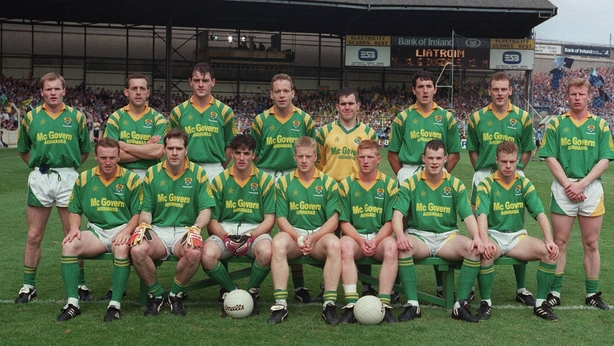 And in the inaugural competition in 1990, Leitrim brought a 5,000 strong crowd to Hyde Park in early winter to watch their team demolish Sligo.
"Leitrim's 105 year wait for a National football title is over," began the Irish Times report in November 1990. "Only 12 months ago, Leitrim were propping up Division 3. Now they are top of Division 2, All-Ireland B title holders and are being tipped as possible Connacht champions."
The Leitrim football bandwagon, having lay stationary for the guts of three decades, was really rolling now.
"The return to Ballinamore saw great celebrations," remembers Quinn. "There was bonfires and the whole shebang. Ah, it was a Cup, you know, and at the time it was taken seriously enough."
The fact that Clare succeeded Leitrim as All-Ireland 'B' champions might lead one to conclude that this secondary competition was a very beneficial, worthwhile business.
The first two winners of the 'B' competition achieved long-awaited provincial breakthroughs shortly after.
However, attributing Leitrim's early 90s surge simply to the boost they got from winning the All-Ireland 'B' is a touch simplistic.
PJ Carroll's team had long turned the corner by that stage. As the Irish Times detailed, they were sitting pretty on top of Division 2 even prior to the B final (they would just miss out on promotion to the top tier).
Their most eye-catching result in 1990 had already occurred, the three-point defeat they inflicted on Kildare in Newbridge in Mick O'Dwyer's first game as manager back in early October.
The hoopla around Dwyer meant the game attracted an inordinate level of national interest for a Division 2 league game.
Midfield veteran Mickey Quinn – brother of Thomas – picked a good day to deliver one of his finest performances, one which left a deep impression on the All-Star committee.
"That was a huge game. O'Dwyer was the new Messiah in Kildare.
"That's what copper-fastened Micheál's – I call him Micheál – All-Star. He was after having a brilliant year up to that but that was what made him. Because he cleaned Kildare out of it, himself and Pat Donoghue. Kildare had no answer to it, just couldn't deal with it.
"There was huge hype around Micko's arrival. Everything was going to happen around him and we took them down a peg or two. It was a huge scalp to get."
The roots of the '94 victory can be glimpsed elsewhere. The 1991 Connacht U21 success, again spearheaded by Carroll, arriving a few short months after the 'B' title. Future captain Declan Darcy, Dublin-born to an Aughawillian father, stands out among the names on the team-sheet.
Leitrim club teams were highly competitive throughout the era. No Leitrim club side has ever won a Connacht title but Ballinamore and the great Aughawillian team of the time were both pipped in a couple of finals between 1986 and 1994.
All these factors indicated that the raw material was arranged nicely for a historic Connacht title tilt.
As usual, the Rossies took great malicious glee in foiling them. Championship success remained elusive in the PJ Carroll era.
His final game in charge was the 1992 loss in Hyde Park, when Leitrim led for long stretches, missed a hat-full of goal chances before sickening late goals from Tommy Grehan and a grey-haired Tony McManus gave the hosts victory.
Leitrim needed a bit of fine-tuning to reach the promised land. Quinn credits county secretary Tommy Moran for helping get John O'Mahony on board in late '92.
The most successful manager to emanate from the province, O'Mahony now holds a guru-like status. The former Mayo corner-back coached three teams to a combined total of eight Connacht titles between 1988 and 2009 and led Galway to two All-Ireland victories in 1998 and 2001.
Despite this, many regard leading Leitrim to the 1994 Connacht championship as his most romantic achievement.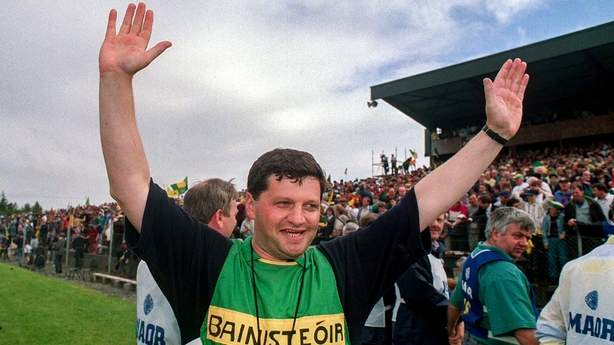 "John's set-up would have been very professional," says Quinn. "We started meeting three or four hours before a game, you were having food together. You weren't being exposed to any other nonsense in your head, you were focusing on the game. That'd be a formality in a county set-up now but not in Leitrim back then.
"He introduced a psychologist to us. That is something that lads would have never seen before (laughs)! He brought this belief into these lads' heads that you can win this. It's not unachievable."
1993 seemed destined to be their year after a historic win over Galway in Tuam. They'd beaten Mayo in the 70s, Roscommon a couple of times in the 60s but hadn't triumphed over Galway since the 40s. This was a major scalp.
The Leitrim crop of the early 90s were fortunate, it could be argued, that both Galway and Mayo were in bizarrely poor shape at the time.
After the Rossies once more scuppered Leitrim in a Connacht semi-final, Mayo proceeded to win the province in 1993 and later wished they hadn't. They were humiliated 5-15 to 0-10 by Cork in the All-Ireland semi-final.
Two years later, a Mayo fan told Sunday Sport that he hoped the county would lose the Connacht final in Tuam because he didn't want them meeting the Ulster champions in the All-Ireland semi-final. Such was the mood of Connacht football at the time.
But Leitrim had reached four Connacht finals in the 1950s, only to lose every year to a Galway team featuring Sean Purcell and Frank Stockwell. No one could argue they didn't deserve a bit of historical good fortune.
The 1994 Connacht triumph was in no sense a bolt from the blue.
If anything, Leitrim probably should have won multiple provincial titles in the era. They were the most consistent side in the province in the 93-95 spell. But given the psychological hurdles that had to be overcome, slip ups are forgivable.
They'd won the perfect provincial championship, beating Roscommon, Galway and Mayo, with none of the victories coming at home.
It was the culmination of a building process initiated by the fiery PJ Carroll in 1989 and carried on by John O'Mahony.
Listen to the RTÉ GAA Podcast at Apple Podcasts, Soundcloud, Spotify, or wherever you get your podcasts.