Davy Fitzgerald has urged caution against any rush back to sporting action, as Ireland continues to deal with the ongoing Covid-19 pandemic.
Earlier this week GAA President John Horan told RTÉ Radio 1's Today with Sean O'Rourke programme that it was premature to talk of collective training resuming in the coming weeks, reiterating his intention to see club games return before inter-county action.
Since then, the government has released a timeframe for the gradual phasing out of some restrictions over the summer, with Taoiseach Leo Varadkar stating his belief that an All-Ireland Championship could be played behind closed doors later in the year on Friday's Late Late Show.
Speaking on Sunday Sport though, Fitzgerald warned policy makers not to get ahead of themselves too soon.
"Okay, we got the roadmap the other night, but I'd prefer to leave it a month, or so, before we make any decisions on different things," he told Jacqui Hurley.
"We're at a transmission rate of between 0.5 and 0.8. If we can get it under 0.5, and we really do our job that we've been asked to do over the last number of months, we can see where that brings us and what the story is.
"You'd have to be careful. People are going into work that have to go into work, and they could catch it. I don't know what the outcome will be in the next two or three months.
"The health of everyone is very important. My parents, thankfully, are alive and well, and you want to see them stay that way."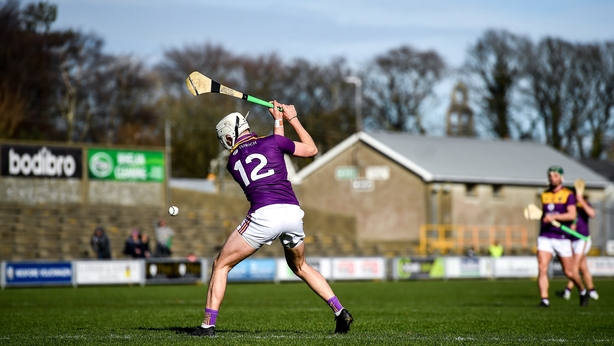 Fitzgerald hasn't trained his Wexford panel in seven weeks, remaining in his home county of Clare since then.
The Yellowbellies had already secured their place in the Allianz League quarter-final, following on from a first Leinster title in 15 years, and a run to the All-Ireland semi-final last year.
That momentum is undoubtedly under threat, but Fitzgerald believes there's a lot more discussion that needs to take place before any return might happen.
"If there was no other alternative, certainly playing behind closed doors would be okay," he continued.
"Is there a small risk? There would be. Naturally I'd like to see more about what way they'd go about it, and what safety precautions would be put in place.
"That's just my choice - players might be different, or other managers might be different, I don't know, and I'd certainly respect anyone's point of view on what they think.
"If a player said to me tomorrow that he didn't want to be part of it for whatever reason, I'd totally understand that. We all have to make our own choices."
And while Fitzgerald is cautious of any return, he is candid about the difficulties he's faced as the days get longer, but the usual excitement of Championship is out of the picture.
"I would have found the last week or two a struggle," admitted the two-time All-Ireland winner with The Banner.
"You try to get in the best shape you can - do your work, do your exercise, keep your mind busy as much as you possible.
"But there's only so much of that you can do. Trust me, it's tough. And this virus could be around for a while to come.
"What way are we going to approach it, to live with it? So there still is a lot of thought to be put into everything."
Listen to the full interview with Davy Fitzgerald on RTÉ Radio 1's Sunday Sport below
RTĖ Sport · Sunday Sport - Davy Fitzgerald reacts to possible return to action