With the Irish public being urged to maintain social distancing and self-isolate if required, we are increasingly looking for movies to watch, books to read and rooms to clean.
RTÉ Sport is speaking to our sports stars and asking how they're using their time and tweaking their training routines to stay fit and healthy.
Today, it's the turn of Kerry half-forward Stephen O'Brien.
---
What's the first thing you do in the morning?
Snooze the alarm and struggle out of bed.
What's your favourite exercise?
Have to go for chin-ups.
Is there one particular skill you practice every day?
Nothing in particular, just trying to handle as much football as possible.
Netflix and chill or a nice evening jog?
Nearly have Netflix finished at this stage!
Name one book you want to read
Reading a book called Lethal White at the moment. It's by JK Rowling under a different name.
On a scale on 1 to 10, how good are your DIY skills?
I would give myself a solid 6 I'd say. I couldn't say any less or I could lose the job.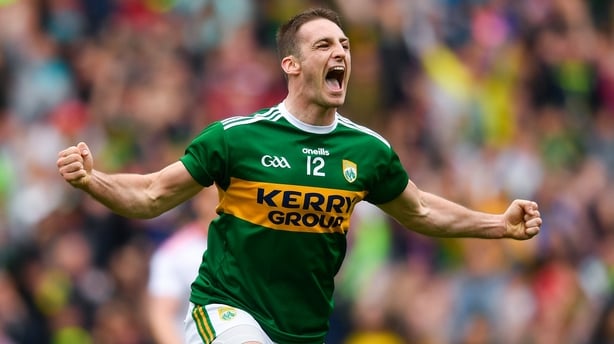 Do you have a favourite pre-training meal to help you through a tough session?
Nothing specific, I try to not eat too close to a hard session in case I have to taste it again!
Name one movie you want to watch
Bad Boys For Life
What's the best way to stave off boredom?
Got back into the Playstation and I'm after ordering a Nintendo Switch. 
Have you any tips for training at home?
Try and lay out a plan to stay on routine.
Name one documentary you want to see
The Last Dance, appointment viewing.
---
CHECK OUT MORE SPORTS PEOPLES' TIPS ON SOCIAL DISTANCING
---
Have you discovered any new music or podcasts?
Gladiator podcast on Aaron Hernandez.  
Is there one piece of housework you can no longer avoid?
Without training now I've never cooked so much in my life.
Favourite room of the house to spend time in?
Definitely the living room.
Stephen O'Brien was speaking on behalf of Allianz Ireland, who have renewed their support for communities across Ireland through a five-year extension of its three-decade long sponsorship of the Allianz Football and Hurling Leagues