Dan Shanahan has described his old Waterford team as a blend of "quiet lads and mad lads" that possessed huge character but fell short due to the immense strength of Kilkenny and Cork.
Shanahan won four Munster titles and three All Stars in his inter-county career but the Déise just couldn't get the All-Ireland crown they craved.
There were great days - not least the memorable 2004 Munster decider against the Rebels - and tough days too, though Shanahan has nothing but golden memories of the men he soldiered with.
"That was just our day," he told RTÉ 2fm's Game On when looking back on the provincial final against Cork that was played 16 years ago.
"To be involved was fantastic at the time. It was unbelievable. If you look at it in the first ten minutes, Cork could have got one or two goals but they took their points. They could have finished us off but we stuck with it. It was a great game. When John (Mullane) got sent off it really galvanised us.
If anyone can, Dan the Man can. This Munster final is very much on...#rtesportclassics 'rtegaa https://t.co/FzSjKxw7hb pic.twitter.com/Tv5yxU06QM

— RTÉ Sport (@RTEsport) April 23, 2020
"The dressing room was unbelievable. We'd some characters in there. Every fellah was different. We'd some quiet lads, we'd some mad lads, we'd some lads who'd do their own thing. 'Mulls' used to always slap his legs, his thighs. He'd come out and they'd be red raw.
"We'd another fellah who'd go in and say a few Hail Marys. Every fellah was a different character but we really gelled well. Our ultimate aim was to win an All-Ireland final but we didn't do that. We died trying to get there. We'd fantastic characters there."
Shanahan is working on the front line as a delivery driver and has been trying to keep spirits high with plenty of good-natured GAA talk.
"I deliver home heating oil and different products," he said. "It's been busy, kept going. It's enjoyable, meeting the people having a chat for a few minutes. A lot of people can't talk or are on their own. When they see someone willing to talk for a few minutes it brightens up their day.
"There's always one or two smart comments alright but you just have to take it on the chin!"
On the old rivalry with Cork, he stressed that while the competition between the two sides was ferocious, it always came with a healthy dose of respect.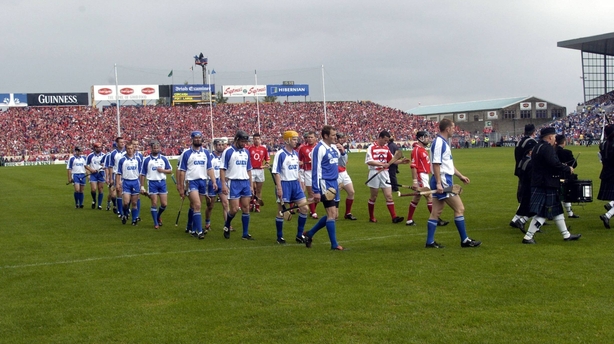 "We had a lot of respect for each other off the field, but on the field you go to war. You shake hands beforehand and you shake afterwards and you park it. Cork had their victories over Waterford and we had our victories over Cork.
"The thing about it was, Cork went on to win All-Irelands and we didn't.
"Any team in Munster can win Munster. To win a Munster medal is unbelievable.
"We'd such a good team but we didn't get over the line. I think we met some massive teams in Kilkenny and Cork. They were phenomenal.
"The Cork players and Kilkenny players could win their big games with ten of them playing well. We'd have to have 15, 16, 17 players playing well and it didn't happen on occasions like that."
Listen to the RTÉ GAA Podcast at Apple Podcasts, Soundcloud, Spotify, or wherever you get your podcasts.