When it comes to the day job, Dublin footballer Kevin McManamon works as a sports psychologist which gives the multiple All-Ireland winner a good insight into the best way to channel any frustrations at not being able to train or be in competitive action during the current period of restrictions.
He joined RTÉ2fm Game On to lift the lid on how he and athletes he has been in contact with have been channeling their extra pent-up energy.
"The big thing that we're finding is this lack of a goal or a bit of uncertainty of when - I'm thinking boxing here - is the bell going to ring?" he said.
"'When are we going to get a chance to perform again?'
"So it's become a big challenge to keep people ticking over and the other thing I was thinking about this rollercoaster - we've all been on this emotional rollercoaster since our routines and since the patterns of what's been expected have been taken away from us - it's fairly challenging for athletes."
He added that for many sportspeople, the lack of tangible targets right now are a foreshadowing of what retirement could be like.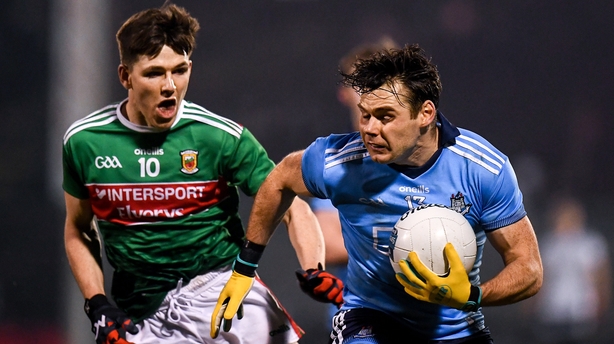 "I was on a call recently with the GPA (Gaelic Players Association) and one of the guys said, 'Welcome to retirement' kind of thing," he said.
"And it struck me kind of thinking, 'This is what it's going to be like maybe when there isn't that sense of purpose'.
"I heard Paul O'Connell talking about it on the Late, Late Show that what he missed when he left the game was that sense of purpose.
"So we have to start figuring out how to give ourselves those little goals and 'what's my accomplishment for the day' and maybe not putting ourselves under too much pressure.
"I know in the first two weeks I was just all over this lockdown. I was saying, 'I'm going to get all this done, I'm going to do this course, I'm going to read all these books and improve myself as a footballer'.
"I was working on some hamstring stuff and it's very hard to keep it up at that level so I've kind of lowered the bar for myself a little bit and trying to give myself little accomplishments every day is important."
As a collective who would normally be in the midst of building up to the Leinster Championship right now, he and his Dublin team-mates are finding ways to keep connected by phone, Zoom or other means and that physical distancing has reminded McManamon "how much he loves being around people and camaraderie".
If games were to return behind closed doors, McManamon admitted it would be "strange" to perform at Croke Park without fans present.
"It would be strange but we're in strange times and if it has to be done, it has to be done," he added.
Listen to the RTÉ GAA Podcast at Apple Podcasts, Soundcloud, Spotify, or wherever you get your podcasts.