In the days before TV cameras brought great GAA moments to a very wide audience, Gaelic games served up matches that are still fondly remembered by those who were fortunate to witness the action first hand.
One such day was in Cork in 1973.
The Sunday Game: 15 July, 1973. Munster Football Final
Cork 5-12 Kerry 1-15
Denis Cotter was a man who never missed a big match, especially a Munster final. Which usually meant Cork against Kerry.
Work delayed him getting to the 1973 match before throw-in.
So he joined the queue as John Moloney of Tipperary was throwing in the ball at Cork's old Athletic Grounds. It was a long queue this July afternoon.
Huge cheer inside.
A man in front of him shouted to an excited fan roaring his head off at the back of the terraces inside the ground.
"What happened?"
"Cork just scored a goal," came the reply.
For some reason the queue was very slow in getting through the turnstiles. More cheering and shouting from inside the Park.
"What's after happening now?" they enquired once again.
"Cork are after getting another goal," was the response.
In absolute total disbelief the latecomers screamed at their 'tormentor' inside the ground: "Ah, go 'way outa that!"
One even tried to fire a matchbox at the hapless informant.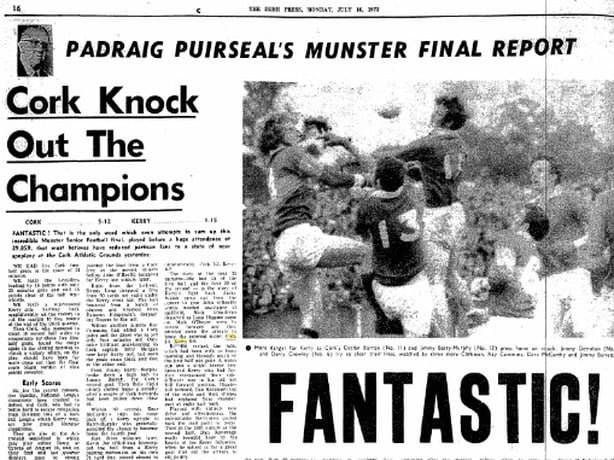 By the time they all got into the ground Cork had established a solid platform for victory over their great rivals.
They scored five goals in the opening half-hour, and led 5-03 to 0-02 after 34 minutes. 
This was all in the pre-Sunday Game era. The Athletic Grounds was hosting its last big match before demolition, to be replaced by the new Páirc Uí Chaoimh in 1976.
Not that there was a lot of 'demolishing' to do.
The ground featured an old wooden stand on the River Lee side, with cramped dressing room facilities underneath.
To the right of the stand was an elevated green-painted commentary box.
This is where Michael O'Hehir broadcast coverage of the contest for radio listeners. He could be plainly seen peering out through an open window, enjoying the best possible view of the action.
Kerry entered the final as reigning Munster champions, however, they had lost the 1972 All-Ireland final to Offaly after a replay the previous October.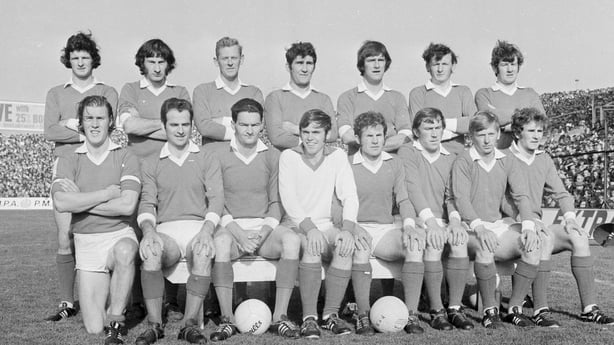 In those days the National League was played in two parts – before and after Christmas.
A month after losing to Offaly, Kerry were playing and beating Cork in the league by 1-13 to 1-8. They were to go on and win the league final in the spring, gaining a measure of revenge against Offaly.
However, winning league titles has never been a really true indicator of Kerry's potential. Mick O'Dwyer had often maintained that "whenever we used win the league we often lost the championship!"
Kerry had been All-Ireland champions in 1969 and 1970. Cork's last hold on the Sam Maguire Cup was in 1945.
Cork's captain in '73 was Billy Morgan. The goalkeeper saved early on in the Munster final from Mickey Ned O'Sullivan, who had scored 2-01 in the semi-final against Tipperary.
Then Cork struck. A well-directed ball into the square by Dinny Long was finished home by Declan Barron.  
In an all-action opening Kerry's Mick O'Dwyer was denied a goal by another reflex save by goalkeeper Morgan.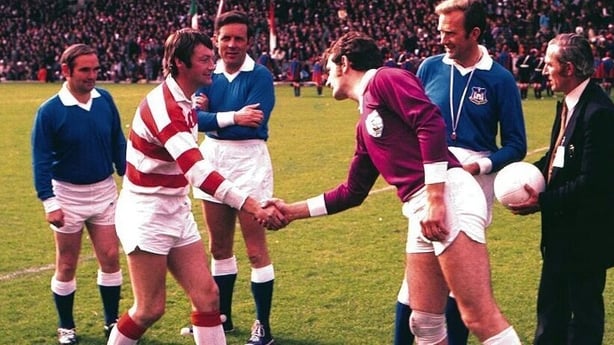 That was Cork's cue to produce another green flag. Dinny Long again played a part in the build up, completed by the excellent Jimmy Barrett.
Part of Kerry's difficulty came from the clever switch of Cork's full-forward Ray Cummins out to corner-forward.
In so doing he took his able marker Paud O'Donoghue away from the square and enabled Barrett and newcomer Jimmy Barry Murphy to profit.
Consternation followed. Cork's third goal the result of a penalty, smartly converted by Billy Field.
The ex-Colaiste Chriost Ri wing-forward was to finish the match with 1-06 from placed balls, but had the misfortune to miss the All-Ireland final in September because of a leg-break sustained in the All-Ireland semi-final against Tyrone.
Cork hit a fourth goal less than 60 seconds after Field's penalty. This time it was the turn of 19-year-old sensation Jimmy Barry Murphy, for whom this was a debut Munster final.
And just past the half-hour Jimmy Barrett fisted home his second and Cork's fifth.
Just as well it was an 80-minute game because the Kingdom needed every available minute before half-time to make a scoring impact.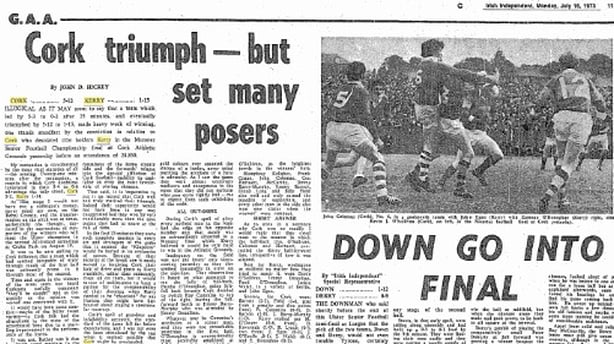 Coached by Donie O'Donovan and spurred on by the Trojan work of Kevin Jer O'Sullivan and Con Hartnett, Cork led at the break by 5-04 to 0-06.
Michael O'Hehir was able to tell the radio audience on 'Sunday Sport' that Cork were enjoying a whopping 13-point lead over their greatest rivals.
The man in the queue at the start of this piece, Denis Cotter, was a contented supporter in a crowd of 28,859. In later years he became my father-in-law.
Kerry were first out for the second half. Cork left them waiting several minutes in the heat before emerging back onto the field from an entrance at the Showgrounds end of the Athletic Grounds.
By now Liam Higgins and Mícheál Ó Sé were pressed into action for the defending Munster champions. An improvement ensued.
John Egan and Mick O'Dwyer kicked points before Dan Kavanagh tore through the spine of the Cork defence to score Kerry's much-needed goal.
Cork responded with points from Field and Barrett, but it was obvious that Kerry were getting a vital edge at centre-field where Ballylongford's Jackie Walsh had moved out to link up with the impressive John O'Keeffe.
After 61 minutes another Egan point brought the Cork lead down to 5 points.
He then had a marvellous goal chance, only to be denied by a classy Morgan save. Had that gone in the Cork lead would have been reduced to a perilous two points.
Cork's lack of consistency was showing. 
In his summation in the Cork Examiner, GAA correspondent Jim O'Sullivan wrote that 'Cork subjected Kerry to extremes of brilliance and mediocrity over 80 minutes, but overall it produced a level of performance superior to that of the old champions'.
With 15 minutes remaining the Cork selectors moved Dave McCarthy from left half-forward to midfield. This yielded immediate results.
Frank Cogan, John Coleman and Denis Coughlan once again excelled. And in the final quarter of the match Kerry could only manage one point – from a free kick – as Cork regained the clear upper-hand and won the final by 9 points.
It was to be Mick O'Dwyer's last championship match. His final game in Kerry colours was that November in Killarney, when he lined out at full-forward against Cork and scored two points. However, it wasn't enough to prevent another Rebel victory – by just a point this time – 1-06 to 0-08.
By then Cork were All-Ireland champions. Victory over Galway that September was only the county's fourth such win in 86 years.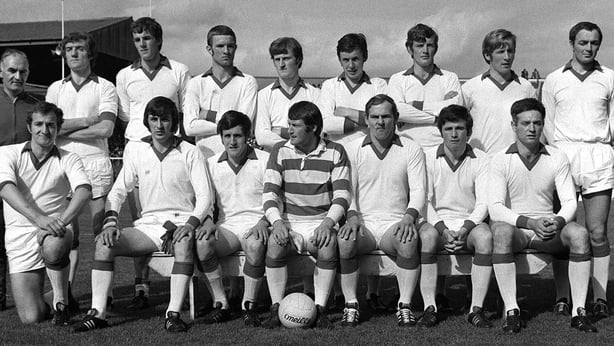 Kerry would reclaim Sam Maguire in 1975. Just six of the players starting the '73 Munster final would start against Dublin in Croke Park.
Jimmy Deenihan and Ger O'Keeffe from the backs that day. John O'Keeffe became one of Gaelic football's greatest full-backs, while Brendan Lynch, Mickie O'Sullivan and John Egan remained from the forwards.
By then Mick O'Dwyer was guiding their progress.
Lessons had been learned from the last ever Munster final at the old Athletic Ground, where the scoreline showed Cork the victors by 5-12 to 1-15.
Cork: Billy Morgan (Capt); Frank Cogan, Humphrey Kelleher, Brian Murphy; Kevin Jer O'Sullivan, John Coleman, Con Hartnett; Declan Barron (1-00), Dinny Long; Denis Coughlan, Billy Field (1-06), Dave McCarthy; Jimmy Barry Murphy (1-00), Ray Cummins (0-04), Jimmy Barrett (2-02).
Kerry: Eamonn Fitzgerald; Donie O'Sullivan, Paud O'Donoghue, Jimmy Deenihan; Tom Prendergast, Derry Crowley, Ger O'Keeffe; John O'Keeffe (0-01), Dan Kavanagh (1-00); Brendan Lynch (0-03), Mickie O'Sullivan, Eamonn O'Donoghue (0-01); John Egan (0-03), Mick O'Dwyer (0-06),
Jackie Walsh (0-01).
Subs: Liam Higgins, Mícheál Ó Sé, Mick Gleeson.
Referee: John Moloney (Tipperary)
Gate receipts: £11,830.63