Clare hurling captain John Conlon doesn't believe there will be any Championship action this season as the GAA will not have the option to sequester players.
The likes of the Premier League and NFL are believed to be considering camps to isolate players from Covid-19 and resume games without crowds but the All-Star forward doesn't think the same thing is feasible with amateur athletes, many of whom are living with high-risk people.
"I don't think there will be a GAA championship this year," he told 2fm's Game On. "Until there's a vaccine and the safety of everyone and their families can be guaranteed.
"We have players whose grandparents live with them. My mother has had cancer twice and hasn't left the house the last number of weeks. I hate to think that if I was able to play I wouldn't be able to see them for a number of weeks.
"We're fully amateur at the end of the day. This is not our profession.
"It's very important that everyone's safety is guaranteed before any Championship game takes place, at club level and inter-county. Until all those guarantees can be met by the GAA, I don't think any Championship games can be played."
"A little bit of clarification would be no harm from the GAA"
Conlon has echoed the call from Cork boss Kieran Kingston, which is also believed to have been agreed at a GPA video conference on Wednesday, for the GAA to at least set provisional dates for later in the year.
The Clonlara man, who is currently recovering from surgery on a cruciate ligament injury sustained last month, said that the rest of the Clare panel had just resumed individual training after a two-week break but that players couldn't keep that up with no goal in sight.
"Everyone has GPS systems and they can transfer it on through the internet," he said. "The training, from what I was looking at, looked really hard and talking to the lads it was a really hard session the other night that they had to do on their own.
"There's only so long that players can do that and not have any light at the end of the tunnel.
"There's a lot of uncertainty there. A little bit of clarification would be no harm from the GAA.
"At least if the GAA set out that there might be Championship in August, management teams can plan towards that and give lads a break maybe. Let them have the bit of downtime that they might need instead of training away and not knowing what's going to happen."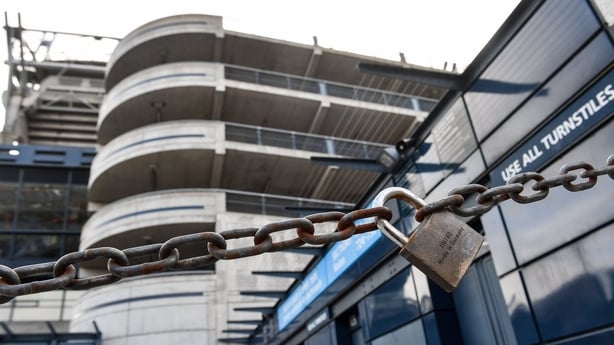 The 31-year-old doesn't relish the prospect of a Championship without spectators.
"I wouldn't be a massive fan of it," he said. "We've all played challenge matches where there's no-one inside in Cusack Park or Thurles and to hear the ball being pucked over and back, it just doesn't add to the same intensity and drive.
"If there is a Championship, people are probably going to say it's a tainted Championship because it will be a different format I'm sure.
"There are going to be a lot of question marks over everything. Would players be up to the same levels of fitness?
"It's going to be a very weird time going forward."
We need your consent to load this YouTube contentWe use YouTube to manage extra content that can set cookies on your device and collect data about your activity. Please review their details and accept them to load the content.Manage Preferences