In the latest in the series of greatest matches he ever witnessed, RTÉ GAA commentator Darragh Maloney recalls the 2013 All-Ireland SFC semi-final between Kerry and Dublin.
***
Kevin McStay was on co-commentary with me on 1 September 2013 and his last line after 74 minutes of incredible football was "what a game!".
And he was dead right; the match was an absolute epic from the first minute until the last.
It had everything you could want in a sporting occasion. A packed house, a sunny day, two fantastic teams who wanted to attack at every opportunity and a list of dramatic moments that could keep you talking for hours.
I know some people just watch the last eight minutes of the game and that clip is available online but if you do that, you aren't really doing the game justice. It was shown in its entirety on TG4 recently and if you watched, you got to see two fantastic teams and the game in its full glory.
There were four goals in the first 20 minutes, three of them were for Kerry, and the sides were level seven times after 68 minutes. Declan O'Sullivan narrowly missed an effort for a point which would have regained the lead for the Kingdom and from the very next kick-out, two Kerry players got in each other's way trying to field the ball.
Michael Darragh MacAuley threw himself full length at the loose ball and punched it to Kevin McManamon and he did the rest.
To this day, I remain convinced that McManamon was going for a goal with his shot but Kevin McStay thought he was going for a point along with most other people. I interviewed Kevin later that year and asked him about it, but he wasn't giving anything away.
The rivalry the two counties have is incredible and that game was the 27th meeting and the first since the final two years previously. The manner of that defeat was a huge motivation for Kerry, but apart from that, the Kingdom had been the dominant force since the late 1970s.
We had two new managers in Eamonn Fitzmaurice and Jim Gavin and two teams who wanted their football to be attacking. Dublin would lose to Donegal 11 months later and what happened that day forced Gavin to alter his defensive set-up for 2015, but on this day, he wanted his team to attack and that was the Kerry way too.
In fact neither defence covered themselves in glory but we weren't bothered by that.
Kerry's team was full of greats with the two Ó Sé brothers, Paul Galvin, Colm Cooper and James O'Donoghue, who announced his arrival on the big stage that afternoon.
Bernard Brogan had a mixed summer up until that game, Diarmuid Connolly was majestic and we got glimpses of what was to come with Jack McCaffrey, Paul Mannion and Ciarán Kilkenny all impressing. I think I read recently that they had 11 players who would go on to complete the 5-in-a-row last year.
The Gooch was moved by Fitzmaurice to centre-forward and he was brillliant in that quarter-back role. His pass to Donnchadh Walsh for the first O'Donoghue goal was an amazing play.
Watch these 2 moments of Colm Cooper genius from 2013 for @Kerry_Official vs Dublin; what are your favourite memories of seeing Gooch play? pic.twitter.com/Uwx5wqDxxh

— The GAA (@officialgaa) April 4, 2017
When Gooch gets the ball, he takes two steps backwards with his head up and slides the ball between two moving defenders to find Walsh who slips O'Donoghue in to score. He had a direct assist in Walsh's goal with another superb foot pass and scored some excellent points.
Kerry made that great start with three goals to one for Dublin after 20 minutes and led by two points at the break. Kerry could have been further ahead and Dublin had three goal chances with Brogan, Cian O'Sullivan and MacAuley all going close.
They continued to go at each other in the second half with the game swinging one way then the other. Dublin scored four unanswered points to draw level with 20 minutes left. More points were exchanged and they were level in the 60th and the 62nd minute.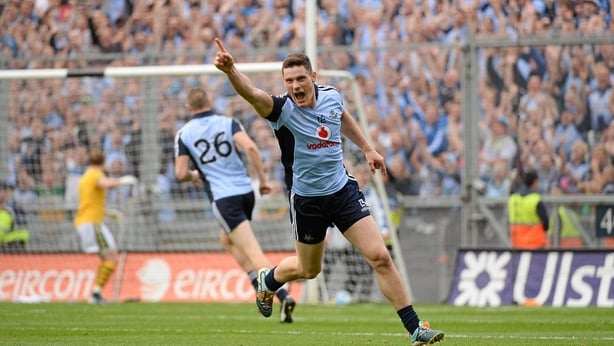 They continued like that until the 68th minute when they were still level and I remember thinking, while we were doing the commentary that I would love to see another 70 minutes of this.
After the Declan O'Sullivan wide, Stephen Cluxton puts the ball on the tee and the time reads 68.53 and Kevin McStay says "it's all about the next ball". That ball came to McManamon. Then Connolly kicks a stunning point as the match clock ticks into red for three minutes of added time (above).
Kerry tried their best to get back but couldn't do it. I had totally forgotten Anthony Maher was sent-off for his second yellow. The Eoghan O'Gara goal gave the scoreboard a very flattering look as it was a game that hardly had a kick of the ball in it.
When it was over, I remember sitting in the commentary box for quite a while just stunned at what we had seen and wondering would we ever see anything as good again. It's almost seven years later and that is still the best.
Have a look at it again sometime. It is still epic.