The 2012 All-Ireland semi-final meeting of Tipperary and Kilkenny was expected to be another classic episode of what had become a blockbuster series.
After three All-Ireland final meetings in a row, two won by the Cats but Tipp stopping the drive for five, their rivalry was at its peak.
Lar Corbett, hat-trick hero of 2010, had played just a game and a half since reversing his decision to retire earlier that year but memories of the 7-07 he racked up in the 2011 Championship were fresh.
It was quite the shock then when Tipp's apparent danger man spent most of the first half following half-back Tommy Walsh around Croke Park, a tactic that was then abandoned in the second half as Kilkenny cut loose for a 4-24 to 1-15 triumph.
Speaking as part of a discussion on the greatest full-backs of the All-Star era on the RTÉ GAA podcast, Jackie Tyrrell, corner-back for Kilkenny that day, reflected on the unorthodox move, which led to him and Tipp forward Pa Bourke making up an unruly gang of four.
"It was crazy, a forward wanting to mark a back. It was like we were on a different planet, playing a different game," Tyrrell said.
"Poor oul Pa Bourke didn't know what to do. I didn't know what to do either. The two of us were kind of looking at each other. It was very hard to concentrate. Do I look where the ball or where my man is? It was just a total meltdown and the four of us didn't know what to do.
"I couldn't believe my eyes. Here's Lar Corbett, former Hurler of the Year, he could beat us nearly on his own if he got a few balls and he's more interested in tucking in to Tommy and distracting him.
"Pa wanted to mark me. I wanted to mark Lar. Tommy wanted to mark Pa. I still don't know what sense it made.
"I remember at one stage, a ball was coming up our right wing, Padraic Maher had it, and Lar wasn't even looking where the ball was coming, he was looking where Tommy was."
We need your consent to load this YouTube contentWe use YouTube to manage extra content that can set cookies on your device and collect data about your activity. Please review their details and accept them to load the content.Manage Preferences
Corbett later said in his autobiography that only a handful of his team-mates were aware of the plan, which was apparently formulated in response to Tyrrell marking him out of the game in the 2011 final, a day when Walsh also starred from wing-back.
"At one stage the four of us were up in the top corner where the Hill meets the Hogan and we were belting into each other," recalled Tyrrell. "All the crowd were looking at us and the ball was down the other end of the field!
"There was a roar when Lar would hit Tommy, and a roar when Tommy would hit Pa Bourke. It was like we were in a row in a schoolyard somewhere. All we needed was the crowd around us shouting.
"It was crazy. It was only halfway through the second half it died down a bit and they started to hurl.
"I look back now and I can laugh because we won but if Tipperary had won it would be a very sore point.
"It was madness but I think the crowd enjoyed it. People (watching) at home didn't really know what was going on because the camera was looking at the ball all the time and they didn't realise that up in the far-right hand corner there were four lads pucking the heads off each other and there wasn't a ball within 100 yards."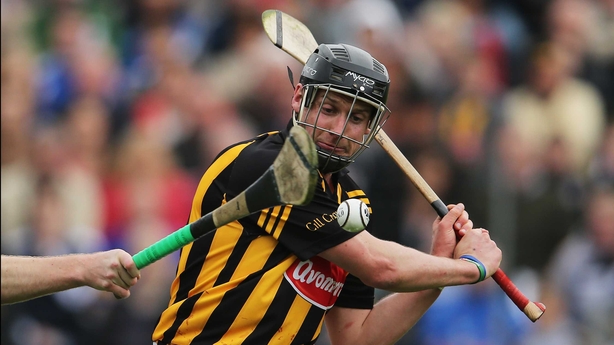 Tyrrell, who came fifth in our poll, won four All-Stars at corner-back as a supreme man-marker and ball winner, but believes he would not be suitable to play the position if he was starting out again today.
"Unless you have two really good receptive corner-backs that can pick the ball, break a tackle and maybe give it to a half-back you're not really at the races," he said.
"I was 6'2 and 14.5 stone. Would I be able to do that now? Of course not. Your new prototype of corner-back is 5'11, really dynamic, pacy and comfortable on the ball. The likes of Sean Finn and Cathal Barrett.
"They're excellent at it. You know when they get a ball they're going to take on their man, go again for the pass, and stay going if they have to carry up the field."