"I'm practicing my kicking off the back wall, I'm back being a kid again".
The words of Dublin footballer James McCarthy as he keeps focused in these restrictive times. McCarthy's routine is no doubt replicated across the land as both club and inter-county GAA players strive to stay in shape.
And while the Dublin star accepts that training away on your own is, for now, the norm, the absence of the collective is weird at a time of the year when preparations for championship would normally be cranking up.
While promoting the AIG 'Show Your Skills Challenge' in support of the 20x20 movement, he told RTÉ Sport: "We've gone three or four weeks now without collective training, you obviously get a lift when you see the group training, you get that motivation.
"In this time period, preparing for the championship, it really is a brilliant time to train as a team. It's a time when you build up a great bond.
"You'd be nearly sick of Zoom at this stage"
"It is a big challenge training by yourself at times. I'm just trying to stick to a routine and a plan each week. You have your down days and you might miss training for a day or two.
"Normally, you'd have your season set out, your key dates but it's all up in the air now. I'm just taking it week by week. Stay fit, stay strong and keep your eye in with the football.
"In terms of nutrition, it's difficult to stay on the straight and narrow. There's plenty of Easter Eggs floating about. A couple of biscuits and a chocolate bar with my cup of tea.
"It is a weird time, but every team is in the same boat.
"We have been using the Zoom calls a lot to stay in contact, you'd be nearly sick of Zoom at this stage."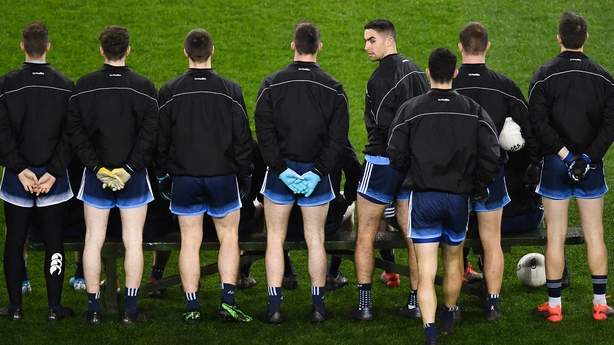 The GAA have, we are told, made provisions for this year's championship. Of course, any prolonging of the Covid-19 crisis, the greater chance that no All-Ireland winner will be crowned in 2020.
That said, McCarthy is confident he and his colleagues will be ready should the green light be given to start what would be Dublin's quest for an All-Ireland six-timer.
"There is a lot of experience and a lot of trust amongst the team, so we'll be fine when we get back," he added.
"We'll hit the ground running as soon as we can.
"When you watch matches from the 1980s and 1990s you see the excitement with everything on the line"
"We have a lot of young lads fighting for places on the team which is a good thing. Everybody is going to have to prove themselves worthy of making the first XV.
"All, any player wants to do is play games."
As to the prospect of a straight knockout championship at some stage later this summer or early autumn, the seven-times All-Ireland winner would certainly relish that format.
"We'd have no problem with a knockout championship if it were to come to that," he said.
"There would be huge excitement, with hopefully big crowds. When you watch matches from the 1980s and 1990s you see the excitement with everything on the line. The Dublin club championship was a straight knockout for a couple of years, so I am familiar with it.
"It will bring added pressure, but we'll be ready for it."
Listen to the RTÉ GAA Podcast at Apple Podcasts, Soundcloud, Spotify, or wherever you get your podcasts.