Over the last 40 years, The Sunday Game has brought the GAA football and hurling championships into your homes.
And now, we want you to help us choose the best XV in each code of the TV era - picking the best XV from All-Star winners of the Sunday Game era (1979-present)
Cast one vote for your All-Star hurling goalkeeper of choice below or email teamselection@rte.ie to make any more considered contributions. We will be debating these teams across our platforms in the coming weeks.
***
It takes a special kind of madness to want to put yourself between a lump of leather travelling at 100mph and a net. And we have some special candidates for our goalkeeping position.
Remarkably, the winner of the first two All-Star awards of our chosen time period only played one Championship game each year. But Tipperary's Pat McLoughney impressed enough in successive defeats to Cork and in the league (clearly a time when the focus was less obsessively on the latter stages of the Championship), to claim the keeper's spot in 1979 and '80.
Kilkenny great Noel Skehan was coming towards the end of his hugely successful career at that point but was still sharp enough to be named at No 1 in '82 and '82, the latter when he was almost 38 years old.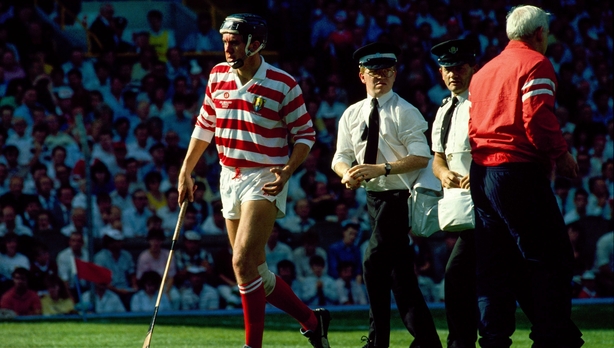 The role of the cúl báire has evolved in hurling over the last four decades.
For a long time, the key attributes were simply to be able to belt the ball as far down field as possible from your puck out and try to stop any goalbound shots.
Cork's Ger Cunningham was a master of both skills: he won the Poc Fada title seven years in a row from '83 to '90 – and was a four-time All Star in that same span, claiming the honour three years in a row from '84-'86.
In 1990, he quite literally used his head to help the Rebels win the All-Ireland title with a crucial stop from Galway's Martin Naughton in the final. Talk about saving face.
Cunningham was only the third (after Skehan and Ollie Walsh) and most recent goalkeeper to be named Hurler of the Year.
John Commins was also a two-time All-Star in the 80s, his save from Cormac Bonner in 1988 particularly pivotal to Galway going back-to-back that year.
Kilkenny's Michael Walsh and Limerick's Joe Quaid were both recognised twice in the first half of the 1990s, the latter succeeding his late cousin Tommy (father of current Treaty stopper Nickie) in goal for Limerick after Tommy won an All-Star in the penultimate season of an 18-year career in '92.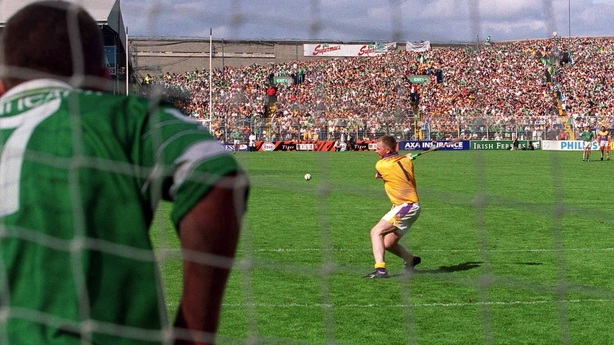 Yet for many, thinking back to the 90s will evoke memories of the goalscoring goalies Damien Fitzhenry and Davy Fitzgerald.
Those joyous dashes back toward their own goal after burying a penalty feature as strongly in the decade's highlights reel as Ireland's World Cup adventures or the chart battles of mouthy Britpoppers.
The Clareman won his first All-Star in the Banner's breakthrough year of 1995 but was still making memorable saves, particularly from Cork's Joe Deane, as he won a third in 2005.
---
PICK THE FOOTBALL ALL-STAR GOALKEEPER OF THE SUNDAY GAME ERA
---
Donal Óg Cusack succeeded Cunningham in goal for Cork in 1999 and won both the All-Ireland title and All-Star recognition in his debut Championship season.
He went on to lift Liam MacCarthy twice more but the tactical innovation that was the short puckout (lambasted on its emergence in the final of 2003) is arguably Cusack's greatest legacy.
The evolution of goalkeeper into quarterback/outfield option was carried on by Cusack's own successor Anthony Nash in the following decade and culminated in Waterford's Stephen O'Keeffe scoring the first Championship point from play by a keeper in 2018.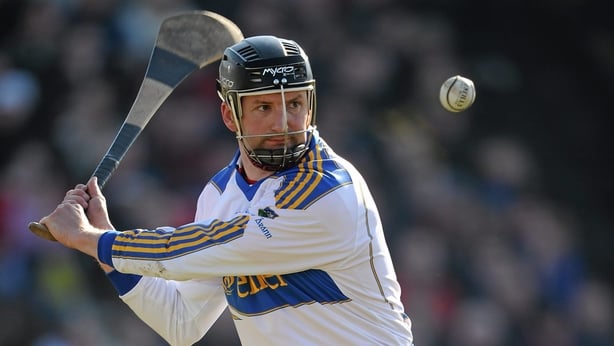 Tipperary stalwart Brendan Cummins was another in the Cunningham mould. A rocket of a puckout (eight Poc Fada titles) and a repertoire of spectacular, athletic saves that brought him five All-Stars between 2000 and 2010 when he pointed a free as Tipp stopped the Drive for Five.
It would probably have been six but for PJ Ryan's match-winning display for Kilkenny in the '09 decider.
The ultra-consistent Tipp man adapted his restarts to more fluid patterns outfield over the course of his 73 Championship appearances (the all-time record until beaten by Michael 'Brick' Walsh in 2018) and conceded just 81 goals in those games, an average of 1.1 per match.
His superb double save from Paul O'Brien and then Paul Flynn against Waterford in the 2004 Munster semi-final and an acrobatic leap to turn a Henry Shefflin arrow away from the top corner in the '09 League final particularly stand out in the memory.
We need your consent to load this YouTube contentWe use YouTube to manage extra content that can set cookies on your device and collect data about your activity. Please review their details and accept them to load the content.Manage Preferences
Moving into the noughties, another crop of top-class keepers emerged, with Nash (whose combination of oversize hurl and a jab-lift a JCB would be proud of led to the rules on penalties being changed) and Kilkenny's Eoin Murphy the only two-time All-Star winners.
Murphy has had the relative misfortune of nailing down his position on a Kilkenny team whose trophy cabinet is not quite as swollen as in recent years, but that certainly can't be laid at his door.
The Glenmore man's lightning reflexes and gymnast-like flexibility have helped him to prevent certain goals – even when not fully fit as in the 2016 All-Ireland final defeat to Tipperary.
He was my goalkeeper of the decade, and at 29 could yet go on to match Cummins in terms of All-Stars, but right now, the Tipp legend stands tallest between the sticks for me.
Result: Brendan Cummins won the most votes from the public.