After just one round of games, the decision was taken to suspend AFL action.
No surprise, you would have to say in the midst of the coronavirus pandemic that has played havoc with the sporting schedule.
And for most competitors, a journey into the unknown begins.
Conor Nash played minor football for Meath and also showed much promise on the rugby pitch, but the lure of a full-time professional career took him Down Under in 2016 when he signed for Hawthorn Football Club.
He is now in his fourth season with the Victorian-based outfit but is not sure when exactly this season will resume.
"They are looking to get the competition going again on 31 May, but that's the best-case scenario," he explained, when speaking to 2fm's Game On.
At a minimum, Nash, along with fellow Irish player Conor Glass face a nine-week wait. And while other Irish players, namely Conor McKenna, Mark Keane and Anton Tohill - along with Niamh McEvoy and Sinéad Goldrick from the AFLW - have opted to return home, Nash is determined to continue his Aussie odyssey.
"I'm going to stay and be ready to go when we do get back training," he added.
"Conor Glass was going to head home but his flights were cancelled. It's just very hard to get home, so he's staying put as well. I have had a bit of trouble with visas and that, so if things were to get going again and I was back home in Ireland, it would take time for me to get back. I would not enjoy that at all. My family are happy for me to stay out here."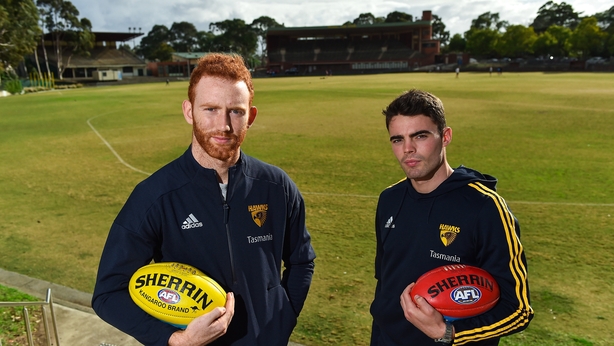 Nash shares a house with Glass and two others and after taking home "a lot of gym equipment" the whole process of staying in shape now begins. Uncharted territory then for the Navan native.
"At least we have a little gym to set up out the back so it's all about keeping yourself busy," he said.
"It's good that will be dragging each other along, still it's all a bit of a novelty."
With the shutdown of the AFL comes the news that all players will face a 50% pay cut for at least the next two months - and there's the possibility of a deeper cut if action does not resume before the summer.
Nash accepts there will have to be pain, with him stating that "if no more games are played at all this year, the industry is facing $1.2 to $1.5billion of a hole".
He continued: "We need to get games played, even behind closed doors, which would bring some money in to keep some clubs going.
"It's going to be hard times for everybody. There is talk of 70 to 75% pay cuts for players. A lot of clubs have let staff go.
"It won't be easy but if it sees the game surviving past this year, then it has to be done.
"There are good people in the club. We can come through this and come out the other side. Australia are taking the proper steps to try and shut this (virus) down."