The coronavirus. We have never experienced anything like this before.
Everyone is talking about it, yet it is a strange conversation about something that is affecting the entire world. Nobody has a concrete answer. Things are happening on a daily basis. Tom Hanks picked it up this week. At least the weather is lovely where he is on the Gold Coast.
My sister Eimear is due to fly over here on 5 April and so you would worry about the logistics of that if it is to go ahead. It's only naturally to worry about you nearest and dearest if they were to get the virus, to be concerned about the elderly and the vulnerable.
Hopefully we can contain it as much as possible and so reduce the amount of fatalities there will be.
In the last couple of days it has really hit home out there the seriousness of the situation. Every public event above 500 people will be cancelled from Monday.
People are starting the bulk-buying. It may be only a matter of weeks before we are told to stay inside. I better bulk up on the tea then!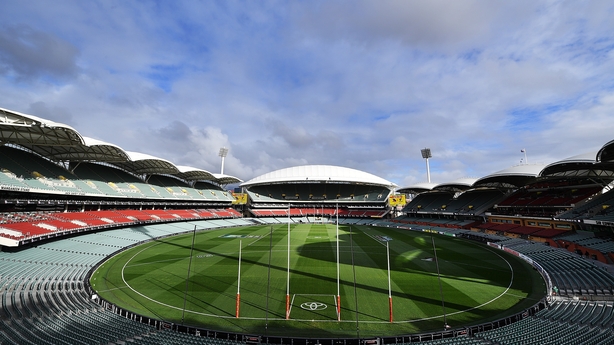 The Adelaide Crows, not surprisingly are taking precautions. And while a lot of the AFL clubs have separated out their men's and women's teams so they are not coming in contact with each other, we in Adelaide have decided against that.
We are all staying in the same location which is a good thing because honestly we have nowhere else to go. A lot of the staff in the club who work on the top floor are not allowed into the shed floor where we train or not allowed into the gym. There are crossovers allowed between stairs and elevators.
They are really trying to keep us separate from the general public.
We have been advised not to go to any public events or public gatherings with the aim of not bringing the virus into the club. In terms of extra precautions, equipment is cleaned after we use it and after the guys use it.
We all have our own water bottles which we are not allowed share any more.
That's actually quite funny because we are kicking with the same football, high-fiving and everything. Every precaution has to be taken. We have a lot of girls who work with kids, as teachers, we also have a few doctors, few nurses, paramedics. They are going to be in contact with a lot of different people, so precaution is best at this stage.
All the games are now behind closed doors. We've got the Sydney Giants and Cora Staunton to come on Sunday.
We have been advised not to shake hands after the game which is pretty irrelevant because you've already tackled them. You can have the precautionary sanitisers on the bench but at the end of the day it's a contact sport and you are going to be making tackles. If somebody scores a goal, you are not going to go up and give them a bow. There will be high-fives, there will be hugs.
The Crows family sticks together in times of adversity.
Please be safe, everyone! #weflyasone pic.twitter.com/3tpcnFpCTd

— Adelaide Crows (@Adelaide_FC) March 13, 2020
And, of course there will be no supporters at games which is very, very strange. The Adelaide crowd are great for their support. They really come out in their numbers. We usually average around 7,000 which is quite a good showing. It will be weird, more like a training game, so strange to think that this is an AFLW game. That's the way things will be and until a player tests positive I think it will go ahead for as long as it can.
I do believe we are in a tight enough window, however. If it extends out you are looking at pay issues and our season overlapping with the men's seasons. You are looking a lot of logistical issues that would be very difficult to solve. We have set dates, we know when the season is over. Girls will have taken their annual leave. There are so many things that could go wrong if its cancelled or postponed.
At the moment I think they will power through as much as they can behind closed doors and keep it isolated.
If a player were to pick the virus up in the next week or so you are looking at possibly six teams that could be affected.
The men's league hasn't started yet, but a lot of the fans will have money paid and then you are not allowing them in. I guess that's the hit they are going to have to take, maybe the AFL will reimburse some of it.
At the moment it's going to go ahead behind closed doors. Look, you have guys that have trained to peak for a set time and when you go messing with that you've messed with all their pre-season training and the timing of their training. It's quite difficult then if you cancelling a whole tournament when it can be played.
That could change, however, if someone comes out with a positive test.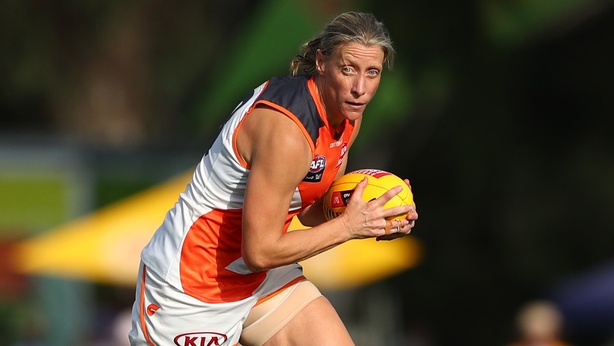 And so to our date with Cora Staunton and the Saints.
Cora, while being a household name for many, many years and a tremendous athlete, she has been such an inspiration for those who have sought to follow in her footsteps.
We would have all looked up to her during those years she starred with Mayo.
When her documentary came out it was very interesting to see her transition over here to Aussie Rules. I was fascinated watching it. I also remember reading her book on the way out here - what a great way to pass the long trip.
It was a great opportunity then for her to come out here and play at a professional level. It's great to see how well she has done and how highly regarded she is.
"Playing GWS is pretty much our 'Grand Final' because if we don't win we are pretty much out"
You are looking at clips and she had a great game last week against Richmond Tigers scoring four goals. Going through our game analysis, she came out as somebody to watch out for.
"Playing GWS is pretty much our 'Grand Final' because if we don't win we are pretty much out"
She's very highly regarded in her own club and by all the players here.
It's a credit to her to come back from that injury - that awful double leg-break - I think she might have been back well before she was due to come back. If you tell her, 'You'll be back in six months, she'll be back in four'.
Cora Staunton wins the race back to goal ??#AFLWGiantsTigers pic.twitter.com/asWJtzFacR

— AFL Women's (@aflwomens) March 7, 2020
She perseveres through everything and that's a really good quality to have as a professional athlete. To see how well she has done in every single sport she has played is so inspiring for us out here and the girls back home.
I played against her a little bit in league and challenge games. We, in Clare would have been a division lower than her.
Thank God I wasn't near her on the field and having to mark her.
Out here I did play against her in our first trial game at half back but she was on the other side. Who knows, I might end up marking her on Sunday in what is a must-game win for us.
Playing GWS is pretty much our 'Grand Final' because if we don't win we are pretty much out. It's going to be very difficult to make the top three unless other results go crazy. Our season rests on this game.
We need to perform more than just a half. In our games so far we've had patches of really good play, quarters of really good play. We just haven't started out well or finished well. That has caused us to have an up-and-down season. After the defeat against North Melbourne it will be good to get back on track and get going again.