An unbeaten start to their Lidl National Football League season has Down sitting proud on top of Division 3, but more than anyone Kate McKay knows how precarious the balance between success and failure can be.
The Ulster side face into tomorrow's outing against Wicklow at Teconnaught in search of a fifth straight win in the league, and with simultaneous second-versus-third battle taking place between Kildare and Roscommon, victory could leave Down on the edge of a league final spot.
Last year brought a lot of change in Down Ladies football, with joint managers Caoibhe Sloan and Peter Lynch taking charge. One of their first actions was to name McKay (29) as captain, and as one of the few survivors from before their glorious 2014 TG4 All-Ireland Intermediate Final victory, she is regarded as a natural leader in the squad. She is not letting anyone get carried away with their January and February form though.
"We have four wins from four, and we have three games left now," she says.
"As a team we have not put too much pressure on ourselves. People aren't saying we need to win X, Y or Z. We are just playing and training hard and enjoying ourselves. Thankfully we have got a few wins on the back of it," said McKay, who plays her club football with Carryduff.
"Wicklow came up from Division 4 last year and they have held their own. The beat us last year and they have done really well.
"The spirit in the team is really good at the minute. It's more like a club team than an inter-county team. There is a really good buzz between the girls and a lot of friendships there. There is a lot of respect for the management too, so girls are giving it everything. When you put all that together it makes for a good force."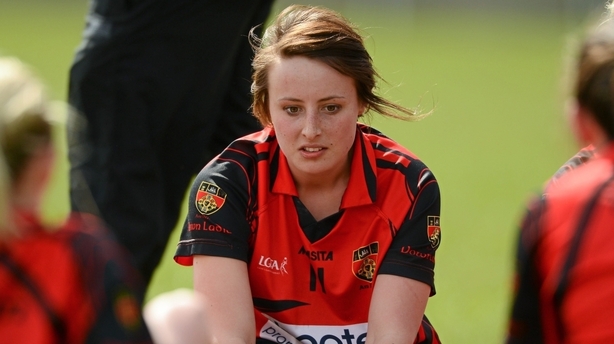 Despite making her inter-county debut in 2009 as a 19-year-old, McKay does not have an All-Ireland winner's medal from 2014. After taking a year out to work and travel in Canada in 2013, a skiing accident meant she faced a long time away from sport.
"I broke my arm really badly, I shattered a big chunk of my humerus. For a year I couldn't play any sport. I was back home and I wasn't working for a while. The girls were very successful that year and I wasn't anywhere near that team.
"I grew up with a lot of those girls and naturally I thought I could have been on that panel and could have had a bit of success, but you never know what will happen. They put everything into that year, but it was tough.
"I remember sitting in Croke Park and there was a wee bit of wistfulness, thinking that maybe I could have been part of it. But at the same time I was so delighted, genuinely delighted for Down football and the girls.
"Some of my club mates were on that team and I knew they put everything into it. They sacrificed many holidays, trips, time with friends and family to get over the line."
During her year away from playing, McKay followed in her father Donal's footsteps and became a referee, a practice she continued for a couple of season, but has parked again in the last two years.
She was back in the squad for 2015 when Down graduated to Senior football, but that year ended in heartbreaking fashion when Cavan delivered a crushing 10-25 to 0-3 beating in the All-Ireland Series.
"Honestly, I'll carry that game with me forever. I don't know what it was, it was heartbreaking, demoralising. It was really difficult to deal with. There was nothing we could do, we were just getting absolutely hammered. It was embarrassing.
"With social media people are very quick to slate you and say this and that. Like the other girls on the team, we all give up a lot of our time to play, so it was a real low moment.
"But I never really felt that I didn't want to go back, I still wanted to put on the jersey. I was in my 20s and I was still playing at a good level. I wanted to play for my county so it didn't deter me, but it was just very embarrassing."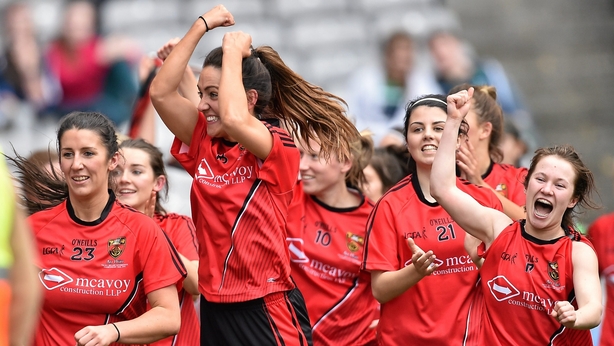 With a burgeoning career as a Sales Executive with Kinetica Sports, McKay is kept busy away from the field, and earlier this year she was nominated to the executive committee of the WGPA. But she says she is far from satisfied with her lot as a player.
"The other day I was thinking that good things do come if you wait, have the faith and persevere. I always have been really hopeful of having some success. I just turned 29 and realistically with work and life, how many years have I left at this level?
"I'd love to keep playing and playing, but it's difficult when you're pushing on in your career. I have always been hopeful that it'd all come good, that I'd walk away with something.
"When I joined up with the WGPA committee, Gemma Begley asked me to send through a list of what I'd won with the county for my profile. I had a few personal accolades, a player of the year here and there but I never won a National League, and I've never won an All-Ireland.
"For a few years with Down it was all about retaining our position in the division. I'd love to walk away with something, whether that's this year, next year or never...I don't know, but I'll keep trying.
"I'm quietly optimistic for the summer; I think we can do really well. We're not going out with any mad pressure saying we're going to win an All-Ireland or anything. We're just going to keep doing what we're doing and hopefully we get a bit of success. I'd love to."