Sarsfields and Slaughtneil have established themselves as the premier club teams in the land over a sustained period, confirmed by a third meeting in four seasons in the AIB All-Ireland Senior Camogie Club Championships Final.
Sarsfields will be desperate to write a different ending, while Slaughtneil are hoping that the script details a four-in-a-row, something only achieved once before. To join Wexford outfit Buffer's Alley, who claimed the honours from 1981-84, would be another considerable feather in the cap of this extraordinary team.
When Slaughtneil claimed their maiden title in 2017 against a Sarsfields unit also chasing a first crown, they were only the second Ulster outfit to do so, following in the footsteps of Antrim pioneers O'Donovan Rossa.
They were the first Derry club to scale the heights but the level of achievement clearly wasn't enough for Dominic McKillen and Damien McEldowney's crew. They have since cemented their status as one of the all-time great units of camogie.
It is notable that so many of their games over this run have involved remarkable comebacks, tight margins and replays. This season has been no different, and they've been able to put together those results while losing players.
Last year, former captain Clare McGrath took time out when she became a mother. This time around, Eilís and Bróna Ní Chaiside and Faoiltiarna Burke aren't involved.
McGrath is back now, while there is a crop of young players coming through like the prodigious Céat McEldowney, playing her third final despite still being in secondary school. Eilís McGrath and Cliodhna Mulholland were both subs 12 months ago and are now firmly established in the first 15.
Throughout the run to Croke Park, including the three-point defeat of Scariff/Ogonnolloe in the semi-final, it is the experienced players that have stood out. From Louise Dougan's covering and long-distance shooting, to Shannon Graham's all-action performances and the defensive resolution and leadership of Aoife Ní Chaiside.
Add to that the graft of Josie McMullan and a considerable spread of goalscorers, and it is clear why Sarsfields been top of the tree for so long.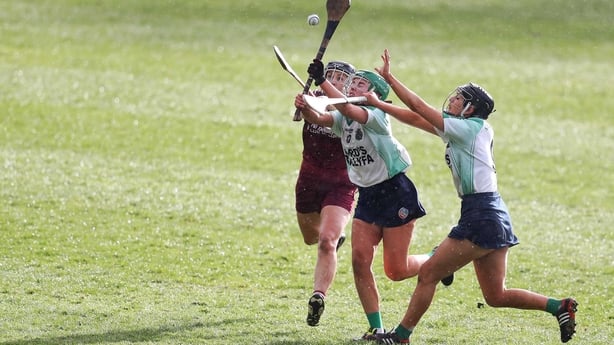 The All-Ireland club final hasn't been a happy experience for Galway teams in recent years. Since Killimor's triumph in 2011, the westerners have lost on each occasion that they've made the final two, and that included six years in-a-row, from 2013 to 2018.
Killimor appeared in two of those, book-ending appearances by Ardrahan and Mullagh, before Sarsfields fell twice to Slaughtneil by two and four points. Last year, Ardrahan supplanted Sars as Galway champions but again, found Slaughtneil just too gritty in the All-Ireland Semi-Final.
Sarsfields regrouped and have made it all the way, emerging from the annual Tribes dogfight at the expense of St. Thomas' this time in the county decider. Dublin and Leinster representatives St. Vincent's stood between them and a return to Jones' Road but they dealt with the threat professionally.
They have managed to get this far without the services of former All-Star defender Tara Kenny, who suffered a cruciate ligament injury the week before Galway's All-Ireland triumph last September.
Sarsfields possess a very strong panel however, with recent Ashbourne Cup winner Siobhán McGrath having developed into the primary scoring attacker from play and placed balls, with older sister Niamh an inspirational figure too. Both will be back with Galway this year.
Despite the loss of Kenny, the defence has been notably resolute, the likes of Laura Ward, Kate Gallagher, Joanne Daly and Maria Cooney excelling, while Sarah Spellman was a breakout player with Galway last term.
This is a hard one to call and much may depend on the fitness of Slaughtneil's effervescent Graham, who was carried off in the 53rd minute of their semi-final victory with an ankle injury.
The Derry side have a record of dealing with setbacks but Graham's absence would weaken them substantially and come as a huge boost to Sarsfields.
Perhaps there is an omen in Galway finally getting over the line at inter-county level last term, after a slew of near misses. Given the dreadful record of teams representing the west in the recent past, Sarsfields will be hoping that is the case.
It all adds up to what should be a fabulous spectacle.
Watch Slaughtneil v Sarsfields on Sunday live on RTÉ News Now and the RTÉ Player, or listen live on RTÉ Radio 1's Sunday Sport from 1.30pm.