Sarsfields are back in an AIB All-Ireland Senior Camogie Club Championships Final for the third time in four years - a case of having another shot at bringing home the big prize.
Slaughtneil got the better of Galway side in 2017 and 2018 - and this Sunday the Derry champions will once again be the opposition.
After claiming county honours on 9 November, Sarafields had a long wait until 26 January before they played again - that gap proved not to be any handicap as they accounted for St Vincent's in the All-Ireland semi-final.
The Galway victors don't have a provincial championship to play in, and according to Sarsfields' Niamh McGrath "that's not coming anytime soon".
McGrath was speaking to RTÉ Sport's Marie Crowe ahead of Sunday's showdown (live on RTÉ News Now channel and RTÉ Player, throw-in 3.30pm) and outlined how well primed the squad are in preparation for the Croke Park clash.
"We are at a level after being tested all the way in Galway so when we come up against the Munster or Leinster teams we are well able for them," she said.
"You'd love a Connacht championship, but the Galway championship is so competitive. You have Mullagh, Ardrahan, St Thomas', Eyrecourt and ourselves.
"You have so many teams at a similar level. We never really think ahead. When we won Galway, we took a few weeks off and then started thinking about the All-Ireland semi-final.
"We went back training at the start of December, trained hard in the gym, and then played challenge games. We've played UL a number of times and a few inter-county teams in their pre-season training. They provided good tests."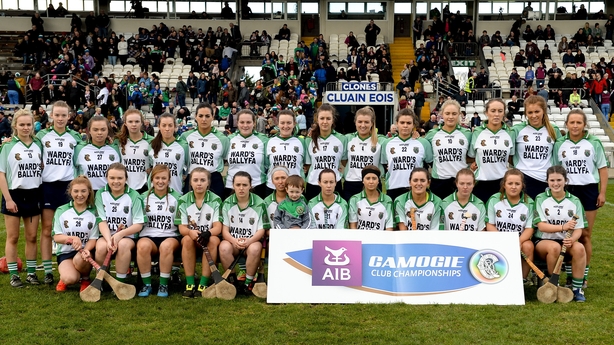 McGrath is confident that Sarsfields are now ready to really put it up to Slaughtneil in a more meaningful way than was the case in 2017 and '18.
"Our hurling was always there. Tactically, we are now more aware"
She continued: "We were very young the first year. I didn't think we were ready. Even now we're still young; we have three 16-year-olds on the team. In the first year, the pace and the athleticism of Slaughtneil was too much for us. We just weren't ready. And even though we lost by two points, the scoreline did not reflect the way the game went.
"In 2018 it was called off twice because of the weather. We got injuries in the week before the match. My sister pulled her groin in the warm-up. I did my back the week before. It wasn't meant to be. Slaughtneil were brillaint on both days and deservedly won.
"We have matured a good bit now in terms of our fitness and strength and conditioning. Our hurling was always there. Tactically, we are now more aware.
"They will pose a massive challenge. It's unreal what they've done for Ulster camogie. They have players who are as good as any player from Galway, Cork or Kilkenny and you only see them once a year, which is a pity. They are unbelievable team, an unbelievable club.
"All we can do is focus on ourselves which we have been doing."
On camogie's new playing rules, McGrath described them as "positive".
"It's brilliant. All along, camogie and hurling are the same game, so why can't they be the same rules and for the same way, why can't they be the one organisation as well?
"We're all the same people, we're all the same communities.
"So once they amalgamate all the organisations, amalgamating the rules should be the same.
We need your consent to load this YouTube contentWe use YouTube to manage extra content that can set cookies on your device and collect data about your activity. Please review their details and accept them to load the content.Manage Preferences
"The penalty is so basic. I think the free could be the only potential one that might not carry through - the free from the backs, if you get fouled, it's a bit too innovative at this stage.
"But it's great to see that they are thinking ahead. It's just brilliant.
"The contact is absolutely brilliant, but this year in the All-Ireland series, you could see a notable improvement in the quality because they were letting it flow and that's all you want."