GAA Congress will decide this weekend whether to extend the black-card rule that has existed in Gaelic football since 2014 to the small-ball code.
There has been a strong negative reaction to the proposal from current and former players, with many expressing the view that there is less cynical fouling in hurling than Gaelic football and that the sin-bin is therefore unnecessary.
Tipperary forward John 'Bubbles' O'Dwyer O'Dwyer, who might be expected to benefit from the rule change, admits that players are deliberately tripped or dragged down in hurling but he thinks a yellow card is more than enough punishment - and that the black card should be abolished in Gaelic football too.
"Cyncism hasn't come into this game in the last two or three years; it's been there since 1884," he told the RTÉ GAA Podcast.
"It's always been there, it's just being talked about now.
"If someone was running through on top of our defenders and my full-back didn't do that, he'd be questioned.
"You prevent a goal at all cost and if that means you pick up a yellow card then fair enough. Your manager would be livid with you.
"But the black card or sin-bin, I think there isn't a need for it in any GAA, never mind hurling."
We need your consent to load this SoundCloud contentWe use SoundCloud to manage extra content that can set cookies on your device and collect data about your activity. Please review their details and accept them to load the content.Manage Preferences
O'Dwyer suggests that the motion has been put forward by Central Council as a PR exercise and that inter-county players, 89% of whom surveyed by the GPA were against the idea, should have been consulted.
"This thing of bringing sin-bins or black cards into hurling is just for people to get their name out there, to be seen to be making a rule," he said.
"Hurling is one of the most entertaining games in the world and has such big attendances for such a small country.
"Why change what isn't broken? Why not talk about the good aspects of the game and the things that are done well? Promote the game in a positive way.
"The people who are trying to do this need to take into consideration the views of players. If they let players discuss it and actually have insight into it could be more beneficial but just bringing a sin-bin is pure nonsense."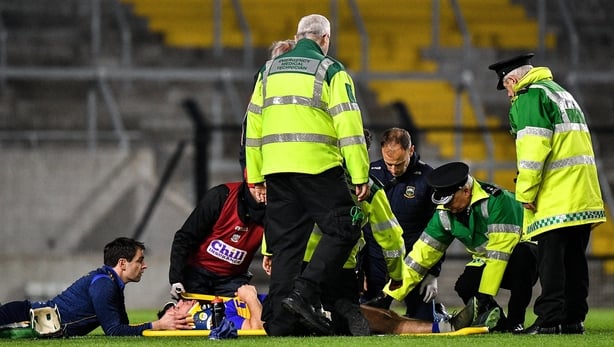 Bubbles could be back in action for Tipperary against Waterford this weekend having last appeared in their 1 February defeat to Cork.
O'Dwyer was strechered off late in that game after he took a heavy bang in an accidental aerial collision with Cork's Bill Cooper.
He was full of praise for how the medical staff of both teams handled the situation and revealed that he had escaped a concussion.
"I remember everything," he said. "I just went up for a ball and ended up coming down awkwardly on my neck.
"It was more a precaution than anything really. The doctors just had to go through procedures to make sure everything was okay.
"I went through all the concussion protocols but I actually had no concussion. Just a sore back, neck and ribs for a week and that was it.
"I can't speak for other teams' experience but our doctor Brendan (Murphy) is very vigilant in what he does.
"If someone gets a head injury and he feels that we're incapable or not fully up to the required level, it's his decision, not the player or management's, to pull you out of there so he does that straight away. Liam (Sheedy) has no say in the matter to be honest."
Listen to the RTÉ GAA Podcast at Apple Podcasts, Soundcloud, Spotify, or wherever you get your podcasts.