Andy Moran says Galway's footballers are benefiting from the unabashed ambition of new manager Padraic Joyce who has taken a "refreshing" and "flamboyant" approach to his first senior inter-county job.
The Tribesmen, who host Tyrone on Sunday, have eked out Allianz Football League Division 1 wins over Monaghan and Donegal while they were unlucky to lost to Kerry in Tralee.
What's really caught the eye out west though is the swashbuckling style Joyce has implemented since taking the reins from Kevin Walsh last October.
Joyce has publicly declared he wants to win both the league and the All-Ireland this year, with former Mayo forward Moran impressed by his conviction.
"It's really refreshing," he told Marie Crowe for RTÉ 2fm's Game On.
"He's managing Galway - he's not coming in managing a Division 3 or 4 team, he's managing Division 1 team.
"You can see how close all the games are in the division. If he doesn't believe (they can win it), then why be there?
"I'm sure Declan Bonner, James Horan and Padraic are all thinking the same thing. Joyce is just flamboyant and confident enough to say it. I say fair play to him. It's great. It gives us an insight into a new manager.
"He was one of my favourite players to watch as a young fella.
"What he's instilled in Galway is brilliant. They'd a really tight game against Monaghan, came through that. Then had a really tight game against Kerry where they gave away a lead. He'd have been disappointed with that.
"Then the last day against Donegal they were a good distance down in the second half and all of a sudden they just churn it up and get the result. When you keep getting over the line in tight games you get huge confidence from that."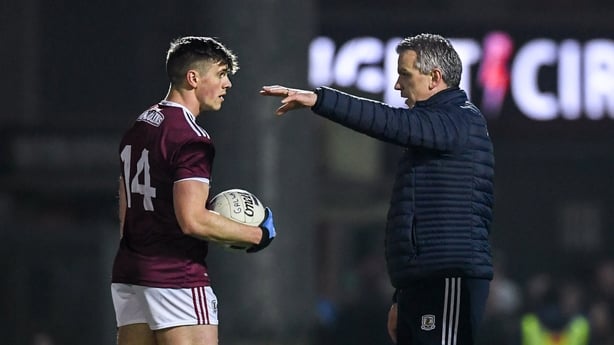 Moran singled out Shane Walsh for special praise. The 26-year-old has been emboldened by the captaincy, playing with real maturity and authority.
"Shane Walsh... right and left foot, kicking the ball off either side, his pace, his skill level, his toe to hand, it's brilliant," added Moran.
"Comer is a fans' favourite as well and is really dynamic.
"You can build a forward line around these two guys. You can bring young Adrian Varley in there and he can kind of bounce off the two boys because they're taking up a lot of attention. They allow all the other forwards to play with a tiny bit more freedom."