Dublin stalwart Laura Twomey believes that the new rules currently being trialled in the Camogie National League have already benefitted the sport and increased the speed of the game.
The Camogie Association introduced six trial rules that have been implemented in the League ahead of potential proposals for permanent playing rule changes at the association's annual congress in 2021.
Among the rule changes are a ban on scoring goals by hand-passing the sliotar into the net, while players will now no longer be permitted to drop the hurley intentionally.
Quick puck-outs are also being encouraged, allowing the goalkeeper to restart the game once the referee has blown the whistle, while there has also been an allowance for more physical contact within the game.
And Twomey believes that the rules have made an immediate impact, with some assimilating seamlessly into the game, while others have proved a work in progress that will take time to adjust to.
Dublin have just played one game in the current League campaign, losing by three points to All-Ireland champions Galway, but Twomey can already see the benefits of the changes, which have also forced her to become more astute to situations when the game restarts quickly. 
"I think they have really brought the game on, even over the last couple of weeks," said Twomey, speaking to RTÉ Sport at the launch of the AIG 'Show Your Skills' competition.
"The thing with the goalie, the quick puck-out, it really increases the speed of the game, so as soon as a shot is taken now and the referee blows the whistle once, the ball is coming straight back out so you have to be really astute and aware as to where your player is.
"And that will add to the excitement of the game. It's going well, so hopefully there will be a good reaction to them in April and see how they are, going forward."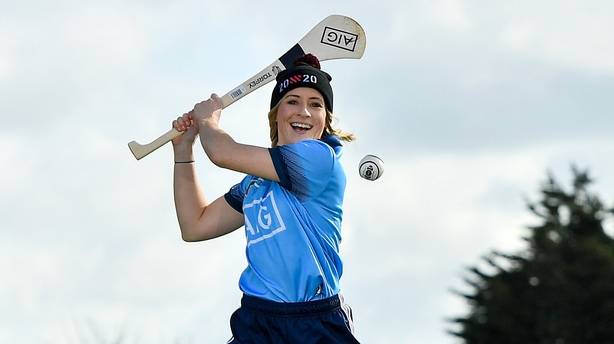 In the recent clash with Galway, the Naomh Mearnóg player admitted that the rule relating to the dropping of the hurley will take time to adapt to, while others appear to prove quite natural to the flow of the game.
"It was probably the dropping of the hurl that caught us out a couple of times.
"I know myself, when you are going up to catch a high ball with not too much support around you, your instinct is to drop it and hand-pass it off, so I think there is still a bit of confusion around that and it will take a while for players, managers and referees to adapt.
"Funnily enough though, in the game, the hand-pass rule did not really feature or cause too much trouble in terms of how to adapt. I think that players were just taking the ball on and striking it really, really well."
📢 There will be a change to the rules to prevent the deliberately dropping of the hurley & scoring hand-pass goals as part of the Trial Playing Rules introduced for the upcoming @LWI_GAA Camogie Leagues.

For all you need to know check out ➡️ https://t.co/tSTCINQYoH pic.twitter.com/G0covAt4Tw

— Camogie Association (@OfficialCamogie) January 31, 2020
Dublin are under the tutelage of their third coaching team over the past three years with John Treacy and Willie Braine at the helm for the 2020 campaign, and Twomey believes that the "good cop, bad cop" routine of the new management is already proving very positive as the team look to improve on a disappointing 2019 campaign.
"It's been brilliant, a really positive start. It is always nice to have a fresh set of eyes and opinions. They have got a nice blend of youth and experience with loads of minors and girls just out of their first year of minors coming through.
"We have been back since November, training is going really well and we have a great base out in Abbotstown at Sport Ireland, so it is nice to have something consistent the players can plan their weeks around.
"John and Willie are both so ingrained in Dublin, born and rared in Dublin, and they know the set-up very well. They know the players, the club scene, the inter-county scene, and to bring that intrinsic motivation from within the county is nice."
Part of the 2020 vision for the current campaign is to employ a more attacking style and while, like the new rules, it will take time to adjust to, there are already positive signs, having pushed the formidable Galway side so close in that opening encounter.
"In recent years we have been labelled a very defensive team and they are trying to change that now to bring a more attacking element to our play, so tactically they have really brought us on, and then in conditioning and skills-wise, John has been excellent in terms of developing individual players in regards their own skill-set as well.
"They are like chalk and cheese, but they work really well together, it's like good cop bad cop, but that is needed in every team environment. They complement each other really well and have been really pushing the girls so far."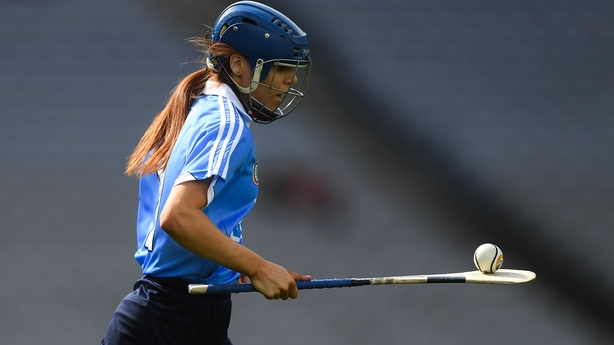 The Dubs will look to get their first points on the board on Sunday as they travel down to face a strong Tipperary side, but Twomey believes that their new-look team has the potential, and perhaps more importantly, the belief to compete with and prove victorious against the so-called bigger teams.
"We had our first League game against Galway and yes, [we pushed them all the way].
"We believed in ourselves to go out and put in a good performance, and we knew that we could beat them if we did that, but unfortunately we just didn't take one or two chances on the day.
"But we were delighted with the start to the League, especially when you set up with a new team and management as you don't know how it is going to go in the first competitive game.
"We were really happy with how we performed and take away a lot of positives going into the Tipp game this weekend, which is always going to be a tight encounter with them.
"Over the past couple of years, we have had a number of draws and narrow loses by a point or so, so we want to get one up on them and get a win this weekend."
Irrespective of the result in Tipperary on Sunday and throughout the remainder of the League campaign, Twomey is convinced that by the time this summer's championship comes around, Dublin will be a force to be reckoned with as a result of the new structures in place, combined with a wealth of talent emerging in the squad.
And while it is certainly a case of looking forward and not back to the disappointment of 2019 for this Dublin side, Twomey also stressed that a lot of the good work done in 2017 and 2018 also remains relevant from a time when they recorded some notable results.
"Last year, the management was put in place really late and was a bit rushed, but this year we had a really good basis behind us from November on and we were really targeting that Galway game for a solid six weeks and did a lot of video analysis and prep around it.
"Unfortunately, it did not pay off on the day, but there were a lot of positives that we can take, going forward, and I think that has really rooted the team now and that we now have that belief that we are going to challenge these teams, and there is no reason why we can't if we are playing at our best.
"If you put in a performance like that against the so-called bigger teams and particularly the All-Ireland champs, it is always going to bring positivity and encouragement.
"But we have proven before that we can beat these bigger teams, like Wexford in 2017-18, so it is not just this year, it has been coming a while so it is just trying develop that consistency.
"The league is going to test out different players and hopefully we can really pose a threat in the Leinster competition in May.
"One of the main problems over the last few years has been player retention and continuity of players, and I think there has been a great addition this year.
"The likes of Sinead Wilde coming in from Cuala, a club that previously hadn't a huge inter-county contingent, a couple of girls, the Couches from Oliver Plunkett's, so they are really pushing us for positions and contributing to that competitive element within the squad.
"So I think we have a great bunch of players out there, the best that are in Dublin at the moment and that is all you can ask for."