There's an old adage in hurling: let the ball do the work.
In many ways, that still rings true and will continue to do so, but the game was always going to introduce a little sophistication.
Ignoring the pomposity with which he often delivers his thoughts, there's little doubt that Pep Guardiola has altered football, and one of his maxims relating to passing the ball is of particular interest: "The intention is not to move the ball, rather to move the opposition".
Perhaps that was best seen with his Manchester City side in late 2018 when Ilkay Gundogan finished off a 44-pass move to settle their derby clash with United. Each outfield player in blue took at least three touches in the build-up, confidently retaining the ball in tight positions. More chasing memories than shadows for the sorry Red Devils.
It can feel that way when watching the tiki-taka play of Limerick, and seeing the interlocking gears of this green machine move the ball upfield.
Just as Guardiola repositioned midfielder Javier Mascherano to centre-back to have another comfortable distributor of the ball, the Treaty's panel is comprised of players who can play the ball short and long.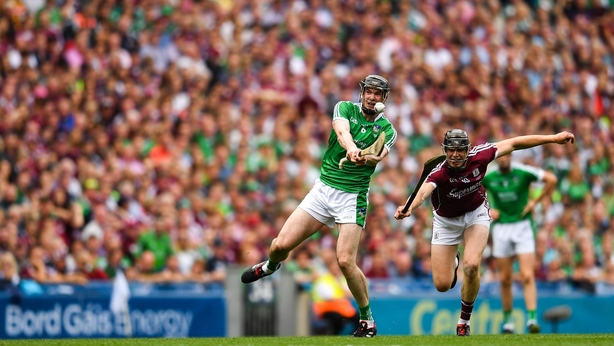 Declan Hannon (above) and Cian Lynch both played in the half-forward line in TJ Ryan's final game in charge in 2016, but Kiely saw a centre-back and midfielder respectively, through which he could build his team and game plan.
The results have been devastating.
It took a season to bed in, culminating in a three-point loss to a rather ordinary Kilkenny side at Nowlan Park in the 2017 qualifiers, a day when midfielder Paul Browne felt their performance may have looked panicked, but was perhaps "a fear that we might just get over the line".
The metamorphosis since has been quite incredible. A defining characterisic now swift interplay inside their own '65 until the ball is worked to a man who has enough space to look up and deliver.
Browne's cruciate knee injury put him out of contention for the All-Ireland run in 2018 but, after retiring from the panel in the winter just gone, he is well placed to explain how Limerick went from having pillows for fists to becoming knockout punchers.
The ability of so many players to receive possession when under pressure from their marker inside their own half was apparent against Galway last time out - an exhibition of summer hurling in wintry conditions. Few teams would dare try it in a challenge match.
"Obviously Paul Kinnerk is a huge part of that," says Browne. "His trainings are incredible - the way they're laid out, the way one drill flows into the next drill, the way every night has a meaning and a purpose to what you're trying to do.
"Every time you're in a drill, if you don't see it he'll explain it to you, but most of the time you know why you're doing it. We would have done a lot of what Paul calls 'applied skills under pressure', and Paul would always be of the mantra that he'll put you under so much pressure in training that you will never see it in a match.
"So that's why it looks like these lads are so comfortable on the ball at the moment, especially against Galway which was a nasty enough day. They were still firing the ball to hand, the touch was good, but I can guarantee you over the winter when they were doing this skills work in Rathkeale, when the weather was ten times worse, they were still probably getting the ball to hand and the first touch was good."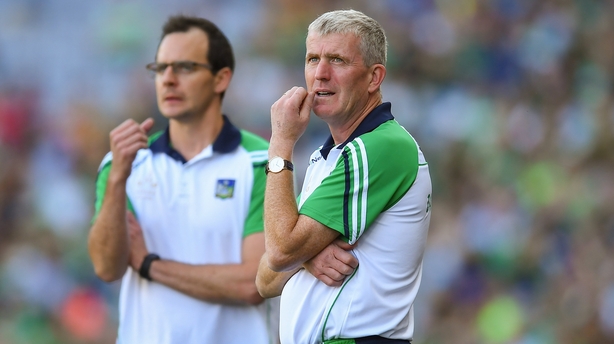 Joe Quaid, the two-time All Star winning goalkeeper, recalls watching the first few months of the new regime, with his nephew in goals.
"Even Nickie's puckouts were going over the sidelines.
"The short passing game was breaking down and the language that was being used in the stands was fairly choice from the supporters, myself included, saying: 'what are ye at?'
"But the one thing is that they stuck at it and and they hit passes when there is a guy up their back side, and you're thinking 'that pass was never on'.
"But they've just become so confident. I saw them training at the start of last year and without giving away any secrets, they practice that continuously until they get it right."
Go all the way back to the end of that first championship season at Nowlan Park, and a brokenhearted-looking Kiely faced the media outside the dressing rooms. He explained that he wasn't building a team on sweepers, that he wanted to go toe-to-toe, but the evolution since has been quite something.
They move the opposition around in as calculated a fashion as the chaotic sport of hurling allows, defend in numbers, and then burst out with purpose.
This weekend, they face a Cork side who managed to foil them in Munster last year, and who had the Treaty all-but-beaten in the 2018 All-Ireland semi-final until a late collapse.
Limerick may have left an All-Ireland chance behind them last year but they're well placed to atone for it.