Hurling's sliding doors moment came 15 years ago, when Brian Cody and his players stood on the brink of disaster.
Eoin Quigley had just controlled and doubled a ball from midfield to score perhaps the greatest point of all time. Ignoring the aesthetics of this singular feat, it put Wexford in 1-07 to 0-03 ahead against hot favourites Kilkenny after 20 minutes of the 2005 Leinster final.
More of the unthinkable just got real.
A year earlier, Mick Jacob had lashed in a last-gasp goal to put the Cats on their backs and Cody on the floor in a provincial semi-final. Had Kilkenny not turned it around in the final 50 minutes of that 2005 game and lost in successive years to their neighbours, then there's no guarantee the dynasty would ever have taken over the game.
We need your consent to load this YouTube contentWe use YouTube to manage extra content that can set cookies on your device and collect data about your activity. Please review their details and accept them to load the content.Manage Preferences
Given that Cody was under pressure locally after conceding five goals to Galway in the semi-final as Cork went back-to-back, two years without even a Leinster might have sealed his fate. Truly, it was a fork in the road.
It didn't happen, and Kilkenny's dominance did. What might have been a changing of the guard at Croke Park never came to fruition, and the ripple effect has been felt ever since. It might not be too much of an exaggeration to say that the fabric of the game changed after that season.
Mick Dempsey, a serial county SFC title winner with St Joseph's and former football manager of Laois, had come in as selector and became to Cody what Carlos Quieroz was to Alex Ferguson. A man bringing in new ideas to a boss who had put his name to plenty of good work, but had developed a touch of writer's block.
The Gaelic football influence on Kilkenny's style of play ever since has been stark: athletic wing-forwards working from deep, midfielders sitting deep, blocking channels, and isolating forwards in space. Explaining this very theory to Dempsey in December last, he sat there with his head perched atop his fist, smiling.
"I'm not too sure I can divulge really," said Dempsey, head of the Sports Academy and Sport and Exercise programme in IT Carlow. "Look, obviously being exposed to different sports and principles in one sport can obviously be adapted for another sport.
"But I think hurling is uniquely different in terms of the skill and pace and intensity of it, so I don't think you can replicate exactly what is going on in football. Although I know that's not what you are suggesting.
"You can't replicate it exactly but all decisions we make are a shared decision by management and I wouldn't dare say I was responsible."
The effects from 2005 onwards were devastating as the respective pathways of these neighbouring counties diverged. The winning margins in the six championship games from 2007 to 2015 tell a tale: eight, 15, 10, 19, 11, and 24 points.
At the sliding doors moment, Kilkenny had found the right path, and Wexford endured years of pain before catching up. Liam Dunne helped turn the team's fortunes somewhat, JJ Doyle's Under-21 team showed what was possible with three Leinster Under-21 titles in a row (2013-15), and then came Davy Fitzgerald.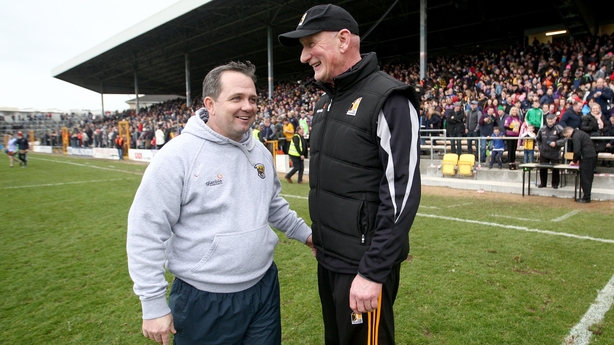 After losing six summer clashes to Kilkenny by an aggregate 87 points, the Models have won two of the last four, drawing one, and losing the other by a point after going eight points ahead. The mentality has shifted significantly in a short space of time, and part of that is how Wexford — and other teams — have caught up tactically and physically with the Cats. For so long, they were to hurling what Dublin are now in football: ticking boxes in preparation that other teams don't yet know exist.
The 2017 Leinster clash was a tipping point, a day when Davy served his sideline suspension in a custom-made booth in the press box, and afterwards selector JJ Doyle explained how they knew Kilkenny would try to nullify then sweeper Shaun Murphy. "We had a fair idea they would try to go seven on seven up front and we had a plan for that as well."
Wexford's recent championship record versus Kilkenny
| | | | | | |
| --- | --- | --- | --- | --- | --- |
| Pts Diff | | | | | |
| +3 | Wexford | 1-23 | Kilkenny | 0-23 | 2019 |
| 0 | Wexford | 0-21 | Kilkenny | 1-18 | 2019 |
| -1 | Kilkenny | 0-22 | Wexford | 1-18 | 2018 |
| +3 | Wexford | 1-20 | Kilkenny | 3-11 | 2017 |
| -24 | Kilkenny | 5-25 | Wexford | 0-16 | 2015 |
| -11 | Kilkenny | 1-26 | Wexford | 1-15 | 2011 |
| -19 | Kilkenny | 5-21 | Wexford | 0-17 | 2008 |
| -10 | Kilkenny | 0-23 | Wexford | 1-10 | 2007 |
| -15 | Kilkenny | 2-24 | Wexford | 1-12 | 2007 |
| -8 | Kilkenny | 1-23 | Wexford | 2-12 | 2006 |
| -3 | Kilkenny | 0-22 | Wexford | 1-16 | 2005 |
| +2 | Wexford | 2-15 | | 1-16 | 2004 |
Once again, Cody is being asked to change. Martin Comerford and DJ Carey will bring their ideas with the hope of returning Kilkenny to the top. The prospect of the Cats fading away is unlikely, but they have gone three seasons without a Leinster title and four since the All-Ireland. They've been close to winning both but their grip has loosened.In the 2019 Leinster final, Fitzgerald knew that Padraig Walsh would be the spare defender patrolling the Kilkenny 'D'. Rather than make a hero of the Tullaroan man and allowing him to sweep up breaks, Wexford directed their long puckouts on top of Walsh and crowded him. In general play, Fitzgerald's charges shot from distance and generally played within 100 yards of their own goals. Kilkenny's key man had no choice but to sit back and mind the house, as the property went up in flames before him.
Wexford's breathing is no longer constricted, and though they have made an indifferent start to the league, being in a position to win against Clare despite being down the spine of Matt O'Hanlon, Diarmuid O'Keeffe and Lee Chin shows how far they have come. They will rarely convert just 15 of 33 scoring attempts, and a stronger mentality means they won't dwell on that result either.
They trust their manager, they enjoy that every player has a licence to attack, and their flexible approach is a handful for anyone.
Over to you, Cody.
Follow Wexford v Kilkenny (Sunday, 2pm) and all the rest of the weekend's Allianz Hurling League action with our live blogs on RTÉ Sport Online and the News Now App and listen to live commentary on RTÉ Radio 1