Pat Spillane insists Mayo will not be winning an All-Ireland this season - or any year soon.
The former Kerry great is also in no doubt about the reason he believes James Horan's men will once again come up short this term in their quest for a first Sam Maguire trophy since 1951. 
Spillane points to a "lack of marquee forwards" as the chink in the Connacht side's armour and feels that their younger attackers often "flatter to deceive".
Speaking on RTÉ's Allianz League Sunday programme on a day Mayo beat Meath by two points in Navan, the eight-time All-Ireland winner pulled no punches in summing up both teams' potential for the year ahead.
"Being honest about it, it was a very poor game between two very poor teams," Spillane said.
"Conditions, accepted, were very, very difficult. But I look at these two teams, they're last and second last in Division One and they're that for a reason.
"Are they serious contenders for an All-Ireland or anything like that? No, they're not, and do you know why - very, very simple - I don't see a forward line of the caliber required to win a Senior Championship.
"The reason why I can't see an All-Ireland in this Mayo team for a long time to come is they just don't have the forwards Kerry, Tyrone, Dublin and Galway have"

Pat Spillane does not see much joy for Mayo this summer after watching the win over Meath #RTEGAA pic.twitter.com/fpf3fUinLq

— The Sunday Game (@TheSundayGame) February 9, 2020
"Of Mayo's six forwards today, five were replaced. Meath have the worst attacking record in Division One. In their last match against Donegal, only one forward scored from play, Thomas O'Reilly.
"That's why both these counties will probably struggle in the months ahead.
"Admittedly, Mayo are in transition... but what I'm looking for, why have Mayo come up short in their bid for Sam? It's forwards, the lack of marquee forwards.
"I look at all the young forwards that have been introduced, they flatter to deceive at times.
"Conor Loftus, young [Tommy] Conroy, James Carr, on a consistent basis they are not delivering. The reason I can't see any All-Ireland in this Mayo team - for a long time to come - is they just don't have the forwards that Kerry, Tyrone, Dublin and Galway have."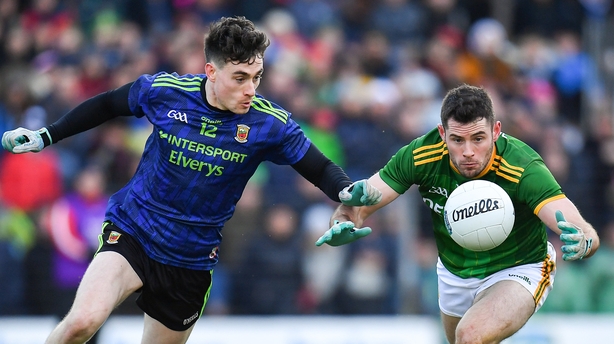 While agreeing with his colleague to an extent, Spillane's fellow pundit Ciaran Whelan stopped short of completely writing off the defending National League champions..
"On the balance of play, Mayo were probably the better team today - although I agree with Pat, their forward line is not great. They'e not firing, it's still lacking something up there," the former Dublin midfielder offered.
"You can't really judge forwards on a day like today, it's very difficult, it's still February. What teams are looking for at this time of year is that bit of courage, that bit of desire, that bit of hunger, and going back down the road with two points in the bag.
"James Horan will be happy tonight," he added.