Former Waterford stalwart Michael 'Brick' Walsh fears that the possible introduction of a black card to hurling could blight the sport by leading to greater levels of cynicism and simulation on the biggest stages.
Fittingly, for a player who sought to avoid the limelight during his inter-county career, Walsh called time on a 17-season Déise career in a typically modest manner.
"I wasn't a massive media man," the elusive Stradbally clubman deadpanned when he was tracked down by Game On host Marie Crowe.
"I was brought up in an era where sometimes the players who gave the big interview may not have played well the following day.
"It's different now, where players are much more open to social media and everything is out there a lot more.
"But where I was brought up, and when I was brought up, it was more about concentrating on your hurling and on on-the-field stuff.
"That's what I did during my time.
"I concentrated on hurling, and sport in general and probably stayed away from the likes of yourselves!"
If the 36-year-old's attitude towards the media during his playing career could be regarded as old school, his views on tinkering with the laws of the ancient sport follow a similarly traditional vein.
"Hurling was always a manly game"
Walsh regards maintaining hurling's status as the world's fastest field sport as paramount and is sceptical of greater intervention by the game's rule makers, such as introducing a heavier sliotar or bringing the black card into the sport.
"I wouldn't go playing with it too much," Walsh opined.
"To be fair, over last number of years, the hurling championships have been fantastic.
"They've been very free-flowing. You don't want to lose sight of that.
"Hurling is all about speed and leaving the ball go. You don't want to change from that.
"You don't want to bring in a situation where – you hope it never would come in – but there could be a situation where the black card could entice diving, or things like that, to get someone put off the field.
"It's not what you want to see. Hurling was always a manly game."
Walsh has detected a more rigid interpretation of the rules in recent seasons, a move he rues.
Harking back to a time earlier in his career, the four-time All Star said: "Everything was let go, within reason.
"I think if you start blowing the whistle too much, everything is looked at as a foul when you slow everything down from a referee assessor point of view, everything can look bad.
"But is there intent? Nine times out of 10 there's not."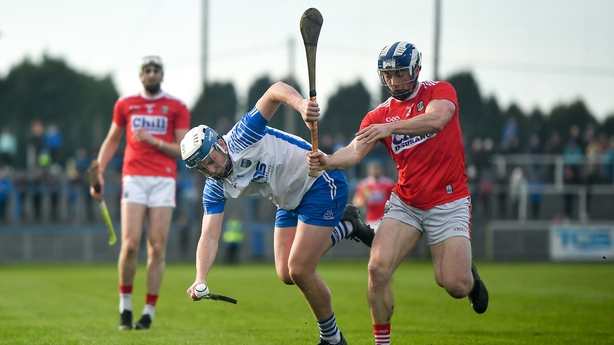 Waterford boast a 100% winning record after two matches in Division 1A of the Allianz Hurling League, edging out provincial rivals Cork by a point in their opener before accounting for Westmeath last weekend and Walsh is cautiously optimistic on the prospects for the Déise.
"I'm a supporter now and you're hoping for the best for them," he added.
"The one thing I was hoping when I was leaving last year was that the likes of the 21, 22-year-olds, and younger, that they get to experience the big days and the the championship days, and that people in Waterford go to follow them.
"I think they are being brought forward now and hopefully they'll have that, and they'll be successful in Munster.
"You'd have to say that you'd be impressed with them after the Cork win and getting the win at the weekend.
"But you have to be realistic and I think the Waterford management are.
"The Cork game was in January and there are no big games won in January, while it was great to get the two points. It doesn't really transfer into success in the summer.
"But hopefully this year Waterford will maintain that and there's lots of very experienced, very good players to come back and hopefully they'll drive it forward."