Reflecting on the opening two rounds of the Allianz Football League, the simplest and most striking point of learning is the competitiveness and inevitable entertainment that the structure offers.
56% of games have been won by a single score or less.
Seven straight fixtures against the closest ranked teams in the country to you produces the type of spectacles you should expect and ultimately everyone is involved with Gaelic football for. The psychology in preparation is all the more simpler, as players know that if they perform as a team in any league game, they can win.
Across all divisions, I'm not sure how many people were confidently expecting a comfortable Monaghan win against Tyrone, Leitrim drawing away to Derry or Laois easily putting Armagh to the sword to highlight just a few. The fables of comeback wins are many and reinforce the league as the best value of the season for players and supporters.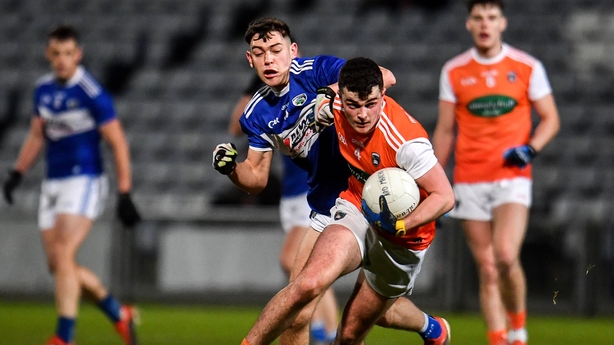 In the wake of so much resistance to a second All-Ireland tier, the only real evidence we have to rely on ahead of change is the traditional "all in" approach and the ultra-competitive four-tier league approach. The former provides a litany of mismatches and the latter cut-throat competition in every outing.
There is a lot of false belief gassed into dressing rooms approaching championship games. The result is normally 10 minutes of high intensity bluster until, inevitably, use of the ball, decision making and conditioning begins to settle like an Olympic bar on the shoulders of the underdogs.
Leaving emotion and tradition to one side, the future of championship football is a junior, intermediate and senior structure that mimics and expands on the league. Anything else is delaying the inevitable as ultimately the demand for entertainment and achievable goals will win out.
Building Teams
From a coaching perspective, the most compelling aspect of our leagues is to watch the building and developing of game-plans and patterns of play. Ultimately, spring fixtures are the only real furnace to forge patterns and cohesion that coaches know will stand up under the pressure of championship football.
In particular, new coaching teams will feel the anxiety of time ticking through each game. Seven opportunities to set up, prepare and execute the theories of the training pitch for battle. Factor into those scenarios the need to assess players in various roles and the precious trial and error opportunities dry up very quickly.
"Because lurking in every squad is a game-plan, style and personnel cocktail that can push the bar higher for every team"
When inexplicable results are thrown up, supporters often point a finger at motivation, complacency or training phases. More likely, a team may have tweaked ever so slightly their tactical approach or the personnel within roles to discover what they must do about all of that in competition. Those minor alterations can produce lack of clarity or confidence – particularly if there is an uncertain start and then the machine is out of line.
Why then tinker at all? Because lurking in every squad is a game-plan, style and personnel cocktail that can push the bar higher for every team. That's the theory anyway.
Contrasting Journeys in Tralee
Saturday night's pulsating match in Tralee perfectly exemplified the point. A now established but tweaking Kerry team pitched against the newly re-imagined Tribesmen under Pádraic Joyce.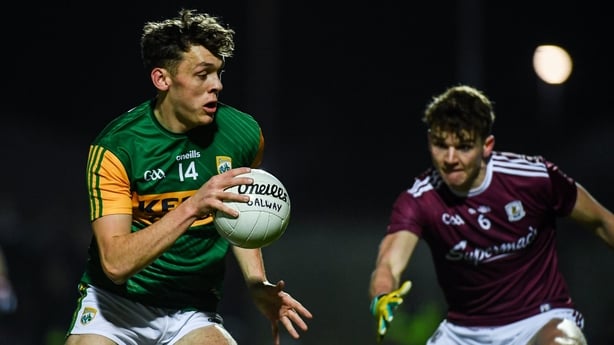 The Kingdom evolved in year one under Peter Keane to peak and match Dublin stride for stride in the All-Ireland final. Dogged throughout the 2019 league by defensive frailties, they ultimately settled on collective responsibility as their calling card without the ball.
Although the champions were operating with a man less, Kerry can argue very strongly that their approach was ultimately effective as it took a final 10 minutes for the ages to enable Dublin to rescue a replay.
Keane will still be searching for percentage points of improvement to be in a better place this summer. Standing still is retreating at this level as every other top team will be fine tuning and improving in whatever way they can. Can David Moran maintain his colossal levels? Does a fit James O'Donoghue add to or clutter their attacking edge? What if they lose O'Shea or Clifford?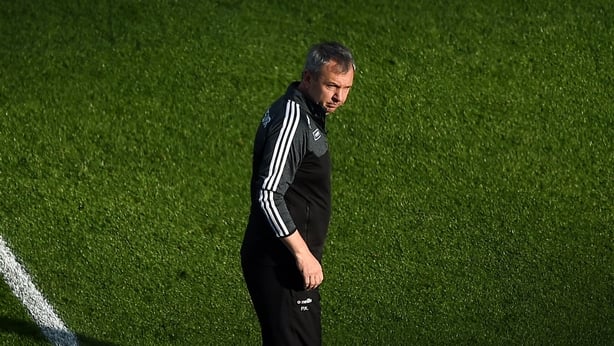 Developing through the league the Kerry coaching team has to find answers to those questions and road test all eventualities. However, the same fundamental problem hung over Saturday's performance that wasn't solved last summer: They don't have a leader at the heart of their defence.
Those leaders are becoming increasingly rare in the modern game as teams operate so fluidly that a permanent focal point to organise, anticipate and ultimately attack opposition creativity doesn't naturally fit.
In modern times, teams who came knocking at the top table often featured centre-backs with game smarts and football ability that held the balance of power in games that mattered.
A golden thread can be pieced through figures like Downey, Moynihan, McGeeney, Canty, Lacey and O'Sullivan as players of commanding presence that empowered others around them and took responsibility for the heart of their team's defence.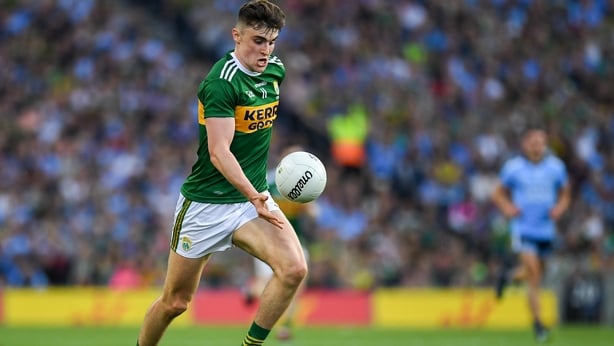 Given the attacking talent at Kerry's disposal, his football brain and the appetite for work he possesses, I can't help wondering if Seán O'Shea might be a potential solution to Peter Keane's quandary.
An added bonus could be the freeing up of O'Shea from the man-marking shackles he inevitably plays under with the potential to counter-attack at will.
Maiden Voyage
Galway's journey under Pádraic Joyce is barely out of harbour but the scramble to establish patterns and personnel that are robust under duress will already be manic.
As has been noted extensively, there is a notable attacking intent in the team when they have the ball. The Tribesmen endeavoured to hold Shane Walsh and Robert Finnerty in the forward line with Damien Comer as close to them as possible so that they always had a direct escape route when defending.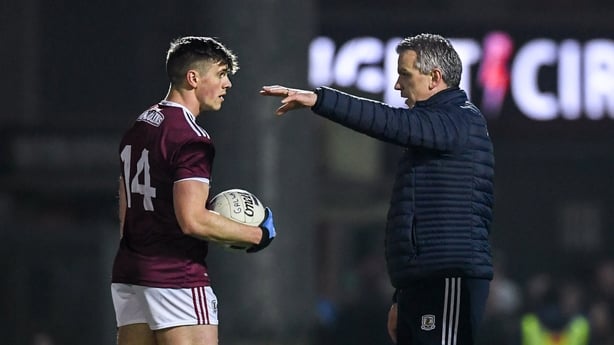 This approach enabled Galway to produce a quality display of kick passing in a lot of sectors of the pitch. They notably looked for flat, diagonal balls across Kerry markers and that opened up a lot of space as Kerry had no cover in front of Walsh and Finnerty for the most part.
Central cover would allow the Kerry man markers to mark to the outside for diagonal ball in those scenarios.
What was not much different for Galway was their approach in defence. They maintained cover at all times – often through Johnny Heaney – in front of Clifford and Geaney and centre back John Daly patrolled the middle as a second layer of insurance.
What was different defensively was the pace and energy their defenders added on counter-attack. That powerful transition added to their kicking game were seriously impressive traits to have established this early in the campaign.
After analysing the game, although Pádraic and his coaching team will be disappointed with the scored they left behind, the real damage they took unnecessarily was through not dealing with some key Kerry scores they might have.
Galway's scramble defence throughout was a major weakness. In many Kerry attacks, Galway had set up well with covering players in position to double up or deal with the runners. On most occasions they didn't react to pressure either the build up play or the shot.
Kerry's final two scores of the game are the perfect examples.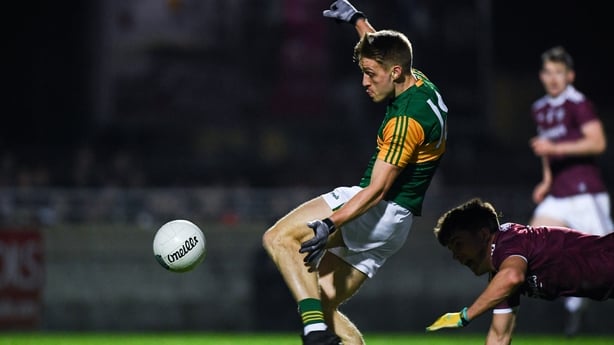 In the dying minutes, with Kerry needing a goal to rescue any type of result, they built steadily down the right side of their attack. Although mayhem is afoot, Galway number six John Daly is in the perfect position behind his tacklers in the half back line.
As play develops, he doesn't react to either Kerry's ball movement or Stephen O'Brien lurking in behind him. Seconds later Clifford finds O'Brien and he places Geaney to finish to the net.
In the dying seconds, as Clifford is fed down the right of the Kerry attack, Daly is on the perfect cover position again. Clifford stands his marker up and inevitably cuts inside for the shot off an upright that will present Killian Spillane with Kerry's winner.
Daly doesn't anticipate the danger Clifford presents initially, doesn't react to push out and ultimately looks on as the Kingdom carve out the openings to steal the game.
Who'd be a centre-back?