As she gears up for a second season with the Adelaide Crows, Clare footballer and new RTÉ Sport columnist Ailish Considine talks about shaking off her GAA mindset, the importance of team bonding and ramping up preparations for the crucial season opener.
***
There was a moment, very early in our first pre-season game against Great Western Sydney two weeks ago, when the sheer unpredictability of Aussie Rules football really hit me.
I was still blowing off the cobwebs and carried a Gaelic football mindset into that match at Richmond Oval - it takes a while to adjust to this sport after spending months back in Ireland immersed in GAA.
The last taste of competitive action I had prior to facing GWS was with Kilmihil in the Clare championship football final back in September, so when I stepped back on to an Aussie Rules pitch, and the ball was thrown up, I suddenly found myself thinking, 'wow... this is not Gaelic football!'
I know it sounds obvious but the games are so different. Gaelic's round ball makes things a bit easier to anticipate - with Aussie Rules, it's a lot harder to do that. There's no flow; things just happen.
That's a big part of why it's such an enjoyable game but for the first two or three minutes I was panicking, thinking I'd completely forgotten how to play!
These thoughts go through your head when you fear you're not doing enough, or that you're not up to speed. It was a moment of realisation and I had to screw my head back on pretty quickly.
We lost by 17 points but it was such a worthwhile outing for us all. A lot of new faces got their first minutes as Adelaide Crows players and though we were all pretty tired after a tough battle in the heat, it was good to get the first one out of the way.
The fact I'm trying to get used to a new position has been a further challenge.
Last year when I first went out to Australia I had no idea where I was best suited, and I don't think the club were sure either.
I was put into the forwards - I've played in the forward line in both Gaelic football and camogie all my life so it made sense - but they want to try me at half-back this year.
I think the reasoning behind that call is the fact that I can kick off both feet, which is a handy tool to have when you want some pressure relief across the defence: give me the ball and I can lash it off either side.
It's been difficult to adjust but enjoyable. Having a defence-minded approach to the game is something I have to focus on, it doesn't come naturally to me. But I am enjoying the position a lot.
I just love to kick the ball, and it's probably one of my best attributes over here. My head is spinning at times because I'm still learning where I have to go or where I should be but the girls have been great at talking me through it. I'm happy to play anywhere to in all honesty. I'm still learning.
Team bonding in Perth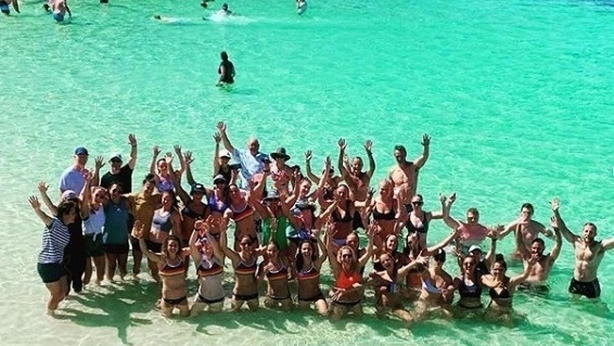 We flew out to Perth last Friday, chilled that evening and had some dinner ahead of another trial game against Fremantle.
It was hot - a lot hotter than it's been in Adelaide.
The game went pretty well. We won and it was another good blowout for the new crew. I must say I was happier with how this one went compared to the first game.
When I arrived last year one of the first things that struck me was the immense bond this team has. Everyone has a genuine care and affection for each other. It's so important to get new players involved in that culture, to show them what it's all about here.
Trips like this really help. Respecting your team-mates and building friendships off the field all feeds in to how we battle together on the pitch. In a short, fiercely competitive campaign, that's crucial.
We arrived in Perth in the evening time so after dinner we were all happy to go to bed with the next day's game in mind. After that we could relax and enjoy the rest of the weekend.
On Sunday we got the ferry out to Rottnest Island, a beautiful little rock that's home to a protected nature reserve. We hired bicycles and roamed around in little groups, stopping for selfies with the local quokkas - a small wallaby-like marsupial - and admiring the turquoise blue water as it crashed on to the island's white sandy beaches.
The pressure was off so we could relax and enjoy each other's company. It was Australia Day weekend too so there was a nice vibe around the city.
Most of the girls went back to Adelaide that night but about nine of us stayed on with our team-mate Chelsea Randall, who is from Perth originally. We stayed at her uncle's house. I'd never been to Perth so I wanted to hang around for on the extra day to see the place.
We went to Penguin Island - and saw no penguins! - but we did get close to some rare seals when Chelsea's dad brought us out to Seal Island on his boat.
I've been so fortunate over the last year and a bit to have seen some of this country. Last year I was in Darwin six or seven times, I got to Melbourne and Sydney, this year we'll be heading to Tasmania and up to the Gold Coast. It's just been a great journey, even outside the football side of things. I'm experiencing a whole new country, a whole new culture. I feel extremely fortunate.
Big kick-off beginning to loom large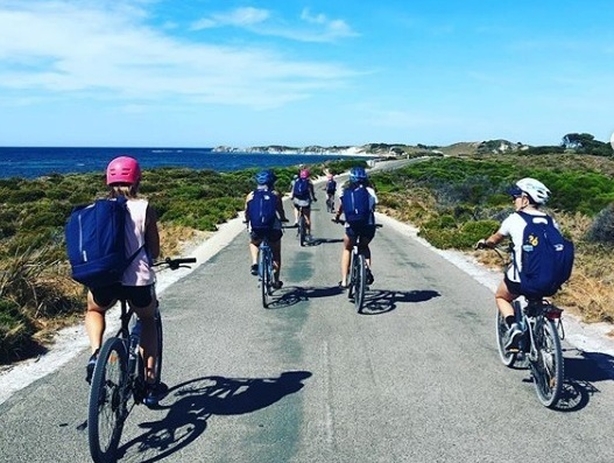 The season begins on Saturday 8 February with a trip to Brisbane Lions and you can feel the group sharpening its focus for that showdown already.
Although Kangaroo Island, which sits off the coats of Adelaide, has been badly affected by the devastating wildfires, we've been pretty lucky in this city.
Our training hasn't been affected and the temperature has been quite cool the last couple of weeks, though it's getting hotter again - back up to the late-30s - which always makes things more a struggle for me.
We haven't heard anything about the conditions impeding travel or matches. I think organisers are just going to play that by ear.
We'll have one more big session before the focus turns to Brisbane.
The team is going to look very different to the one that started the campaign a year ago. Brisbane are a good side. We expect nothing less than a major challenge.
The atmosphere around the camp is great though, and so far our preparation has gone really well. We've been hitting the gym and doing yoga to help with recovery. When the games come thick and fast the yoga is something that helps you wind down and aid that recovery. All these things are important.
The memories we made last year, winning the AFLW Grand final at the Adelaide Oval, were incredibly special.
Now, the challenge before us is to try and do it all again.
We need your consent to load this SoundCloud contentWe use SoundCloud to manage extra content that can set cookies on your device and collect data about your activity. Please review their details and accept them to load the content.Manage Preferences
Listen to the RTÉ GAA Podcast at Apple Podcasts, Soundcloud, Spotify, or wherever you get your podcasts.