Na Gaeil (Kerry) 3-20 Rathgarogue-Cushinstown (Wexford) 1-05
Na Gaeil wing-forward Ian McCarthy bagged a hat-trick as the Kerry side romped to victory over Wexford's Rathgarogue-Cushinstown by a whopping 21 points to become All-Ireland Junior club football champions.
The dominant display is becoming a regular occurrence for the county on club final day in Croke Park as the Tralee-based side became the 10th winners from the Kingdom to achieve success in the grade since the competition began in 2002.
After Jason Dunne landed the first score for the Rathgarogue-Cushinstown in under 30 seconds, the opening quarter settled was otherwise tense with both sides happy to shadow box. Dara Devine equalised and the sides were level four times during the opening half.
The disparity was felt, however, just not on the scoreboard. Na Gaeil scuppered two clear goal chances in this period as well as kicking seven first-half wides compared to none from their opponents.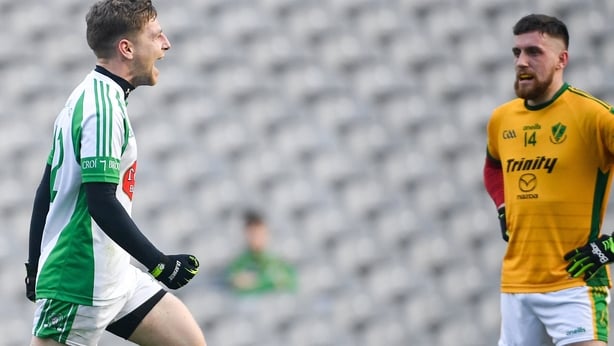 Rathgarogue-Cushinstown went ahead through an excellent Tadhg Cody point but It wasn't until Na Gaeil captain Eoin Doody kicked three points in a row from wing-back that the superiority told.
Once they got on top, there was no looking back.
With Kerry county players Jack Barry and Diarmuid O'Connor in the middle for Na Gaeil, Rathgarogue-Cushinstown opted to go short for the majority.
McCarthy punished a wayward kick-out from Nicky Sinnott for the first of his goals and Na Gaeil pressed from that point forward and looked for the kill, penning the Leinster champions in and winning everything that went long.
The Leinster champions were handed a lifeline at the very end of first half when Tadhg Cody was fouled for a penalty. Goalkeeper Sinnott made the long walk and atoned for his earlier error to find the back of the net to make it 1-08 to 1-04 at the turn.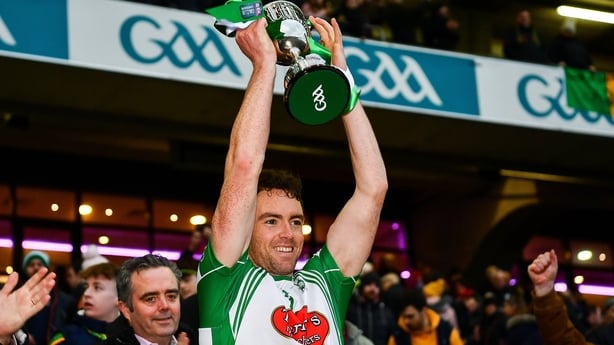 Punishingly for Rathgarogue-Cushinstown the second half was a non-affair. Na Gaeil lifted themselves to a higher plane, in particular Diarmuid Herlihy, the corner-forward rattling off three quick points while one of his shots that struck the upright set up McCarthy for his second goal.
Both managers used the full complement of subs so the pace understandably slowed down. Na Gaeil full-forward Mike Griffin and Devine added to their tally along with county star Barry finding the range.
Daire Bolger ended the scoreless run midway through the half for Rathgarogue-Cushinstown but they were simply outclassed.
McCarthy would aptly have the final say with his third and final goal of the game.
Na Gaeil: Timmy Culloty; Ryan O'Neill (0-01), Eoin O'Neill, Damien Bourke (0-01); Eoin Doody (0-03, 0-01f), Andrew Barry, Kieran O'Donovan; Diarmuid O'Connor, Jack Barry (0-01); Dan O'Connor, Dan Goggin (0-01), Ian McCarthy (3-02); Dara Devine (0-03, 0-02f), Mike Griffin (0-03), Diarmaid Herlihy (0-03).
Subs Used: Kieran Dineen for Dan O'Connor (42), Jamie Lowham for Mike Griffin (46), Eoin Walsh for Eoin O'Neill (46), Darragh Reen (0-01) for Dan Goggin (48), James O'Connor for Kieran O'Donovan (49), Paul Daly (0-01f)for Eoin Doody (59).
Rathgarogue-Cushingstown: Nicky Sinnott (1-00pen); Paidí McGrath, Peadar McCoy, Patrick Murphy; Brian O'Neill, Eoin Porter, Bryan Cody; Daniel Martin Carroll (0-01), Matthew Cody; Daire Bolger (0-02f), Robert Murphy, Tadhg Cody (0-01); Eric Cummins, Bernard Furlong, Jason Dunne (0-01).
Subs Used: Mark Power for Brian O'Neill (24), Ollie Bolger for Paidí McGrath (36), Aaron Ryan for Eric Cummins (42), Luke O'Connor for Robert Murphy (56), Paddy Barron for Daire Bolger (58), Jonathon Kelly for Nicky Sinnott (59).
Referee: Sean Lonergan (Tipperary).