As she prepares for a second season with the Adelaide Crows, Clare footballer and new RTÉ Sport columnist Ailish Considine talks about life in Australia, being a professional athlete and the Irish invasion of the AFLW.
***
There were five Irish women in the AFLW in 2019 and there are 18 of us this year. It's a crazy jump.
I'm not surprised. With the four new teams, they were looking for talent, and you already have ready-made athletes playing Gaelic back home.
They are almost the full package apart from the tackling and the ball. Fitness-wise they would be slightly above the amateur Aussie Rules players.
There are so many good Ladies footballers and it's great to see them get the opportunity to come out and play and compare really well to professionals.
I think last year I only played against Yvonne Bonner and Cora Staunton (Greater Western Sydney Giants) so Irish girls will end up playing each other a lot more this year.
Coming into my second year I know the run of things, the time-frame, layout and structure of the whole season. That familiarity is good. Adelaide's first game is not until 8 February but we had a trial game last weekend against GWS and have another one coming up against Freemantle, which we fly to Perth for on Friday.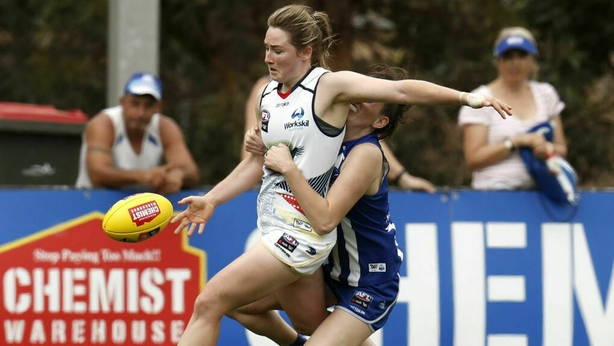 Obviously, I'm still pretty fresh to the game, still learning a lot every time I go out in training but the skills have definitely come a lot easier this time around. Last year, I looked forward to the running and conditioning because it was the one time I didn't have to think. After loads of extra sessions in year one, I'm getting better at the kick, handball and tackling, which makes it easier to concentrate on game play and gamestyle.
It's a very different game so it takes a while to readjust, especially after playing a summer of Gaelic football back home. You just don't know where the oval ball is going to go, it makes the game so unpredictable.
This year I've been training in the half-backs, which is new for me. I was a forward last year and have always played forward in Gaelic football, camogie or soccer. I did okay in the forwards last year but I'm two-footed and they want to try to use that attribute at half-back.
There are similarities to being a half-forward in Gaelic football: you're getting the ball and distributing it, creating the attack. But the game-play is very different to what I'm used to.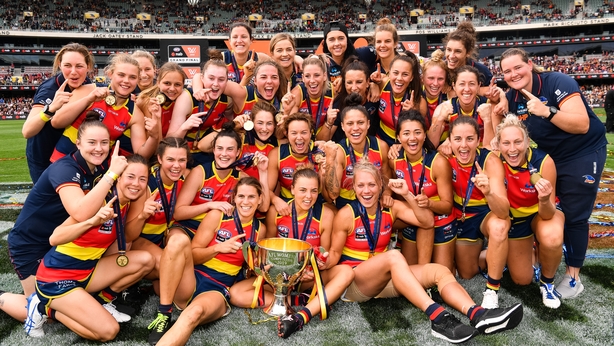 Living the dream
Getting to play professionally, as a woman in sport, is something I never in my wildest dreams thought would happen. Especially coming from a Gaelic football background as an amateur sport. That was a huge draw for me to come over and give it a go.
When you play a sport like football and camogie for as long as I did, you sometimes get to a point where you're just playing for the sake of playing it and it was nice to have a fresh start with a new sport. Just to try and make something of myself over here and make my family proud.
I'm not living a very different life to what I was back home because that was eat, sleep, train, repeat with a bit of study here and there. Here I have my full concentration on getting to be the best athlete I can be and it's an incredible lifestyle.
It's very activity based, a lot of people are into fitness and that's something I love to do. The weather is a good thing too, when it stays in the 20s. When it goes above that – we had a 46c day last January – I struggle a little bit!
The wages have increased (from a minimum of $13,400 to $16,263, around €10,000), which is good, but it's still pretty much semi-pro. Almost everyone is working as well but a lot of girls have cut back on their hours during the season – if they can - so they have more time for football and recovery. It's tough to train three times a week and then fly away somewhere, play a game and then go back into work on the Monday.
I couldn't work under the terms of my visa last year but now I can work within the club and I've been lucky enough to get two days a week in the community department, going out to schools and running football clinics with girls.
We need your consent to load this Instagram contentWe use Instagram to manage extra content that can set cookies on your device and collect data about your activity. Please review their details and accept them to load the content.Manage Preferences
I go to the gym early most mornings to loosen out the body and do something different to our normal training. Then I either go home or go for breakfast or a coffee with the girls. I usually go to the beach for some recovery, then depending on the boys' schedule, head into the gym in the club.
If it's a non-training day then I just chill for the evening, maybe go out for dinner. I eat out quite a bit but every restaurant here seem to be so health-conscious it makes it easy. Lots of poached eggs and avocado!
I would have watched what I ate at home anyway but here it's more monitored. Bone density and body composition are tracked to make sure you're consuming enough food for all the training you do and you're where you need to be.
Training days you would start at five, go through injury-prevention, foam-rolling and all of that, go through training on the track then come back in for a lower or upper body session in the gym.
It's very team orientated, you end up spending a lot of your time outside of football with the girls, which is nice, you're making genuine connections. Even though I don't have any relatives in Adelaide, every single one of the girls and the coaches in the club have been so good to me and made me feel so welcome and at home.
Home is where the heart is
#NewProfilePic pic.twitter.com/vUqCrQS8g1

— Ailish Considine (@Duckyc7) September 23, 2019
I was home from June until October.
I didn't think it would take as long to get back used to the round ball. It's actually harder to kick it straight than an oval, which I never thought I'd say. It took a couple of weeks to get my technique right. I had a club game with Kilmihil shortly after I arrived home and I kicked about 10 wides in the first half.
We won our first Clare county championship in September, which fulfilled a childhood dream. I never thought I'd see the day.
People have asked me, which was better, winning the Grand final or the county final, but they're two very different things.
Playing in front of 53,000 people and winning in a professional sport is obviously one of the best feelings in the world but winning the club championship is the people you've grown up with: your family, friends and parish. It's where I started playing sport and what got me to where I am today.
It's just special how it brings a community together and to win it with my sister Eimear was just incredible. We haven't played together that much in the last few years due to her rugby commitments and me flying half way across the world.
The season is getting longer here, which could potentially make it harder to go home in the summer, but there is talk of it possibly starting earlier than the men's season too. I'd like to see a longer season go from November or December to March/April rather than January to June.
New recruit
Cathal McShane has been here a couple of days now.
I only met him briefly last week, we did the Adelaide Oval roof climb together, but he seems to be getting on really well with the guys.
It's a huge opportunity for anyone, male or female, to come over and give it a go. They are pretty much training full-time within GAA anyway so if you're going to get an opportunity to get paid for that, why wouldn't you try it?
If it fails it fails but if it works it's a dream.