While most of the romance and hype ahead of Sunday's All-Ireland club hurling final has centred on Borris-Ileigh, Ballyhale Shamrocks, the Kilkenny club who've seen and done it all before, are chasing history on a few fronts.
"It's very hard to do something for the first time in Ballyhale," says PM O'Sullivan, Irish Examiner columnist and a former All-Ireland-winning selector with the club.
"There are not that many things left to do for the first time. That's our good fortune. But doing back-to-back All-Irelands is obviously one of them. They're 60 minutes from it now."
At the weekend, the current Ballyhale Shamrocks team do have the chance to mark themselves out from their illustrious forebears.
Oddly, for a club who sit at the top of the roll of honour, they've never done back-to-back. There's been no concentrated period of dominance that some other teams - Birr, Athenry, Portumna - have established.
Their national level success has arrived in two waves, first in the 1980s and then from 2007 onwards, with the All-Ireland victories nicely spaced out in both eras. The All-Ireland club championship, with its thinner panels and its sheer volume of competitors, probably militates against long periods of unbroken dominance.
As it stands, Corofin are seeking on Sunday to become the only team in either code to complete a three-in-a-row.
On an individual level, several of the longer-in-the-tooth Ballyhale players also have a chance to break new ground at the weekend.
There are plenty of Birr and Portumna players with four All-Ireland club medals, the Whelehans, the Pilkingtons, the Cannings and the Hayes' among them.
But no one has yet reached five.
Michael Fennelly (so long-in-the-tooth, he's an actual inter-county manager), TJ Reid, Eoin Reid and Colin Fennelly, all veterans of the 2007 All-Ireland victory over Loughrea, have a chance to hit that milestone at the weekend.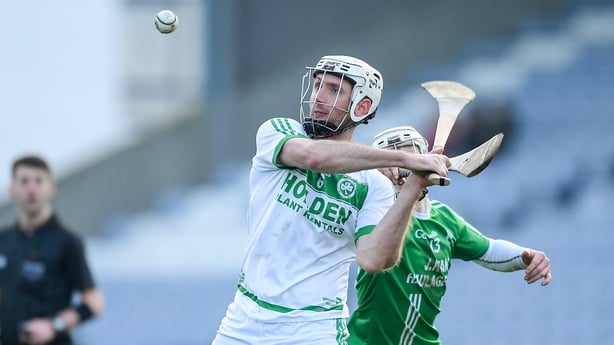 At first glance, it seems the Shamrocks winning tradition appeared out of nowhere sometime in the mid-1970s.
The merger of two small junior clubs, Ballyhale and Knocktopher, with little history of prior hurling success, and the inclusion of another nearby town land, Knockmoylan, whose club had already gone extinct, did not seem like propitious ground on which to build a future dynasty.
But that doesn't quite give you the full picture. There was in fact a deep tradition of hurling achievement in the area.
Ballyhale, and indeed Knocktopher, natives had been a fixture on Kilkenny teams since the early decades of the 20th century and many had won scores of county titles overs the years - just not for Ballyhale.
"The Ballyhale history is deceptive," says O'Sullivan.
"At the time, if you were a Ballyhale native and a strong hurler, you tended to play for Carrickshock. You didn't tend to play for Ballyhale, for Knocktopher or Knockmoylan. That was just the way it was.
"The original Carrickshock club - which is a different club to the current entity - were founded in a Ballyhale national school. And when Carrickshock won their first Kilkenny SHC title 1931, on the starting XV, there were 11 Ballyhale natives.
"So, there's a winning tradition in the Ballyhale parish that stretches back to the 1920s but it was slightly submerged."
Even before the parish was united under the Shamrocks banner, the area has made an unrivalled contribution to successful Kilkenny teams.
"There is an unbroken run of Ballyhale involvement in Kilkenny All-Ireland success since 1922," says O'Sullivan.
"The only year when someone didn't play in the final was in 1993 when Paul Phelan was a sub. So, there were a lot of Ballyhale men, as Carrickshock players, prominent with Kilkenny in the 1930s, 40s and 50s."
"The Ballyhale history is deceptive" - PM O'Sullivan
Men like Jimmy Walsh, who captained Kilkenny to All-Ireland titles in 1932 and 1939 - the famous thunder and lightening final - were part of that Ballyhale born Carrickshock-contingent.
Walsh, as a middle aged man in the 1960s and early 70s, was a next-door neighbour of the famous Fennellys, the family who comprised of roughly half the team when the Shamrocks started hoovering up senior titles in the late 70s.
Walsh's midfield partner in the 'thunder and lightning final' was Jimmy Kelly, another Ballyhale man lining out for Carrickshock. Kelly nailed the winning point in the decider against Cork. These two players helped Carrickshock dominate the Kilkenny hurling scene in the early 40s, winning four titles in a row. Some illustrious locals did stick with the small junior clubs within Ballyhale. Denis Heaslip, a star player on the victorious Kilkenny teams of '57 and '63 and 'the DJ Carey of his era', according to O'Sullivan, remained a Knocktopher player throughout his career.
By the early 1970s, the authorities in Kilkenny moved to rationalise their club structure, adopting a 'one parish, one club' model. O'Loughlin Gaels were formed to cover the St John's parish portion of the city, Graigue and Ballycallan sorted out whatever differences they had in the west of the county.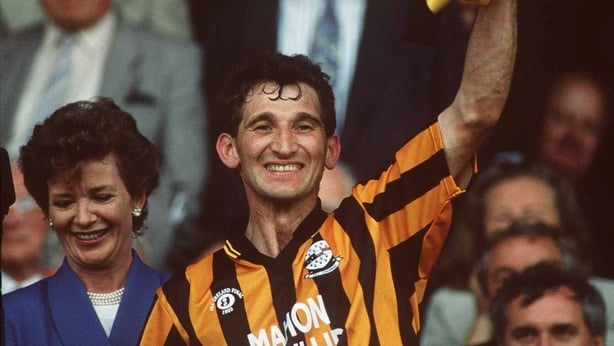 The original Ballyhale club had enjoyed underage success in the 1960s, reaching three successive minor finals against James Stephens but this initially failed to feed through to the later age grades.
"There was a glut of hurlers coming through but we had two clubs in the parish hurling against one another," says Michael Fennelly Snr, three-time All-Ireland club winner and father of current stars Michael (Jnr) and Colin.
"It probably wasn't going to work out. And we were losing a lot of players as well.
"In 1971 or 72, some of the wiser heads got together. It wasn't an easy job to bring two clubs together. They were fairly divided and politics plays a part in all clubs.
"It wasn't really spoken about. You couldn't really talk about what was going on because if people got wind of it, they might make it harder and harder.
"The chairman of the county board that time chaired a meeting and that night they got together and formed the Shamrocks - Ballyhale, Knocktopher and Knockmoylan. That was the start of it."
Close observers mightn't have been surprised that the new entity didn't have to wait long for success. The club hurtled up the grades in Kilkenny hurling, winning its first county senior crown in 1978, six years after being established.
"We won the junior in '73, the intermediate in '74," says Fennelly. "In '75, '76 and '77, we didn't make the breakthrough. There were players playing soccer and doubling up sports.
"We came to the conclusion that if we were going to win a senior championship, we'd have to concentrate on the hurling. In '78, it happened and we never looked back since."
The following March, they lost their first, and so far only, All-Ireland club decider to Cork's Blackrock after a goal-fest. Two years later, they went one better against St Finbarr's.
While nowadays Ballyhale are regarded as hurling aristocracy, back in 1981 they were perceived as insurgents, sticking it to the big Cork city clubs that dominated the competition until that point.
"They were the first country club to win the All-Ireland final in 1981," says O'Sullivan. "I suppose they were a bit of an inspiration for other rural clubs like Kilruane and Borris-Ileigh to go and do it."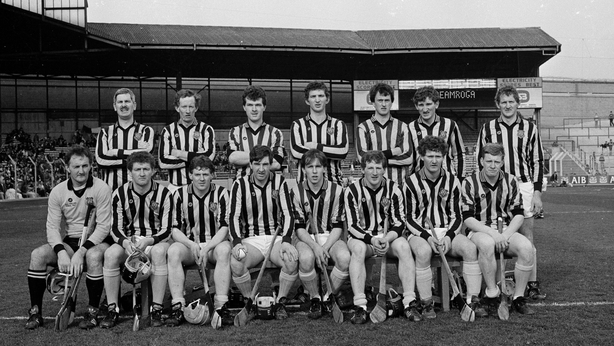 They won nine Kilkenny SHC titles during their first dominant spell between 1978 and 1991, contesting all bar two county finals in that timeframe.
Further All-Ireland titles were claimed in 1984 - after a bizarre fixtures arrangement in which the semi-finals and final were run off on the same weekend - and again in 1990.
They were marvelled at by their rivals within Kilkenny. Eddie Brennan, who tussled with them as a Graigue-Ballycallan player in later years, sees the echoes of the 80s team in the current team.
"I remember growing up through the 80s, going to county finals with my father, when Ballyhale Shamrocks won six county titles and were in nearly every county final. And you were just looking at how in sync the players were.
"You talk about modern coaching, I think a lot of it comes from players understanding and thinking about the game. And they seemed to have a telepathic understanding of what was going on and this was a long time before you were practising strike moves in training.
"They had the smartest, cleverest hurlers that I've ever seen in a club team and how that seems to carry through (different generations). They always seem to have space, they make the right decisions and they work very hard."
They shuffled into the background from 1992 onwards, at their lowest point suffering relegation to intermediate in 1995. Promotion was achieved in 1997 and by then an 18-year-old Henry Shefflin was a regular starter, featuring alongside brother Tommy as they dispatched Graignamanagh in the intermediate final.
Oct 19, 1997 Kilkenny IHC Final. 18yo Henry Shefflin inspires Ballyhale Shamrocks to 4-12 to 3-7 win over Graignamanagh and back into the senior hurling grade .@gaanostalgia #hurlingwiththestars https://t.co/AWhQrfTjtk #gaa #hurling pic.twitter.com/rA3TE5IWAh

— Shamrocks (@BallyhaleGAA) May 20, 2018
A year later, their U14s won the Féile in Wexford in 1998, a team containing Michael Fennelly (Jnr) and Cha' Fitzpatrick beating Toomevara in the final. The next wave was coming. After a few near misses, including a final loss in 2005, they regained the Kilkenny crown in 2006, bridging a 15-year gap to their previous triumph.
As is invariably the case with any small-to-tiny club that grows wildly successful, a few big families do a lot of heavy lifting. During the first wave of success (1978-91), one very large family, the Fennellys were hailed for doing a humongous amount of the lifting.
They were far from alone in that. Scanning the various successful Ballyhale teams, the same surnames - the Shefflins, the Reids, the Masons, the Aylwards, the Walshes, the Phelans - keep appearing.
Check who's who in Ballyhale and one gets sucked into a vortex of relations of relations. A perusal of the family trees indicates that the 2018-19 campaign saw the arrival of a third generation, one to succeed Henry and co.
"There would be many, many family continuities," says O'Sullivan.
"On the '06 team that broke back through - of the team that started the county final that year, there were 13 directly blood connected back to the 1978 team. And tightly connected back, fathers, uncles.
"For instance, Denis Shefflin would be Henry and Paul Shefflin's uncle. He was the first winning captain in 1978. And he would be a granduncle of Evan Shefflin and Eoin Cody and Brian Cody that are on the current team."
Michael Fennelly Snr is the father of inter-county stars Michael and Colin. But that's not all.
There's "the Mullens then. Their mother is my sister. I'd be the eldest of our family and she'd be the youngest and she married Declan Mullen. ('1997 intermediate winning team'). So, Adrian and Darren would be first cousins of Michael and Colin."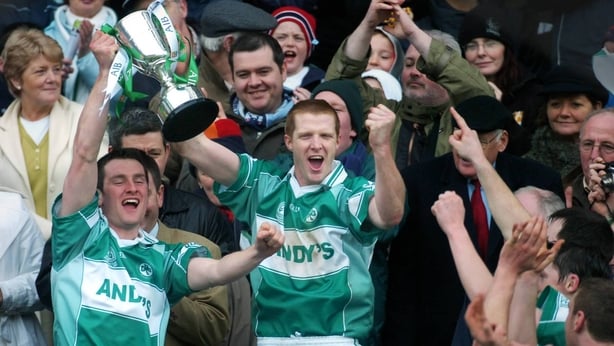 Brennan - who, to continue the family theme, is a brother-in-law of Mark Aylward - has a theory that generational or sibling rivalry is a powerful factor fueling the success.
"I think sibling rivalry generates a lot of it (the success). When you look at Ballyhale, you had the old team that won three, and Henry's crew won three.
"I think there was almost a kind of rivalry there. When you talk about a culture in a club, sometimes it's about bragging rights. It's a case 'well, we're going to equal what you achieved.'
"That's the kind of banter that sows the seeds for younger guys. They say, 'we want to be like that'. Henry grew up through the 80s and 90s, seeing Ballyhale do that.
"No more than a lot of these younger guys who are playing on Sunday and played last year, they were no more than maybe 12 or 13 when Henry and the lads started their run in 2007. All you're doing is passing on the baton."
It's testament to their relentlessness and their historical consistency that Ballyhale, from a parish containing a couple of hundred people, should enter Sunday's match-up representing the face of empire, seeking to trample upon romance.
For PM O'Sullivan, the maintenance of that winning tradition is never certain and requires constant attention.
"It's very difficult to explain how this has all happened. How is it that Ballyhale have 17 senior Kilkenny titles and are going for an eighth All-Ireland at the weekend. Why isn't it some neighbouring parish?
"When you have something, you don't have to ask the whys and wherefore's of it. You have just have to hold on to it and nurture it. And Ballyhale have done that over the years. You would always be conscious of the lessons of history. Look at Cavan football. It's very easy to lose that winning tradition, it's a very fragile thing.
"Andy Moloney, who managed Ballyhale to the 2015 All-Ireland title, made a very perceptive point that there's nowhere in the parish where you see all the winning teams up in the wall.
"Whatever our flaws in the parish, one of the virtues is a disinclination to look back. The most important game is not the one you won, it's the one you're going to try and win."
Follow the All-Ireland club finals with our live blog on RTÉ.ie and RTÉ News Now from 2pm and listen live on RTÉ Radio 1. Watch highlights on RTÉ 2 and the RTÉ Player from 11.10pm.