Galway manager Padraic Joyce says he's not a fan of penalties deciding games, despite the fact that they helped his side to defeat Mayo in the FBD League semi-final on Sunday.
Tom Flynn scored the crucial spot-kick to see the Tribesmen through 3-2 on penalties, after the game had finished level in normal time on a scoreline of 1-17 apiece.
"It's a funny way to sort a game out," Joyce told RTÉ GAA correspondent Brian Carthy after the game at McHale Park.
"I wouldn't be a huge fan of it. Fair play to the ten players who took the penalties, and the two goalkeepers.
"Lookit, penalty-taking, for me, is for a different sport, not for our sport."
It was the two-time All-Ireland winners' first game in charge since his appointment last October, with over 7,000 supporters turning out at Castlebar.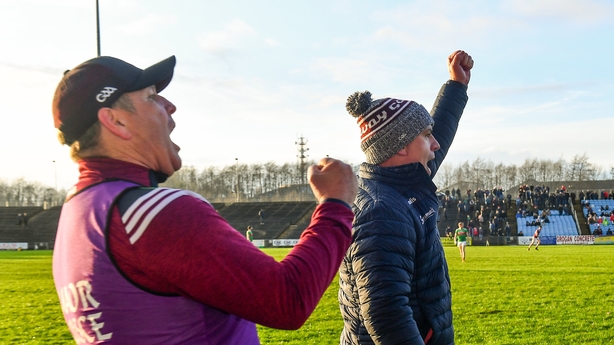 Mayo led at half-time by a point and looked to be into the final when they led by six points late on. Galway would muster 1-3 without reply, with Adrian Varley netting the goal, to force the novel conclusion.
"What I seen in the first 15 minutes, and the last 10 minutes, that's what I was looking for overall," continued Joyce.
"We're not going to get perfection, but at the same time when we went 0-4 to 0-1 up, we kind of lost our way a little bit.
"Then at the end of the game we were six points down. The game looked to be gone away from us.
"Galway would have been seen, over the years, to have a soft belly, but at least they showed great character.
"We came back to fight hard at the end, (and) that's the most pleasing aspect."
There was a long delay in the second half, as Fiontain O Curraoin required treatment on the pitch for over 10 minutes.
Joyce confirmed that the Mícheál Breathnach's man had been brought to Castlebar Hospital afterwards, as a precaution.
Meanwhile, Mayo manager James Horan echoed Joyce's sentiments on penalties.
"We'd a lot of serious injuries out there today," he said.
"Galway unfortunately had a couple of injuries so the game was going on a long time.
"It suited today that there wasn't extra-time, (but) I'm not sure if it is the right method."