Longford 1-13 Dublin 3-06
Dessie Farrell confirmed that Mick Galvin will form part of his new Dublin management team after being joined by his old ally on the sideline for what proved a dramatic O'Byrne Cup defeat in Longford.
Leading by two points with 67 minutes played at Glennon Brothers Pearse Park, a win for a highly experimental Dublin team cobbled together by Farrell in the absence of the 2019 squad seemed likely.
But three late Longford points in a row including the winner from a Darren Gallagher free four minutes into injury-time stole victory for the hosts.
It was a repeat of Longford's win over Dublin at the same stage in 2016 and means they will play Offaly in the final next weekend.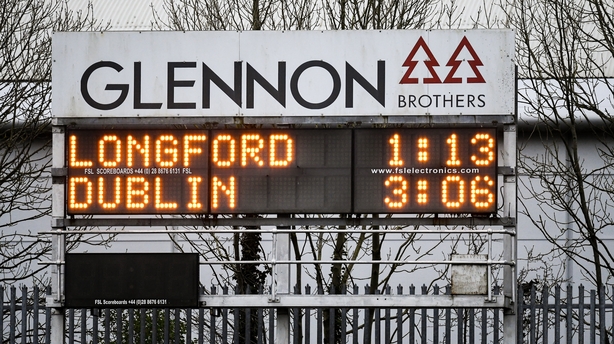 Not that Farrell was overly concerned afterwards, admitting that he's glad to have the opportunity to get down to the serious business of training his main squad ahead of the National League.
The Na Fianna man also confirmed that Galvin will be one of his selectors with Shane O'Hanlon, part of Jim Gavin's management team last year, also a notable figure on the Dublin sideline.
"Mick will be going forward with us," nodded Farrell when asked about a figure he has worked with in past management teams.
Farrell confirmed at his first official press conference yesterday that five-in-a-row winning captain Stephen Cluxton is also keen to continue in 2020 and the Parnells man surprisingly attended the game in his Dublin tracksuit.
Many of the main squad only returned today from their team holiday and their first official training session isn't until Tuesday.
"Most of them are getting in over the weekend so we hope to be back on the field on Tuesday night," said Farrell.
As for the occasion itself, managing the Dublin senior team for the first time, the 1995 All-Ireland winning forward played this down.
"I'm well used to coming down to Longford over the years and meeting this type of atmosphere down here," he said when asked about taking his bow.
Referee Alan Coyne came under verbal fire from Dublin supporters at the final whistle as he exited the field after awarding Longford what many viewed as a soft free.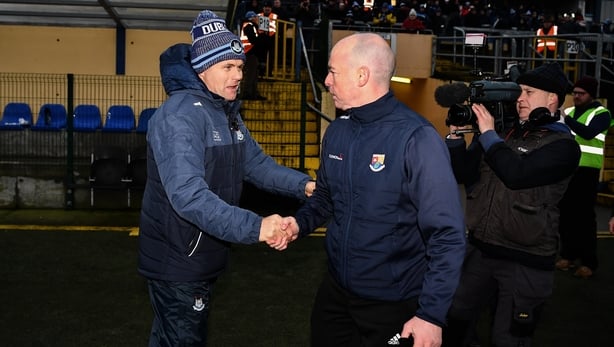 It was for a foul on Gallagher and the big midfielder dusted himself off to take the kick and swing the winner just over.
Two Gardai and a number of stewards were on hand as the match official left the playing area in surprisingly heated scenes for an O'Byrne Cup encounter.
Farrell said he will sit down and consider which players to keep as part of an extended main panel with Niall O'Callaghan and Killian O'Gara looking like decent bets to remain.
O'Callaghan, younger brother of senior star Con, struck two goals, both in the second-half while O'Gara hit their first major.
Farrell adopted the curious strategy of running in substitutions throughout the game and with unlimited changes permitted he made 23 switches in total.
So O'Gara had only just netted in the 19th minute when he was taken off and the same thing happened to O'Callaghan after his second goal in the 50th minute.
The scores were tied at half-time 1-03 to 0-06 and O'Callaghan's goals in the third quarter of the game left Dublin sitting pretty.
They retained a two-point advantage late on after Gerry Seaver's second score of the game but Longford finished strong, conjuring three points from Gallagher and Darragh Doherty to seal a morale boosting win and a place in the pre-season final.
Longford: Paddy Collum; Patrick Fox, Andrew Farrell, Barry O'Farrell; Iarla O'Sullivan, Michael Quinn, Colm P Smyth; Darren Gallagher (0-05, 0-04f), Kevin Diffley (1-00); Gary Rogers, Daniel Mimnagh, Dessie Reynolds; Rian Brady (0-05, 0-01f), Joseph Hagan, Oran Kenny (0-02).
Subs: Darragh Doherty (0-01) for Rogers 57, Peter Lynn for Kenny 60, Liam Connerton for Reynolds 68.
Dublin: Michael Shiel; CJ Smith (0-01), Eoin O'Brien, Darren Byrne; Niall McGovern, Graham Hannigan, Cian Murphy; Emmet O Conghaile, Tom Lahiff; Niall Walsh, Dan O'Brien, Glenn O'Reilly (0-01); Killian O'Gara (1-00), Niall O'Callaghan (2-00), Chris Sallier.
Subs: Ross McGowan for Murphy 18, Scott Fulham for O'Gara 19, Ryan Deegan for O'Reilly 21, Sean Cleary for Smith 25, Gerry Seaver (0-02) for Walsh 25, David Quinn for Sallier 26, Dermot McLoughlin (0-01) for O'Brien 27, Nathan Doran (0-01) for Lahiff 29, Eoin O'Dea for McGovern 31, Cormac Howley for O Conghaile 34, O Conghaile for Lahiff 41, O'Reilly for Deegan 45, Walsh for Seaver 45, Murphy for Cleary 49, Sallier for O'Callaghan 50, O'Brien for Quinn 55, O'Gara for Lahiff 55, McGovern for McLoughlin 55, Lahiff for Doran 60, Seaver for Fulham 60, Smith for Hannigan 63, O'Callaghan for Sallier 68, O'Dea for Murphy 73.
Referee: Alan Coyne (Westmeath).
Offaly 0-16 Westmeath 0-11
The Bernard Allen-led Offaly overcame Westmeath in the other last-four clash at Bord na Mona O'Connor park, 0-16 to 0-11.
Allen's nailed eight frees to swing this one for the Faithful County, who were 0-08 to 0-07 ahead at the break having played against a stiff breeze.
They kicked on in the second period to set up a final shgowdown with Lognfrod next weekend. 
Offaly: P Dunican (0-1, 0-1f); D Dempsey, E Rigney, N Darby; E Carroll, S Nally, J Hayes (0-2); C Mangan (0-1), M Brazil; C McNamee, R McNamee (0-1), J Dempsey; C Johnson (0-1), B Allen (0-8, 0-8f), A Sullivan. Subs: C Donohue for J Dempsey (H/T), R McEvoy for C McNamee (48m), N Darby for Nally (53), C Farrell (0-2, 0-1f) for Sullivan (56), A Leavy for Brazil (61), C Donnelly for R McNamee (66).
Westmeath: J Daly; C Slevin, K Maguire, B Sayeh; K Daly, R Wallace, J Dolan; D Corroon, N Mulligan; N O'Reilly, Conor McCormack (0-2, 0-1f), A McGivney; D Lynch, L Dolan (0-2), Callum McCormack (0-5, 0-3f). Subs: C Coughlan for Mulligan, A Neary (0-1) for O'Reilly (both H/T), A Stone for Conor McCormack (57m), L Loughlin (0-1, f) for Dolan (60), E Carberry for Daly (65), C Dillon for McGivney (68), S Connolly for Slevin (70), N Scally for Callum McCormack (73).
Referee: D Fedigan (Louth).