London manager Michael Maher says his team is far from making up the numbers and argues the county's "thriving" underage structure is laying the foundations for a bright future.
Maher, who was a member of Ciaran Deely's backroom team in 2019, represents a highly significant appointment for the Londoners.
The 32-year-old from the Round Towers club is the first ever London-born manager. And he has a highly interesting and novel background for an inter-county manager.
The son of a Kilkenny man, Maher played hurling and football at underage before turning to soccer from his late teens.
He managed Redhill FC for a couple of seasons, winning promotion to the Isthmian league and taking the club to the brink of the FA Cup first round.
After leaving the club in 2015, he threw himself back into Round Towers and set himself on a path which would take him to the London senior job.
Speaking to Game On on RTÉ 2fm, Maher says working with the set-up in 2019 whetted his appetite for the top job.
"It's my county. I've grown up here. I've seen great London teams in the past. This last year, I got the opportunity to come into Ciaran Deely's backroom team. It gave me a taste to take this opportunity if it ever came up and at the end of the season, it did come up.
"I grew up playing for Round Towers. My father was heavily involved there. It's the old thing where if your parents are involved, you get immersed in the club. From a young age, I was volunteering and coaching the underage sides at Round Towers.
"Soccer took a bit of a hold at 18, 19 and I went off working in soccer. But I always stayed in touch with Gaelic football. I worked with the London underage development squads. Soccer came to an end and I got back involved with my club senior team and things have developed from there."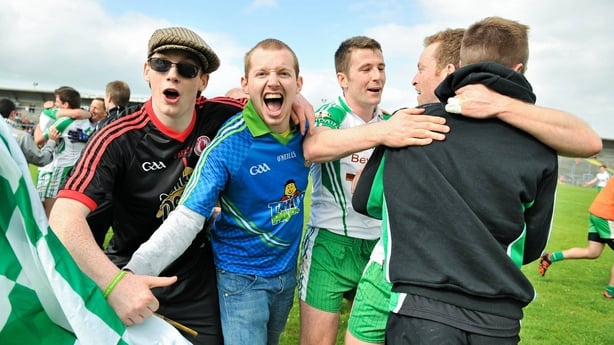 London haven't won a game in the championship since their famous run to the Connacht final in 2013 and before that their only championship victories had come against Fermanagh in a 2011 qualifier and Leitrim back in 1977.
Despite this, Maher is adamant they're not "making up the numbers" and points to the underage setup and the increasing prevalence of native born players as the way forward.
"This is a fully fledged inter-county team in its own right," he says.
"The underage structure here is thriving. There's huge numbers of kids playing Gaelic Games and I'd argue with anyone who says London is making up the numbers.
"There's two sides to it. There's always going to be a place for the Irish-born lads who come to London. And the main reason they come is work. It's not to play for London.
"And there's obviously a large number of those guys who are extremely talented footballers. They end up signing for clubs here and if they can then commit to playing inter-county for London, they will.
"But the key thing that London needs to carry on doing is promoting the game at youth level. And making the underage fixtures enjoyable and attractive to them.
"For a few years after the age of U14, there was a real lull. You could probably count on one hand the games I played between the age of 15 and 21. The county is really starting to turn that around.
"I do see London having a good future. I do see kids coming through the system year on year. We've a good number on the panel now. There's always going to be a blend of lads that have come through the system here and lads who come over from Ireland and end up living and working here."
"This is a fully fledged inter-county team in its own right. The underage structure here is thriving. There's huge numbers of kids playing Gaelic Games and I'd argue with anyone who says London is making up the numbers."
Maher works as a teacher in south London and along with a number of others - he name-checks former Mayo coach and backroom team member Martin McGrath as well as school principal Pat Winston - has helped Gaelic Games flourish in a school with students from a predominantly African background.
"St Paul's have got nearly 95% children from African background and they love the game. We've put a system in the primary schools there.
"Martin McGrath, who's in my backroom team, and myself work in the local primary schools and we deliver Gaelic football to them from the age of eight. Those guys come into St Paul's academy from the age of 11, they've had a couple of years of coaching and they take to it like ducks to water. They play for the school team, which doubles up as a club for the London competitions.
Winning feeling .. memories of a life time # south london under 14 feile all Ireland champions pic.twitter.com/S2oGwzMdwW

— Mairtin MacGrath (@MaxProFitness) July 2, 2018
"The biggest success has been the Féile where the kids at U14 are playing for South London and we've won six All-Irelands in the last 10 or 11 years and we were up against Kilmacud Crokes in the Division 1 final this year. It was a dream come true to think that 10 years ago, we were playing down in 2005.
"It just goes to show, once the coaching is right and there's people investing time into people, it doesn't matter where someone is from, they're going to do well."
Back to the short-term, Maher is focusing on the league and developing a winning habit in Division 4 before they turn their focus to Roscommon in the Connacht championship.
"The ambition is to believe we can approach every game in Division 4 with a winning mentality. London in the last few years have done extremely well to be competitive in every game and the key for us is to get our players believing we can win every game in Division 4. Hopefully, with the group of guys we've got together, we can do that."