Ballyhale Shamrocks' Joey Holden says players would probably prefer to get the club season completed before Christmas but insists the All-Ireland club semi-final is where any player would want to be, regardless of the date of the match.
The GAA has moved to condense the club calendar in 2019-20 with the All-Ireland club final day being brought forward two months from its traditional St Patrick's Day berth to 19 January.
While the plan for the 2020-21 campaign remains unclear, it is ultimately envisaged that the current schedule is a temporary halfway house until the club season can be brought within a single calendar year.
As it is, the 2019-20 schedule necessitates that the All-Ireland semi-finals in both codes be played on the first weekend of January.
Defending champions Ballyhale face Slaughtneil in Newry on 5 January while Munster winners Borris-Ileigh take on Galway's St Thomas' in the Gaelic Grounds in Limerick.
Holden, winner of two All-Ireland titles with Kilkenny and three with Ballyhale, admits that players would prefer if the games could be completed prior to Christmas but acknowledges the challenges faced by the fixture makers.
"We probably would have (preferred the game to be played earlier). Because you don't just turn up on 5th of January and play the game, there's a lot of work that goes in," he told Game On on RTÉ 2fm.
"It's either Stephen's Day or the day after that we come together. It doesn't really bother players because we get to enjoy it but behind us there's families and partners that have to support us. It's affecting their Christmas a small bit.
"But listen, when you get to an All-Ireland club semi-final, you'll take anybody's hand off just to be there. It's the second biggest day of the club calendar so we're just happy to be there.
"I understand that it's a hard task. There's a lot of games, a lot of fixtures. They're trying to satisfy everyone. I think it's just for this year and it's going to move. They are looking at it."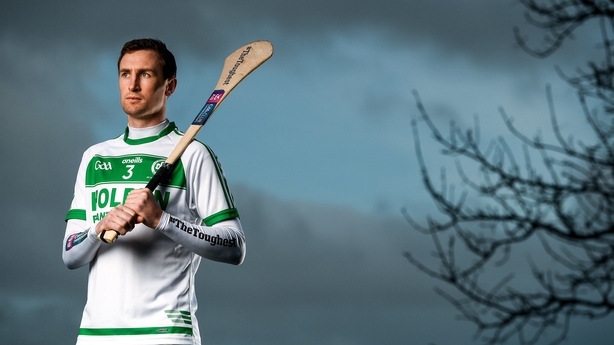 Winter weather is not particularly conducive to hurling though clubs who regularly reach provincial finals are well used to it. Holden says it can't be used as an excuse either way.
"The pitches are a lot deader, there's slipping and sliding. It's the same for both teams too. You can't have that excuse. It's easy to have that excuse when you lose but it's the same for both teams."
Holden says the new schedule will make for an "unusual" Christmas though he's relatively sanguine about the prospect.
"The squad probably meet up this Saturday and enjoy a night out and then you'll spend time with your family.
"Then we'll have our own little training schedule to get through. It won't be as hectic as other Christmases but I think players are happy enough to accept that considering the position we're in.
"It's an unusual Christmas in that regard but we enjoy hurling, we enjoy representing the club so we'll just take it on the chin."