Goalkeeper
Stephen Cluxton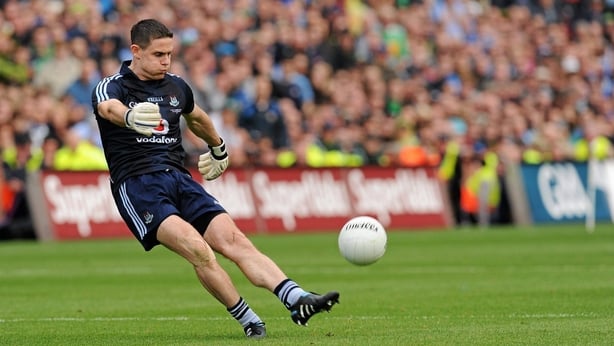 This one didn't take too much deliberation. Picking anyone else would probably have resulted in a fatwa being declared against anyone connected with the publication of this article.
Great goalkeeper, of course. Revolutionised the position, etc, etc. My scope for saying anything new or original about Cluxton here is limited.
The vital statistics from his Dublin career: seven All-Ireland titles, 15 Leinster titles and five National League titles. He was captain for the bulk of the successes.
Has held down the No. 1 jersey since the early Neolithic Age and, as of late December, the widely anticipated retirement statement has not appeared.
Full-backs
Michael Fitzsimons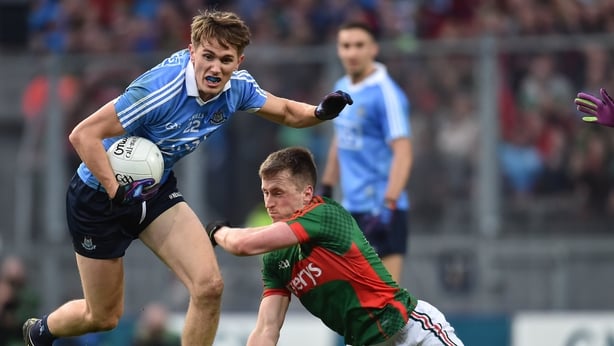 His team-mates Jonny Cooper and Philly McMahon were both tigerish defenders and more high-profile figures but the quietly consistent Cuala player gets in here after some debate.
Fitzsimons' Dublin career has followed a slightly odd trajectory. An ever-present in the Pat Gilroy-guided success of 2011, he was almost a forgotten man after falling out of favour in the early Jim Gavin years.
He was dropped back into the Dublin side for the 2016 All-Ireland replay, his first championship start for a few years, and proceeded to win Man of the Match.
He's hardly been out of the team since, collecting All-Stars in 2017 and 2019. Hailed as a 'once in a generation' talent by RTÉ analyst Aidan O'Rourke, Fitzsimons is invariably detailed to mark the opposition's most dangerous forward.
Fitzsimons was actually born in Kildare and began his football with Confey club in Leixlip but says he's "Dublin through and through."
Neil McGee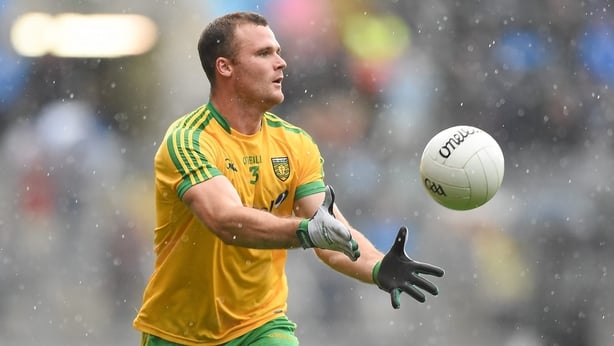 It's been an era of makeshift full-backs in some respects. One could toy with placing Cian O'Sullivan here, though the Kilmacud Crokes player was at his best at centre-back.
We'll plump for the granite Gaoth Dobhair player, an ever-present during the Jim McGuinness era and well beyond.
He won three All-Stars during the most glorious years of a glorious decade (2011, 2012 and 2014) and, now in his mid-30s is still in situ.
Was still a defensive lynchpin of Declan Bonner's back-to-back Ulster title-winning teams of 2018 and 2019, though he missed the '18 provincial decider through suspension.
Won another - heavily publicised - Ulster title in late 2018, this time with his club. Confirmed recently that he intends to continue for 2020.
Keith Higgins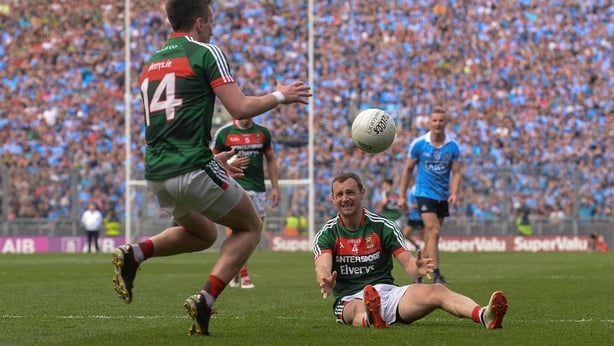 A survivor from the 2006 All-Ireland final loss, Higgins has added four more All-Ireland final appearances in a thrilling but heartbreaking decade.
Higgins won the Young Footballer of the Year award way back in '06 and picked up four All-Star awards in the present decade (2012, 2013, 2014, 2017).
The Ballyhaunis dual player has delivered consistent excellence across the decade and never let Mayo down on the big occasions.
Half-back line
Lee Keegan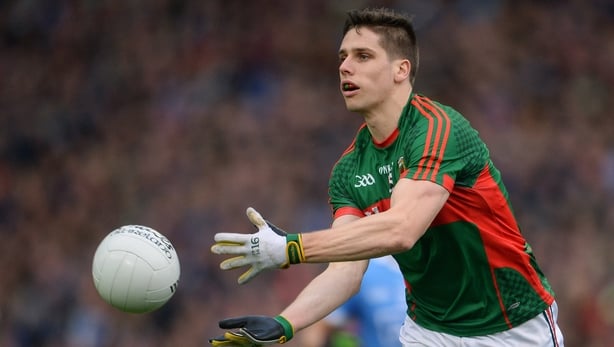 Extraordinary wing back who was somehow simultaneously able to combine the task of keeping tabs on the opposition's best attacker and getting forward to notch scores himself.
A four-time All-Star, he was operating at the peak of his powers in 2016 and was named Footballer of the Year.
Had he not been black-carded early in the All-Ireland final replay, (though this is a risky thing to say) Mayo may well have gotten the job done.
Occasionally a bit 'grabby' in his style of defending and often unabashedly cynical - Diarmuid Connolly and Damien Comer were among those who lost the rag - Keegan was nonetheless a phenomenal, all action defender. Complete wing back.
Terrific ingenuity with the GPS too even if the gambit didn't work.
Karl Lacey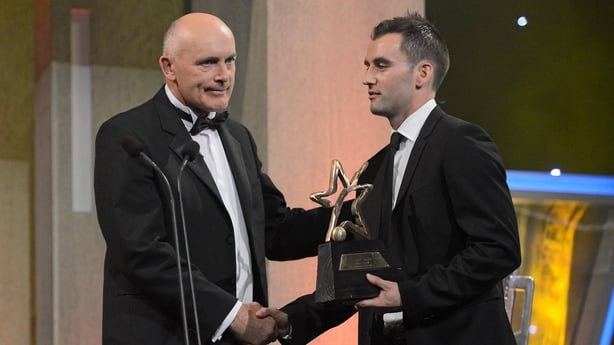 One of the knottiest problems to solve given the claims of Cian O'Sullivan and the fact that James McCarthy was sometimes deployed here.
Not to mention the excellent Colm Boyle, who suffers because of the exceptionally strong candidates for selection on either wing and might have been accommodated.
We're eventually going to plump for the 2012 Footballer of the Year who shone for Donegal throughout the Jim McGuinness era.
Lacey won four All-Stars, albeit two of them in the previous decade.
Jack McCaffrey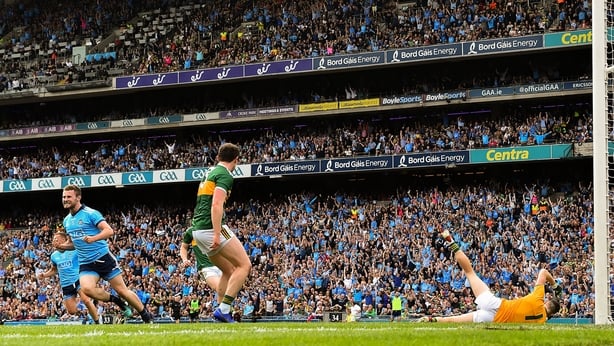 Another player who has a strong argument to being Dublin's greatest player in their greatest era.
It's a hotly contested topic whether Dublin are simply enjoying the fruits of a once-off golden generation or whether we're witnessing the beginnings of a remorseless machine that will continue to grind its increasingly apathetic opponents into the dust until the apocalypse finally arrives.
If there is a real golden generation in Dublin, it's the generation of which McCaffrey is part, the one that arrived on stream with Jim Gavin... McCaffrey, Kilkenny and Fenton were all born in the same year (1993) and their arrival heralded a more fluid and adventurous style as against the comparatively workmanlike outfit that triumphed in 2011.
Even more attack-minded in his orientation than Keegan, McCaffrey has been richly decorated when it comes to individual honours. A four time All-Star, McCaffrey has won both the Young Footballer of the Year (2013) and the Footballer of the Year (2015). This year, he became the first player to be named Man of the Match in successive All-Ireland finals.
Midfield
Brian Fenton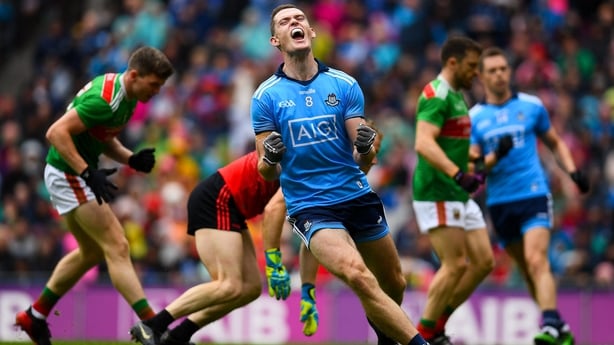 'I don't know the meaning of defeat,' cartoonishly bullish boxers like to boast.
Brian Fenton probably does understand the meaning of defeat in conceptual terms but he might struggle to describe what it actually feels like.
When it comes to playing for Dublin, at least. Fenton was later to arrive on the scene than McCaffrey and Kilkenny, meaning he missed out on the 2014 All-Ireland semi-final defeat to Donegal, Dublin's most recent loss in the championship.
He made his debut in the 2015 campaign and has been an ever-present during the five in a row run and has yet to lose a championship match.
The individual awards have arrived. He was Man of the Match in the 2015 All-Ireland final and Footballer of the Year in 2018.
The Raheny player has been hailed as one of the most complete footballers in the game, boasting phenomenal athleticism and energy.
James McCarthy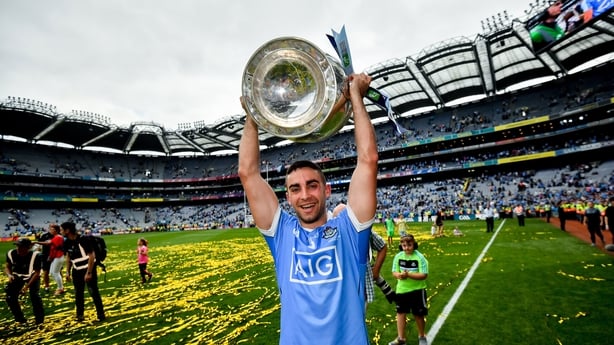 As with a lot of players here, the biggest headache was where to play him. McCarthy has won seven All-Ireland titles, four of them at wing back, two at midfield and one at centre back.
The versatile Ballymun player demands inclusion for his consistency and his sometimes understated excellence but will be slotted in at midfield, the place where he was deployed for perhaps his best season, the 2017 campaign.
He was a real contender for Footballer of the Year that year though was pipped by Andy Moran. Has won three All-Star awards in total, in 2014, 2017 and 2018. He has probably grown in prominence as the decade wore on.
Half-forward line
Diarmuid Connolly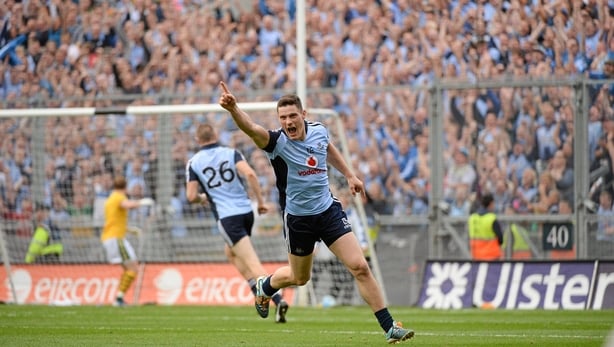 The darling of the Hill has had a few chequered, interrupted seasons in latter years.
Connolly has played only fleetingly in the last three All-Ireland campaigns, though his introduction at half-time for the 2017 final was crucial in Dublin winning the best decider of the decade.
Played his best football in the earlier part of the decade and was probably never better than in the 2011 All-Ireland quarter-final victory over Tyrone when he kicked seven stunning points from play. Was also Man of the Match in the game of the decade - the 2013 All-Ireland semi-final win over Kerry.
While he is widely held to be the most stylish and naturally gifted Dublin player of the era, this was rarely reflected in the individual awards season. He won just the two All-Stars in 2014 and 2016 and was never nominated for Footballer of the Year. The obvious suspicion is that his disciplinary travails counted against him once the bright shiny gongs were being handed out.
Ciarán Kilkenny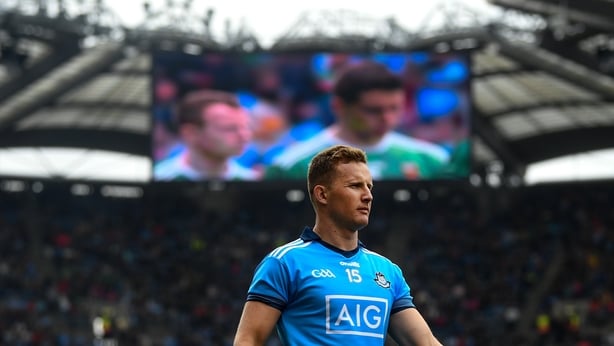 Touted for future greatness since his days in the minor ranks, Kilkenny could have been delivering on his athletic promise in the AFL until a u-turn in the summer of 2013 saw him leave Hawthorn and return to Dublin.
"Achieving success and realising my potential as a hurler and footballer with my club and county will always be more important to me than any of the benefits to be obtained from professional sport," he wrote at the time.
He's achieved plenty of that success in any event. A constant presence in the half-forward line in the Gavin era, Kilkenny won six of the seven All-Ireland championships that he's contested since 2013.
Sometimes mocked over his fondness for lateral passes, Kilkenny is nonetheless a hugely skillful and relentless scorer from play.
A Footballer of the Year nominee for the past two seasons, Kilkenny has just delivered his best All-Ireland final performance, kicking four points from play in a stunning performance as Dublin sealed the five-in-a-row against Kerry.
Paul Mannion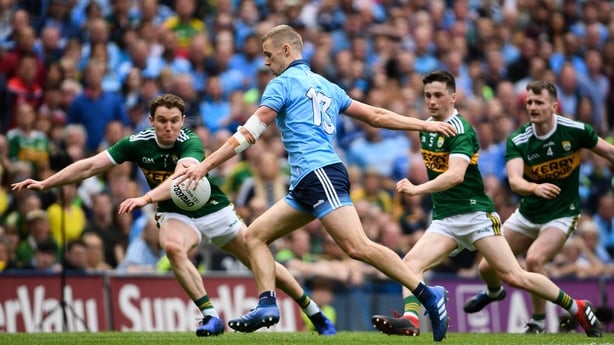 Probably being deployed out of position but then Mannion has often been lauded for his willingness to track back and hassle opposition attackers. We're confident he'll adapt.
Mannion burst onto the scene in 2013 and was in electric form right up until the final, where his relatively subdued performance probably cost him an All-Star in his debut campaign.
He was a bit-parter in 2014, spent 2015 between China and Chicago and watched the All-Ireland final as a spectator.
He returned to the set-up in 2016 and his form has been often spectacular since. The Kilmacud player has won three successive All-Stars in 2017, 2018 and 2019. A pacy, elegant and accurate forward, Mannion was the brightest star of all in one of Dublin's greatest performances, their third quarter blitz of Mayo in the 2019 All-Ireland semi-final.
In some ways, his career could be seen as testament to the increased popularity of Gaelic football in the capital in the modern era. A former underage international soccer player, Mannion was a prospect at Belvedere and Home Farm but forwent the possibility of heading for England, committing himself to the Dubs.
Full-forward line
Bernard Brogan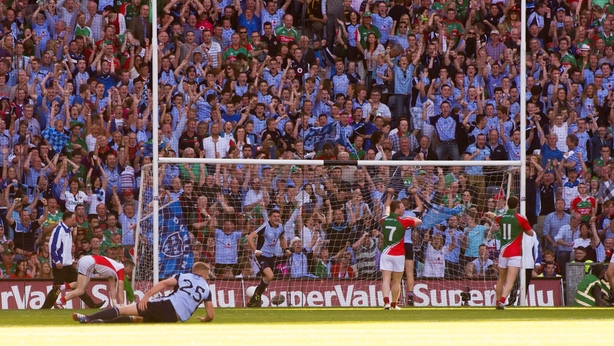 A lodestar in attack during the early years of Dublin's current dominance, Brogan retired in the off-season after a couple of campaigns as a bit-part figure, albeit a high-profile one.
Still, he was a critical and often decisive figure in the first half of the decade, leading Dublin out of the darkness of quarter-final maulings and into the light of All-Ireland final glory.
In a decade in which the capital plundered seven All-Ireland titles, Brogan, oddly enough, won his Footballer of the Year award in a season in which they didn't reach the final, the first campaign of the decade in 2010.
He was a focal point in the forward line in the 2011 success and, after a patchy enough year, was the decisive figure in the 2013 final, scoring two goals and earning the Man of the Match award.
Michael Murphy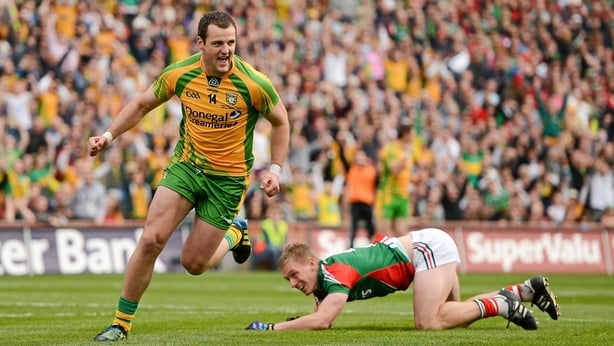 One of the greats of the era. Donegal's 2012 All-Ireland winning captain was one of the more obvious picks on here.
What was less obvious was where to play him. Donegal's various tactical innovations have seen him deployed in some strange locations, frequently in midfield.
The purists would say his best position is full forward and anyone who watched him stomping all over numerous out-of-their-depth defences in his Sigerson Cup days would be hard-pushed to disagree.
Conor McManus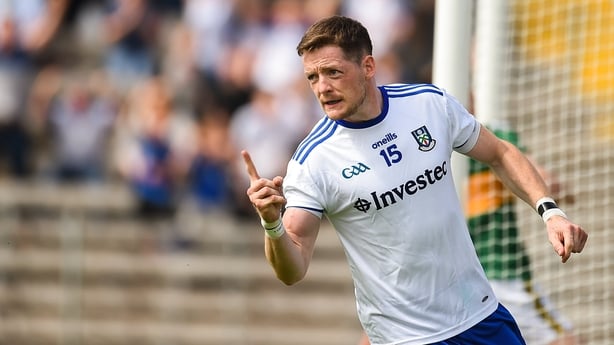 The only member of the team not to play in an All-Ireland final, McManus is still one of the most celebrated forwards of the age.
The phrase 'marquee forward' - one of the great GAA cliches of the era - has never been more apt than when applied to McManus.
A winner of three All-Stars (2013, 2015, 2018) he was in especially sensational form en route to the All-Ireland semi-final in '18.
There have been several mesmeric displays, his 0-12 point haul against Dublin in the 2016 National League, his display of point-scoring in the end-game as Monaghan downed Tyrone in the 2018 Ulster championship.
He was close to unmarkable by what we might call traditional means. Kerry left their full-back line hopelessly exposed against McManus in last year's memorable Super 8s clash in Clones and he duly ran riot, clipping on 1-09.
The flat 2019 campaign may have marked the end of a great Monaghan era but either way, McManus will surely be remembered as its brightest star.