GAA President John Horan insists a redrawn championship structure would not leave New York in the cold, with an "intercontinental cup" competition ensuring a high-profile game is played in the Big Apple every year.
The GAA's Fixtures Taskforce released their report on Wednesday, making 32 recommendations to improve the balance between of club and inter-county fixtures.
Two possible football championship formats were put forward, one of which would see four provincial competitions of eight teams each, split into two groups of four.
Played in a round-robin format, the final league positions would determine further progress in the championship.
The second format would see the league switched to the summer and the provincial competition moved to February/March, with the league results determining a pathway to the All-Ireland quarter-finals.
Neither structure would include New York as a competitive county.
"That is a point that will be debated and we will obviously have to engage with New York," Horan told RTÉ Sport's Brian Carthy when discussing the Exiles' championship involvement.
"The practicalities of it are, New York gets one game in New York every year. That's been the way, and I'm quite sure we wouldn't take that game away from New York under these proposals.
"We will find a way that New York will get a match over there. The possibility will be that the winners of a Tier 2 Championship will go over and play New York for what would be considered something along the lines of an intercontinental cup."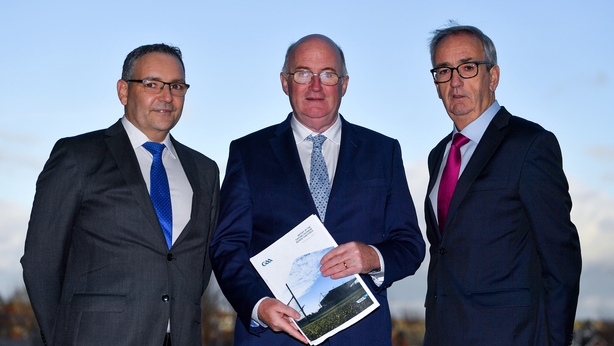 The Fixtures Taskforce's report will be presented to Central Council next month.
It's anticipated that a number of the motions will be put forward for Annual Congress at the end of January, with most of the remaining motions tabled at a Special Congress later in the year. The earliest any adopted recommendations would be implemented would be in 2021.
"It's courageous, I think, on the part of the association to have come up with this," added Horan.
"The committee, under Eddie Sullivan's chairmanship, have to be complimented for the work they put in.
"They consulted widely within the organisation, and if you look at it, a lot of ideas that have been peddled in the public domain over the last number of years are actually given consideration in this document.
"If you go back a couple of years ago, between April and October there were only possibly five weekends available for the hosting of club games.
"That has now increased under this document to 15. I think the criticism of the divide between the inter-county and the club has been somewhat addressed in this.
"It's not a perfect solution; it never will be, because of the fact we play two codes, hurling and football, and because of the numerous age grades and college competitions we allow our players to play in."